You are here
2% rise in CO2 'giant leap backwards for humankind'
Thousands of diplomats in Bonn are negotiating 'rulebook' for Paris pact, effective from 2020
By AFP - Nov 13,2017 - Last updated at Nov 13,2017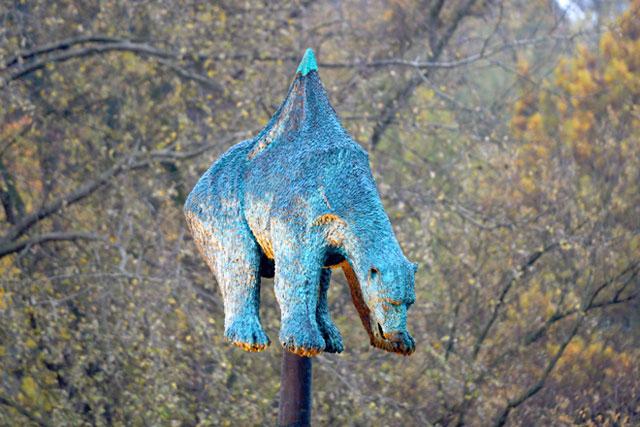 The bronze sculpture 'Unbearable' by the Danish artist Jens Galschiot featuring a polar bear impaled on an oil pipeline is on display at Rheinaue Park during the COP 23 United Nations Climate Change Conference in Bonn, Germany (AFP photo)
BONN — The carbon dioxide emissions that drive global warming, flat since 2014, are set to rise 2 per cent this year, dashing hopes they had peaked, scientists reported at UN climate talks on Monday.
"This is very disappointing," said Corinne Le Quere, director of the Tyndall Centre for Climate Change Research at the University of East Anglia and lead author of a major study detailing the findings.
"With global CO2 emissions from human activities estimated at 41 billion tonnes for 2017, time is running out on our ability to keep warming below 2ºC, let alone 1.5ºC."
The 196-nation Paris Agreement, adopted in 2015, calls for capping global warming at 2ºC below pre-industrial levels.
With the planet out of kilter after only one degree of warming — enough to amplify deadly heatwaves, droughts, and superstorms — the treaty also vows to explore the feasibility of holding the line at 1.5ºC.
Earth is overheating due to the burning of oil, gas and especially coal to power the global economy. Deforestation also plays a critical role.
"The news that emissions are rising after a three-year hiatus is a giant leap backward for humankind," said Amy Luers, a climate policy advisor to Barack Obama and executive director of Future Earth, which co-sponsored the research.
This year's climate summit is presided by Fiji, one of dozens of small island nations whose very existence is threatened by rising seas engorged by warmer water and melt-off from ice sheets on Greenland and Antarctica.
Thousands of diplomats in Bonn are negotiating the "rulebook" for the Paris pact, which goes into effect in 2020.
To stay below the 2ºC threshold, greenhouse gas emissions should peak and begin to curve downward by 2020, earlier research has shown.
Stalled CO2 emissions from 2014 through 2016 — due to better energy efficiency, a boom in renewables, and reduced coal use in China — raised expectations that the world had turned the corner.
Those hopes were premature.
"As each year ticks by, the chances of avoiding 2ºC of warming continue to diminish," said co-author Glen Peters, research director at Centre for International Climate Research in Oslo, Norway.
"Given that 2ºC is extremely unlikely based on current progress, then 1.5ºC is a distant dream," he told AFP.
The study fingered China as the single largest cause of resurgent fossil fuel emissions in 2017, with the country's coal, oil and natural gas use up three, 5 and 12 per cent, respectively.
Earth outside
the safe zone
China alone accounts for nearly 30 per cent of global carbon pollution.
Emissions from India — the world's fourth largest emitter after the United States and the European Union — are projected to grow by two per cent, down from a 6.7-per cent increase the year before.
In 2017, CO2 emissions in the United States will drop by only 0.4 per cent, compared to 1.2 per cent annually over the previous decade.
For the first time in five years, US coal use is projected to rise.
"Human-induced warming has accelerated over the past few years despite the slowdown in carbon dioxide emissions because of other drivers of climate change, notably methane," said Myles Allen, a professor at the University of Oxford, commenting on the findings.
The Paris Agreement rests on voluntary carbon-cutting pledges from virtually every country in the world.
But even if fulfilled, those promissory notes are not enough to keep Earth in the safe zone, and would still see global temperatures rise a devastating 3ºC by the end of the century.
"Global commitments made in Paris to reduce emissions are still not being matched by actions," said Peters.
The bottom line, say experts, is that the global economy is not shifting quickly enough from fossil fuels to low- or zero-carbon energy.
Solar and wind energy have grown 14 per cent annually since 2012, but still only account for a tiny fraction — less than 4 per cent — of global energy consumption.
The transition from dirty to clean energy has been slowed by oil, gas and coal subsidies that topped $320 million dollars (270 million euros) in 2015, according to the International Energy Agency.
Oceans and forests combined absorbed over half of the CO2 emissions from human activity, with the rest staying in the atmosphere, the study showed.
"We would expect that the carbon sinks will eventually weaken as temperatures continue to rise, but how much and how fast is an active area of research," said Peters.
The International Union for Conservation of Nature, meanwhile, released a report on Monday showing that climate change now imperils one in four natural World Heritage sites, including coral reefs, glaciers, and wetlands — nearly double the number from just three years ago.
Related Articles
Dec 12,2015
LE BOURGET, France — Nearly 200 nations adopted the first global pact to fight climate change on Saturday, calling on the world to collectiv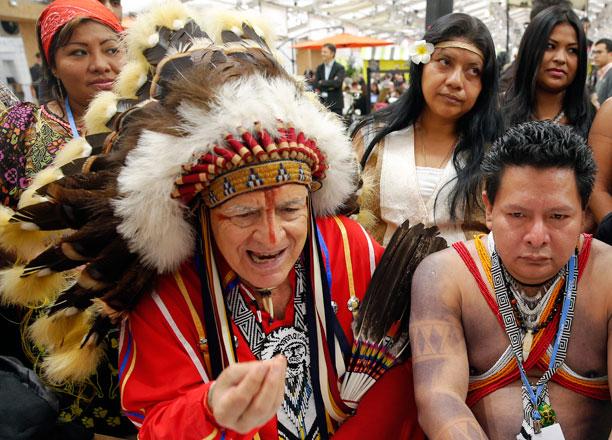 Dec 02,2015
LE BOURGET, France — Campaigners on Wednesday pointed a finger at the rich for dangerous warming of the planet as negotiators from 195 natio
Oct 11,2017
BERLIN — Even if you are terrified of heights, jumping out of a plane with a makeshift parachute may begin to look like a good idea once you
Newsletter
Get top stories and blog posts emailed to you each day.