You are here
Airlines inspecting Boeing 737 engines after fatal Southwest incident
By Reuters - Apr 18,2018 - Last updated at Apr 18,2018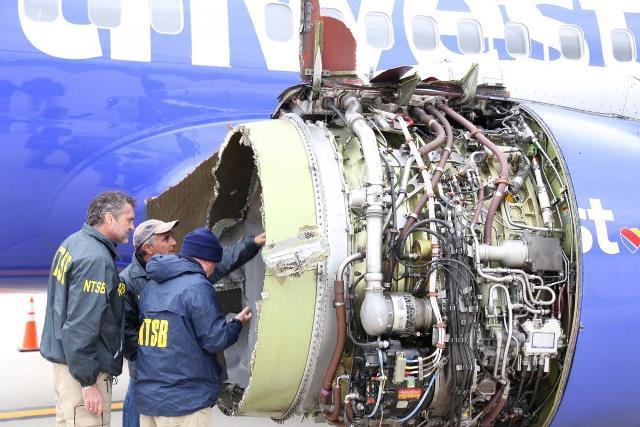 U.S. NTSB investigators are on scene examining damage to the engine of the Southwest Airlines plane in this image released from Philadelphia, Pennsylvania, U.S., April 17, 2018 (Reuters photo)
SINGAPORE - Some major customers of Boeing Co's popular 737 jets including Korean Air Lines Co Ltd said on Wednesday they were inspecting engines of the type that blew apart mid-air on a fatal Southwest Airlines Co flight on Tuesday.
European regulators this month began requiring an inspection by early next year, and a person familiar with the matter said U.S. regulators were near a similar rule, which affects a number of 737s in operation globally.
Southwest Flight 1380 made an emergency landing in Philadelphia on Tuesday after an engine ripped apart mid-air, shattering a window on the 737 and nearly sucking a passenger through. One of 144 passengers died.
The actions by regulators show that there has been some concern, albeit non-urgent, about the engine, a workhorse of the global civil aviation fleet that has logged more than 350 million hours of safe travel but was also being examined after a 2016 accident.
The CFM56-7B engine type involved in the Southwest incident was produced by a joint venture of U.S. firm General Electric Co and France's Safran SA called CFM International. It is one of the most common engines, paired with the world's most-sold plane, the Boeing 737.
Southwest said it is speeding up inspections of all related engines out of extra caution, which it expects to complete within 30 days.
An early review of the failed Southwest engine found apparent metal fatigue where a fan blade had broken off, Robert Sumwalt, chairman of the U.S. National Transportation Safety Board (NTSB), told reporters on Tuesday.
"We are very concerned" about metal fatigue, Sumwalt said. "There needs to be proper inspection mechanisms in place to check for this before there's a catastrophic event."
Korean Air said on Wednesday it had not yet been prompted by its regulators for a check but it planned to inspect engines used on its entire 737 fleet by November following the Southwest incident.
About 20 percent to 30 percent of its 35 Boeing 737 jets use the same type of fan blade as the one on the Southwest jet, a Korean Air official said.
A Japan Airlines Co Ltd spokesman said two 737 jets in its fleet had engines with affected fan blades and inspections were due to be completed by the end of the day on Wednesday.
In August 2016, a Southwest flight made a safe emergency landing in Pensacola, Florida, after a fan blade separated from the same type of engine, and debris ripped a foot-long hole above the left wing. Investigators found signs of metal fatigue.
The 2016 incident prompted the U.S. Federal Aviation Administration (FAA) to propose ultrasonic inspections of similar fan blades and their replacement should they fail the test.
Sumwalt said the NTSB will review whether the engines involved in Tuesday's incident might have been subject to the directive, which is not yet finalised.
The FAA proposal estimated that checks would require two hours of labor per inspection.
Not all airlines operating 737s are affected.
Australia's Qantas Airways Ltd, a large 737 operator, said its engines were of a slightly different model than those targeted for inspection.
Spokespeople for several other major airlines operating 737s could not be reached immediately for comment.
Related Articles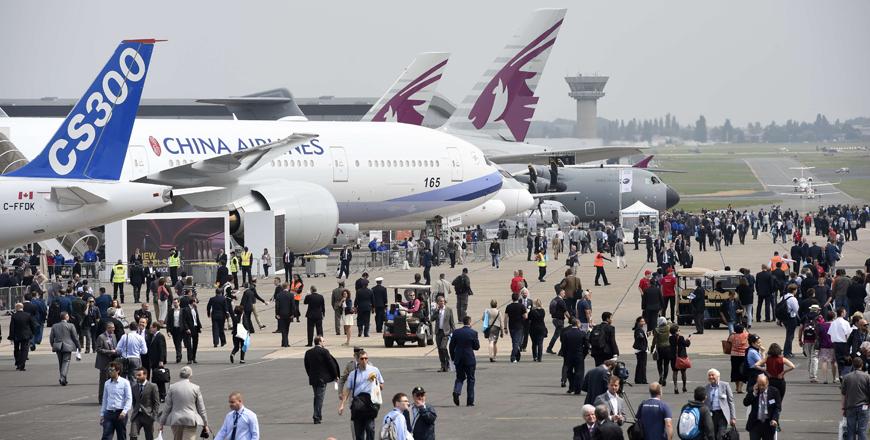 Jun 15,2015
PARIS — After the marketing triumphs of recent years, manufacturing moved into the spotlight on the opening day of the Paris Air Show on Mon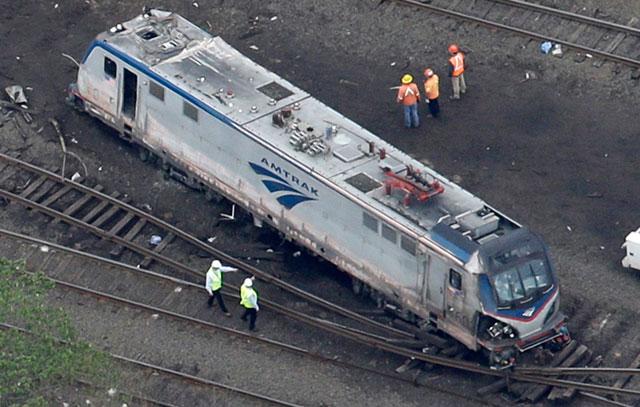 May 16,2015
The Amtrak train that derailed in Philadelphia and a separate commuter train in the vicinity may have been hit by projectiles of some kind shortly before the wreck, a US transportation official said on Friday, after investigators interviewed members of the Amtrak crew.
Jul 24,2014
An Air Algerie flight carrying 116 people from Burkina Faso to Algeria's capital disappeared from radar early Thursday over northern Mali during a rainstorm, officials said. France deployed fighter jets to search for wreckage and the country's president said the plane most likely crashed.
Newsletter
Get top stories and blog posts emailed to you each day.