You are here
Blair joins Britain's election fray with EU warning
By AFP - Apr 07,2015 - Last updated at Apr 07,2015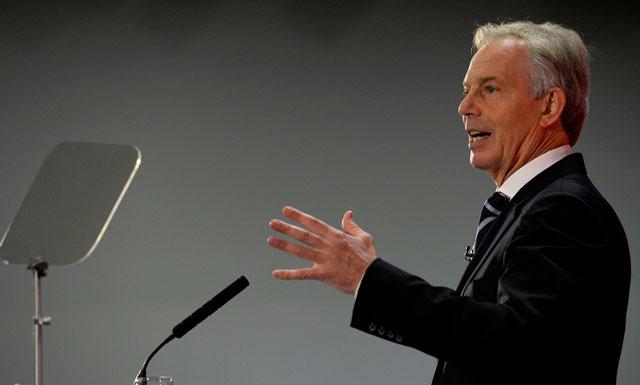 LONDON — Former prime minister Tony Blair plunged into Britain's general election fray on Tuesday, sounding a warning about the dangers of the country leaving the EU.
In a rare intervention in domestic politics, Blair claimed Prime Minister David Cameron's planned referendum on European Union membership threatens the British economy.
Blair headed the centre-left Labour Party from 1994 to 2007, leading them to three general election victories.
In June 2007, he stepped down as prime minister and resigned from British politics.
He will not run in the May 7 election and is backing Labour leader Ed Miliband.
But Miliband has distanced himself from the Blair era, and many in the Labour Party see the former prime minister as a liability due to unpopularity over Britain's role in the invasion of Iraq.
Blair's statement came as centre-right Conservative leader Cameron pledged to renegotiate Britain's relationship with the EU and then hold an in-or-out referendum on the outcome by the end of 2017.
The possibility of leaving the EU would create job insecurity and leave a "pall of unpredictability hanging over the British economy", Blair said in his former Sedgefield constituency in northeast England.
"Leaving Europe would leave Britain diminished in the world, do significant damage to our economy and, less obviously but just as important to our future, would go against the very qualities and ambitions that mark us out still as a great global nation.
"A decision to leave Europe would say a lot about us and none of it good."
He claimed Cameron's plan was a "concession" to the right of his party, a "manoeuvre" to win back voters from the anti-EU UK Independence Party (UKIP) and "a sop to the rampant anti-Europe feeling of parts of the media.
"It is a completely unacceptable gamble with our nation's future."
Blair set the issue in the strategic context of an aggressive Russia and the economic rise of China and India.
"Do we really think this is the time in which to put into play our very membership of the European Union, the largest commercial market and most developed political union in the world?" he asked.
The 61-year-old Middle East peace envoy was questioned about his backing for Miliband and claimed "100 per cent" support.
"There's always been disagreement within the Labour Party, different people with different views... but the important thing is what we share in common," he said.
"I want Labour, under Ed's leadership, to be the government of our country on May 8. I believe we can and will do it."
During a campaign visit to Belfast, Cameron said Blair wanted to ignore the will of the people.
"I think Tony Blair is wrong. I want changes in Europe but then, unlike Tony Blair, I will trust the people in an in-out referendum," he said.
Polling experts predict a hung parliament. The latest BBC poll tracker puts the Conservatives on 34 per cent, Labour on 33 per cent and right-wing UKIP on 13 per cent.
Related Articles
Mar 30,2015
Campaigning in Britain's closest election in decades began on Monday after Prime Minister David Cameron met Queen Elizabeth to tell her parliament had been dissolved, teeing up a fraught battle to govern a $2.8 trillion economy.
Oct 01,2014
Prime Minister David Cameron promised to hand almost half the British population a tax cut if reelected next year, a pledge he hopes will win over millions of voters and refocus debate away from a schism inside his party over Europe.
May 09,2015
Britain awoke to a new political landscape on Saturday after a shock election victory for Prime Minister David Cameron that decapitated the opposition and bolstered secessionists in Scotland.
Newsletter
Get top stories and blog posts emailed to you each day.