You are here
Britain's Cameron appeals to EU-reform doubters at home and abroad
By Reuters - Nov 10,2015 - Last updated at Nov 10,2015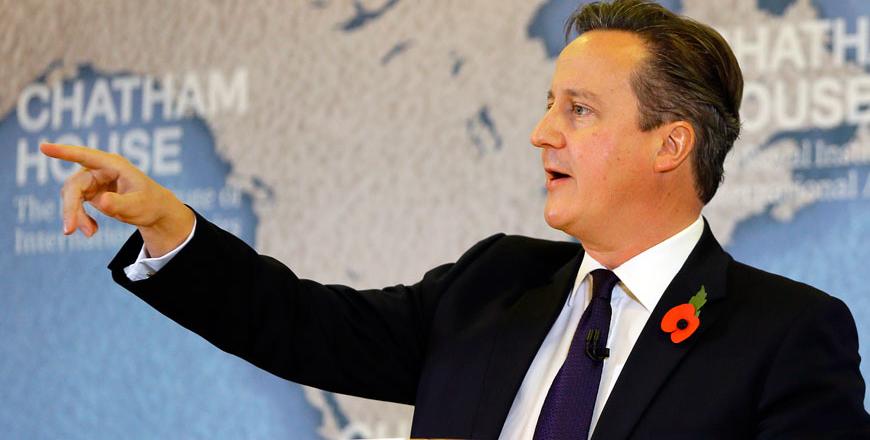 Britain's Prime Minister David Cameron points during a question and answer session after he delivers a speech on EU reform and the UK's renegotiation, in London, on Tuesday (AP photo)
LONDON — Britain's prime minister appealed to doubters at home and in other EU capitals on Tuesday to back his attempt to reform the 28-member bloc as a chance to boost prosperity rather than write it off as "Mission Impossible".
David Cameron, under pressure after overseeing what critics see as a lacklustre start to the renegotiation of Britain's ties with the European Union before a referendum, used a speech to offer the most detail yet on where he wants change.
The EU executive was quick to call at least one of the British leader's demands — a limit on benefits EU migrants to Britain are entitled to — "highly problematic", while saying other proposals such as boosting the role of national parliaments in decision-making in the bloc appeared feasible.
Cameron left little room for doubt he wants Britain to stay in a reformed European Union, linking for the first time British security to its membership. But he also warned that if his demands fell on a "deaf ear", he could lobby to leave.
"There will be those who say, here and elsewhere in the EU, that we are embarked on 'Mission Impossible'," Cameron told diplomats, reporters and business leaders at the Chatham House think tank in London.
"I do not believe so for a minute... The European Union has a record of solving intractable problems... In doing so we can make Britain and the whole of Europe safer and more prosperous for generations to come."
Shortly afterwards, Cameron addressed "Dear Donald" in a letter to Donald Tusk, president of the European Council, setting out his four main objectives to launch what he called the renegotiation's "formal phase" before a December summit when EU leaders will hammer out the details of Britain's new terms.
Tusk said in Brussels that negotiations with the other 27 governments would start next week.
In his speech, Cameron spelt out what he wanted from Brussels. In one of the most contentious points, he proposed that people coming to Britain from the EU must live in the country for four years before qualifying for state benefits.
EU members, especially in eastern Europe from where hundreds of thousands of people have left for Britain over the years, complain such a move would be discriminatory. Cameron said he was "open to different ways of dealing with this issue".
A member of Poland's new ruling party, Law and Justice (PiS), said any such move would break EU law. "We are absolutely against such a proposal," Zbigniew Kuzmiuk, a senior PiS politician and European Parliament member, said in Warsaw.
Cameron's calls for financial and economic safeguards for countries outside the 19 member euro zone and for Britain to be excluded from the principle of "ever closer union" may also be difficult, the EU said.
Both could require treaty change, which would be almost impossible to complete in two years and would mean several EU states would have to hold referendums, which are increasingly difficult as European politics turn increasingly Eurosceptic.
The leader of the EU's biggest economy, German Chancellor Angela Merkel said she had "a certain confidence that this can work out".
'Reasonable approach'
Cameron appealed to EU governments for understanding, saying none of his demands were "outlandish or absurd", and tried to appease Eurosceptics, including some in his Conservative Party, which has been divided over the EU for decades.
"I must be very, very clear. I don't want this reasonable approach to be misunderstood. Reasonable does not mean lacking in resolve," he said.
"We gain from the union, but we bring a lot to it."
He underlined that Britain had helped the EU form a strong response to the conflict in Syria and in launching sanctions against Russian officials over the Ukraine crisis.
But he balanced that with what Britons got from the EU, saying the country's economic security and national security was closely connected to its membership of the bloc.
"So we should be clear that leaving the EU is not some automatic fast track to a land of milk and honey," he said.
Britain's Eurosceptics accused the prime minister of setting his sights too low in the renegotiation.
Nigel Farage, the leader of the UK Independence Party, said in statement that Cameron was not aiming for anything "substantial", while Conservative Eurosceptic lawmaker Jacob Rees-Mogg called his demands "pretty thin gruel".
The French daily Liberation called Cameron's threat "blackmail".
Most Britons say they will vote to stay in the European Union, according to opinion polls so far, but the gap has narrowed between the "Yes" and "No" camps largely driven by fears over migration after thousands have arrived on EU shores.
For some, including Britain's main trade association EEF, they just wanted the negotiations to be concluded.
"It is essential that we remove the uncertainty surrounding our future relationship with the EU and move forward," it said in a statement.
Related Articles
Feb 18,2016
BRUSSELS — Prime Minister David Cameron said on Thursday that hard work and goodwill should help him to clinch a deal at a European Union su
Feb 20,2016
LONDON — Britain will vote on its membership of the European Union on June 23, Prime Minister David Cameron said Saturday as he began the da
Oct 01,2014
Prime Minister David Cameron promised to hand almost half the British population a tax cut if reelected next year, a pledge he hopes will win over millions of voters and refocus debate away from a schism inside his party over Europe.
Newsletter
Get top stories and blog posts emailed to you each day.