You are here
Charleston massacre church reopens in triumph over 'the Devil'
By AFP - Jun 21,2015 - Last updated at Jun 21,2015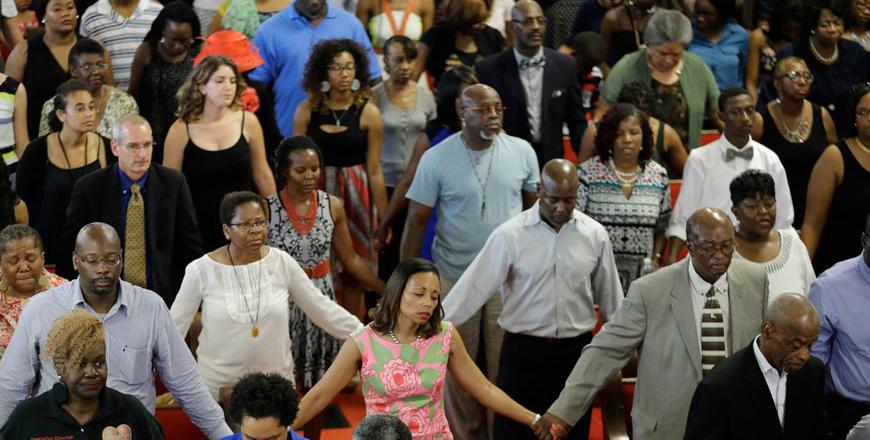 Parishioners hold hands and sing during services at the Emanuel African Methodist Episcopal Church in Charleston, South Carolina, on Sunday (Reuters photo)
Charleston, United States — The historic black church in South Carolina where a white gunman murdered nine African Americans, held its first service since the massacre on Sunday, an emotional gathering celebrating the lives of those slain.
Hundreds of congregants, some tearful, packed the Emanuel African American Episcopal Church for a service led by visiting clergy because the congregation's pastor was among those killed by a white supremacist said to have been trying to ignite a race war.
The service offered the still-grieving community of Charleston the opportunity to mark what many argued was its triumph in thwarting the shooter's aim to foment hatred.
Celebrants at Emanuel AME church, meanwhile, said the accused gunman — 21-year-old Dylann Roof — had also failed miserably in his quest to break their spirit of love and faith.
"There they were in the house of the Lord, studying your word, praying with one another," said visiting minister Reverend Norvel Goff from the pulpit of the Emanuel AME church, four days after the massacre.
"But the Devil also entered. And the Devil was trying to take charge," he said.
"Thanks be to God, hallelujah, that the Devil cannot take control of your people. And the Devil cannot take control of your church."
A website allegedly created by Roof has been found, in which he wrote a 2,500 word racist screed against African Americans and appears in photos with guns and burning the US flag.
Roof went on the run after the shooting and was caught a day later in neighbouring North Carolina. He is in solitary confinement in jail charged with nine counts of murder.
Authorities are treating the shooting as a hate crime and also investigating it as possible act of domestic terrorism.
The attack on Emanuel — one of the most renowned African American houses of worship in the United States — was the bloodiest on a black church since the civil rights era.
The picturesque white brick Gothic church with its weather vane-topped steeple — one of the most recognisable buildings in Charleston — is known lovingly by many here as "Mother Emanuel" because of its prominence in the community and a fabled history dating back to the slavery era.
Sunday's service was at times somber, at times jubilant, as the mostly black church members — flanked by scores of white visitors who attended to show their solidarity — raised their voices to sing familiar hymns, at times clapping and swaying in rhythm.
Saturday, meanwhile, saw various rallies across South Carolina including one at the state assembly in Columbia where the Confederate flag has been a focal point for controversy for years.
While some whites consider the civil war-era flag an emblem of Southern pride and heritage, others — black and white — see it a sinister symbol of white supremacy and racism.
Kin voiced forgiveness
Roof's arrest warrant alleges that he shot the six women and three men in the church, with the victims ranging in age from 26 through 87, and that he then stood over a survivor to make a "racially inflammatory" statement.
On Friday, he appeared via video link in court and heard relatives of the dead, who included Emanuel's chief pastor and state senator Clementa Pinckney, offer forgiveness.
Americans across the nation were moved by the act of magnanimity and observers said it represents the generous spirit of the survivors, devout in their Christian beliefs.
"It speaks to the faith that is taught in the church across the street and the faith that Americans hold dear in their hearts all across this country," said Cornell William Brooks, the head of the NAACP, the leading American civil rights group.
"The fact is that we have group of parishioners, students of scripture, who extended grace and love to a stranger and their family members, in the wake of their deaths are still extending grace and love and forgiveness to one who is a stranger," he told CBS News.
"That speaks to the commonality of the faith of those who were slain and those who were left behind," he said.
"But it's not enough to forgive and love, we have to also hold accountable, we have to also say to this young man and to those who may have influenced him, we are not allowing to you corrupt our democracy."
Related Articles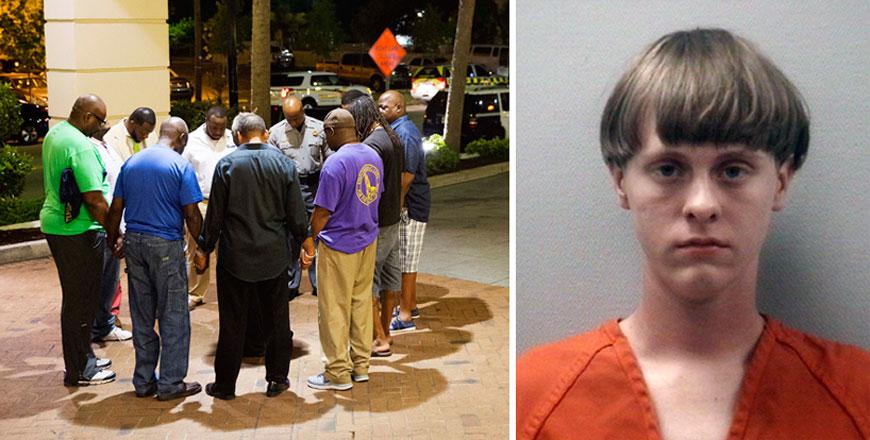 Jun 18,2015
Charleston, United States — US police on Thursday arrested a 21-year-old white gunman suspected of killing nine people in one of the nation'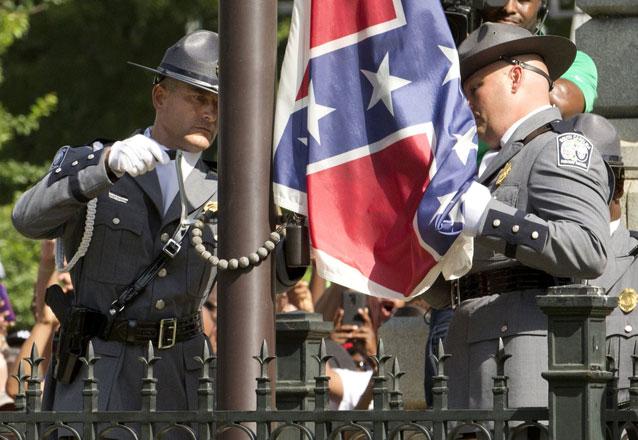 Jul 11,2015
WASHINGTON — The divisive Confederate flag came down Friday at South Carolina's legislature, drawing a line under a furor rekindled last mon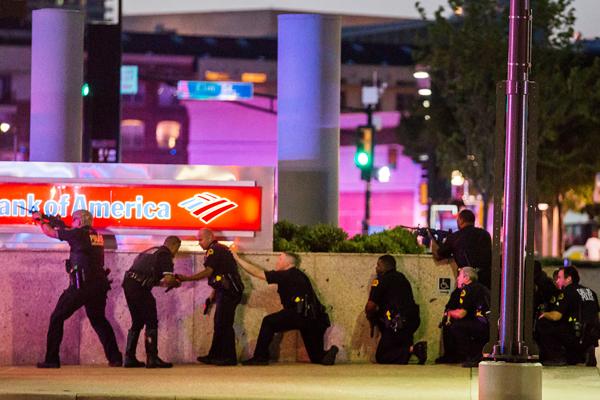 Jul 09,2016
DALLAS — President Barack Obama assured a shocked America Saturday that the black extremist who shot dead five cops in Dallas was a lone-wol
Newsletter
Get top stories and blog posts emailed to you each day.