You are here
China, Taiwan leaders join hands at historic summit
By AFP - Nov 07,2015 - Last updated at Nov 07,2015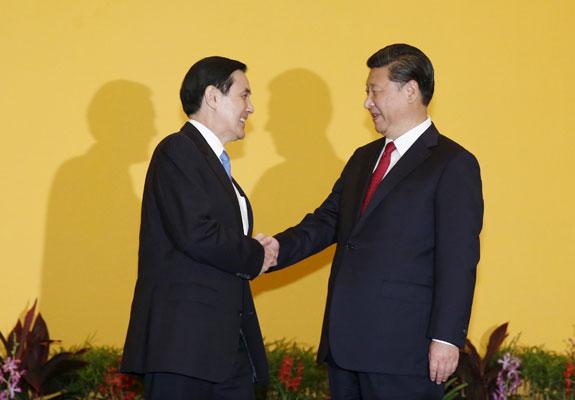 China's President Xi Jinping (right) shakes hands with Taiwan's President Ma Ying-jeou during a summit in Singapore on Saturday (Reuters photo)
SINGAPORE — The presidents of China and Taiwan reached across decades of Cold War-era estrangement and rivalry to exchange a historic handshake and warm words in the first summit since the two sides' traumatic 1949 split.
China's Xi Jinping and Taiwan's Ma Ying-jeou shook hands for more than a minute and smiled for a mass of reporters before their talks in Singapore in scenes considered unthinkable until recently.
They later sat down across a table from each other, with Xi praising the event as opening a "historic chapter in our relations" and repeating China's oft-expressed desire for eventual reunification.
"We are brothers connected by flesh even if our bones are broken. We are a family whose blood is thicker than water," Xi said.
He added that "no matter what kind of winds and rains are experienced by compatriots on the two sides, no matter how long divisions last, there is no power that can separate us".
Despite the apparent warmth, the hour-long meeting's lasting significance remains to be seen.
No agreements were announced between two sides that still refuse to formally recognise each other's legitimacy and Ma's moves face significant opposition at home.
But the encounter is undeniably historic: the previous occasion was in 1945, when Communist revolutionary leader Mao Zedong met with China's nationalist president Chiang Kai-shek in a failed reconciliation attempt.
The eventual Communist takeover forced Chiang's armies and about two million followers to flee to Taiwan, then a backwater island province, leaving a national rupture that has preoccupied both sides ever since.
'Mutual respect'
"Behind us there is more than six decades of cross-strait separation. Now before our eyes are the common fruits of the policy of replacing opposition with dialogue," Ma told Xi, in the unexpectedly cordial encounter.
Ma later told reporters he proposed the establishment of a hotline between to the two sides and that Xi responded positively.
He also raised issues sensitive to Taiwan's people, including the arsenal of Chinese missiles aimed at Taiwan, and China's policy of marginalising the island diplomatically.
"We hope these things do not continue," said Ma, calling for "mutual respect".
Xi did not address reporters, leaving that to a lower-ranking official.
Ma has expressed hope the meeting could be a step toward normalising cross-strait relations, but no further plans for closer contact emerged.
Analysts said there is no guarantee any glow will last, especially with Ma out of office soon, and his ruling party expected to lose in January polls to an opposition that distrusts China.
"This meeting will remain a historic moment but everything will depend on the result of the elections in Taiwan," said Jean-Pierre Cabestan of Hong Kong Baptist University.
"Xi's very pro-reunification language... risks alarming more than one person on the island."
Though politically divided for decades, business and investment ties have flowered.
Since taking office in 2008, Ma's Beijing-friendly policies have borne new fruit, including a boom in Chinese visitors to the island, the opening of flight routes, more than 20 trade agreements — and Saturday's summit.
But many in Taiwan, a rambunctious democracy, are deeply uneasy at drawing too close to the Communist-ruled mainland orbit, and reunification remains a distant prospect.
"After watching the Ma-Xi meeting this afternoon on TV, I believe most Taiwanese people, like me, feel very disappointed," the presidential candidate of the opposition Democratic People's Party, Tsai Ing-wen, said in a statement.
"We really regret that the only result from the Ma-Xi meeting is an attempt to put people's choices on cross-strait relations in a box, using a political framework on an international stage."
Hundreds of opponents of the summit massed outside Ma's office in Taipei Saturday, condemning the meeting and Xi's "family" comments.
There were also overnight demonstrations at Taiwan's parliament building, and 27 people were arrested as protesters scuffled with police at the capital's airport as Ma departed.

Mister, Mister
Lingering cross-strait tensions were in plain view at the summit, where the leaders addressed each other as "mister" rather than "president" — which would have legitimised their governments.
Beijing sees Taiwan as a wayward province and this disdain surfaced in China's coverage of the event.
After Xi finished addressing Ma at the meeting's opening, Chinese state broadcaster CCTV cut away to a studio discussion as video of Ma speaking rolled, but with no sound.
Opponents at home accuse Ma, who leaves office soon, of using the summit to boost his ruling Kuomintang's (KMT) flagging chances at the polls.
Some analysts feel China also finally granted the meeting, long sought by Ma, to help boost the KMT, which Beijing favours over the more independence-minded opposition.
But they warn the strategy could backfire with anxious Taiwanese voters if China is seen meddling in the election.
Related Articles
May 21,2016
TAIPEI — Taiwan's new president, Tsai Ing-wen, was sworn in on Friday, pledging to focus on internal reforms and expressing willingness to "
Feb 11,2014
China and Taiwan on Tuesday held their first government-to-government talks since they split 65 years ago after a brutal civil war — a symbolic yet historic move between the former bitter rivals.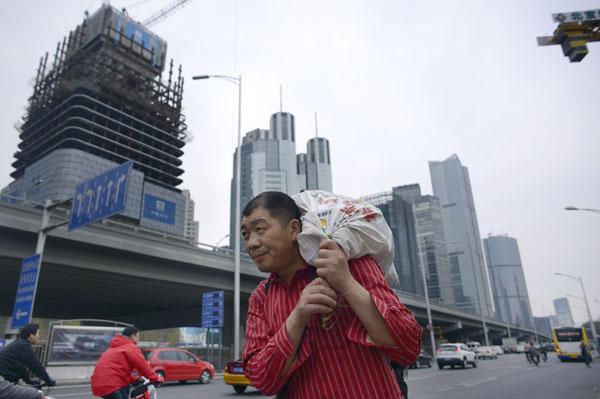 Apr 01,2015
Prime Minister Benjamin Netanyahu has signed a letter of application for Israel to join the China-led Asian Infrastructure Investment Bank (AIIB), the Israeli foreign ministry said on Wednesday.
Newsletter
Get top stories and blog posts emailed to you each day.