You are here
Deadly fire engulfs London tower block
By AFP - Jun 14,2017 - Last updated at Jun 14,2017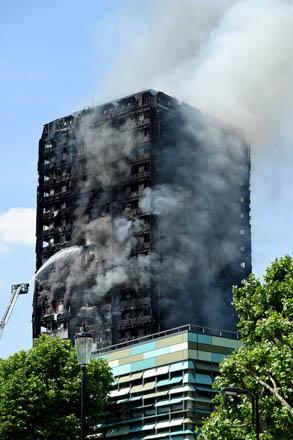 Smoke rises from the building after a huge fire engulfed the 24 storey residential Grenfell Tower block in Latimer Road, West London, in the early hours of this morning on Wednesday (Anadolu Agency photo)
LONDON — At least six people perished on Wednesday and many more are still missing after a massive inferno tore through a London apartment block, with witnesses reporting terrified people had leapt from the 24-storey tower.
As smoke continued to billow from the charred building, survivors voiced anger over longstanding safety fears at the Grenfell Tower, which was home to between 600 and 800 people.
Parents wrapped wet towels around their children as they tried to escape, with others seen desperately waving for help from the higher floors.
"I can confirm six fatalities at this time but this figure is likely to rise," said police commander Stuart Cundy, describing the fire as "truly shocking".
Seventy-four people were being treated in hospitals, 20 of whom are in a critical condition.
The alarm was raised just before 1:00 am (0000 GMT) and within an hour flames had engulfed the entire block of 120 flats, which is home to between 600 and 800 people.
More than 200 firefighters had been tackling the blaze and 12 hours on, the building was still smoking.
Large pieces of debris fell from the wrecked building, a 1970s local authority-built block in the working-class area of north Kensington, just streets away from the wealthy homes of Notting Hill.
Residents claimed the fire spread on the exterior of the tower, which had been covered in cladding in a major refurbishment completed last year.
London Mayor Sadiq Khan said firefighters had only able to reach the 12th floor at the height of the blaze.
"A lot of people are unaccounted for," he told Sky News television.
The London Fire Brigade said the cause of the fire was under investigation, but chief Dany Cotton said she had "never seen anything on this scale".
She said the building's structure was stable enough for fire crews to scale inside, searching for survivors.
Witnesses said they heard screaming from the upper floors as the flames raced up the tower.
"I saw people jumping out of their windows," Khadejah Miller, who was evacuated from her home nearby, told AFP.
Adi Estu, 32, who lives nearby and took refuge in a church with her husband and nine-month-old son, said: "I saw people flashing their lights for help, families flashing their mobile phones like a torch. But the smoke covered them.
"We saw them dying."
Salah Chebiouni, 45, who escaped from his ninth-floor flat with his wife and two children, said he was in his kitchen when "I saw fire outside my window".
Members of the local community delivered food, water, blankets and clothes to the church and nearby community centre, where frantic families attempted to call their loved ones, fearing they could be stuck inside.
Eddie Daffarn, a 16th-floor resident, said he struggled to find the stairs as the building filled with black smoke until a fireman grabbed his leg and directed him to safety.
He said residents had complained for years about mismanagement of the block, saying he had warned that "one day there will be a catastrophic fire and that will hold these people to account".
"This is mass murder and these people need to be put into court," he said.
Prime Minister Theresa May said she was "deeply saddened" by the situation and has called an emergency meeting to coordinate the response to the fire, which comes just 11 days after eight people were killed in a terror attack on London Bridge and nearby Borough Market.
May faced further delays in forming her new government after a failed election gamble when her would-be allies said their agreement would be put back following the blaze.
The apartment block was built in 1974, but had recently undergone a major refurbishment, including a new heating and hot water system and new cladding on the outside.
The £8.7 million ($11 million, 9.9 million euros) refit was completed in May 2016.
Rydon, the construction firm which carried out the refurbishment, said it "met all required building control, fire regulation and health and safety standards".
Related Articles
Feb 21,2015
Hundreds of panicked residents fled one of the tallest towers in Dubai early Saturday as a huge fire engulfed the skyscraper, causing extensive damage to its luxury flats.
Jun 18,2017
LONDON — Shouting "Killers!" and "We want justice", dozens of people stormed the town hall in London's richest borough on Friday, accusing t
Jun 24,2017
LONDON — Thousands of residents from 650 London flats were evacuated on Saturday due to fire safety fears in the wake of the Grenfell Tower
Newsletter
Get top stories and blog posts emailed to you each day.