You are here
EU lawmakers urge regulators to break up Google
By Reuters - Nov 27,2014 - Last updated at Nov 27,2014
BRUSSELS — European Union lawmakers overwhelmingly backed a motion on Thursday urging anti-trust regulators to break up Google, the latest setback for the world's most popular Internet search engine.
Google has been in the EU's regulatory sights since 2010, and is also grappling with privacy issues, requests to scrub search results to comply with a court ruling, copyright concerns and tax controversies.
The non-binding resolution in the European Parliament is the strongest public signal yet of Europe's concern with the growing power of US tech giants. It was passed with 384 votes for and 174 against.
German conservative lawmaker and co-sponsor of the bill Andreas Schwab said it was a political signal to the European Commission, which is tasked with ensuring a level playing field for business across the 28-country bloc.
"Monopolies in whatever market have never been useful, neither for consumers nor for the companies," he said.
Schwab said he had nothing against Google and was a regular user. "I use Google every day," he said.
Google declined to comment. European Competition Commissioner Margrethe Vestager has said she will review the case and talk to complainants before deciding on the next step.
Her predecessor rejected three attempts by the company to settle complaints that it unfairly demoted rival services and stave off a possible fine of up to $5 billion.
Four-year investigation
The resolution did not mention Google or any specific search engine, though Google is by far the dominant provider of such services in Europe with an estimated 90 per cent market share.
The lawmakers called on the commission to consider proposals to unbundle search engines from other commercial services.
Some politicians criticised the proposal.
"Parliament should not be engaging in anti-Google resolutions, inspired by a heavy lobby of Google competitors or by anti-free market ideology, but ensure fair competition and consumer choice," said lawmaker Sophie in't Veld from the parliament's ALDE liberal group.
Google is the target of a four-year investigation by the commission, triggered by complaints from Microsoft, Expedia, European publishers and others.
Lobbying group Computer & Communications Industry Association, whose members include Google, eBay Facebook, Microsoft and Samsung, said unbundling was an "extreme and unworkable" solution that made no sense in rapidly changing online markets.
"While clearly targeting Google, the parliament is in fact suggesting all search companies, or online companies with a search facility, may need to be separated. This is of great concern as we try to create a digital single market," it said.
Related Articles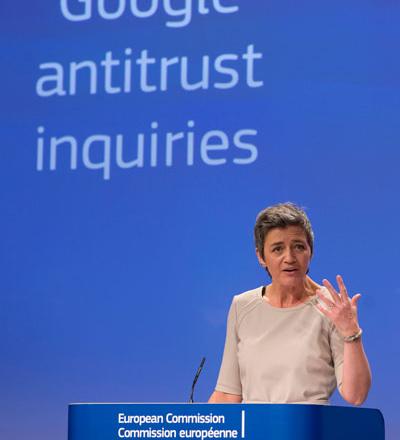 Apr 15,2015
The EU on Wednesday formally charged US Internet giant Google with abusing its search engine's dominance and launched a sensitive probe into its omnipresent Android mobile phone operating system.
Jul 17,2016
BERLIN — Google CEO Sundar Pichai hit back Sunday at accusations that the global internet giant failed to pay enough taxes in Europe, and wa
Apr 20,2016
BRUSSELS — The European Union charged Google on Wednesday with using its dominant Android mobile operating system to squeeze out rivals, ope
Newsletter
Get top stories and blog posts emailed to you each day.