You are here
Eyeing 2015 vote, British PM Cameron pledges 7 billion pounds in tax cuts
By Reuters - Oct 01,2014 - Last updated at Oct 01,2014
BIRMINGHAM, England — Prime Minister David Cameron promised to hand almost half the British population a tax cut if reelected next year, a pledge he hopes will win over millions of voters and refocus debate away from a schism inside his party over Europe.
The promise, which will cost over 7 billion pounds ($11.35 billion) to fund, was a calculated gambit to try to shift the narrative from one which has focused on the damage the anti-EU UK Independence Party (UKIP) is doing to Cameron's reelection hopes by siphoning off voters and lawmakers.
It was also an attempt to kick-start his Conservative party's moribund rating in opinion polls, where it has been trailing the opposition Labour Party for months, by holding out the prospect of a sweetener to balance a less enticing promise to freeze most welfare pay cheques and to slash state spending.
"So Britain: what's it going to be?" Cameron, 47, asked supporters packed inside a concert hall at his party's annual conference in the central English city of Birmingham. "I say: Let's not go back to square one. Let's finish what we have begun."
In a speech which touched on Scotland's decision to remain in the UK, the threat posed by Islamic State, and Britain's Second World War role, Cameron told activists he wanted and needed to be re-elected with an overall majority so he could govern alone and not in a coalition as is now the case.
"Believe me: coalition was not what I wanted to do; it's what I had to do," he said. "And I know what I want next. To be back here in October 2015 delivering Conservative policies."
Cameron has endured a tumultuous month taking Britain into battle with Islamist militants in Iraq, pondering his own demise if Scotland had voted to leave the United Kingdom, and watching as two of his lawmakers quit to join the anti-EU UKIP party.
In his speech he tried to strike a calm statesman-like posture as he sought to shore up his leadership, steady his party, and dangle some eye-catching promises before voters.
The centrepiece was a promise to lift 1 million workers out of tax if reelected by allowing them to earn more before they pay any income tax, a pledge he said would also mean reduced tax bills for 30 million more people, or just under half the country's total population.
He also pledged to ease the burden on the middle class by raising the threshold for the country's 40 per cent rate of income tax.
"With the Conservatives, if you work hard and do the right thing we say you should keep more of your own money to spend as you choose," Cameron told delegates to applause.
In another pledge aimed at reassuring voters, Cameron said he'd increase spending on the country's National Health Service, an issue which voters list as a priority and perceive Labour to be ahead on.
Europe schism
Hours before Cameron delivered his keynote speech, Arron Banks, a businessman who electoral records show has given tens of thousands of pounds to Cameron's party, said he was switching his support to UKIP.
His move followed that of two Conservative lawmakers to UKIP, which wants an immediate British EU exit and sharp curbs on immigration, and ratcheted up fears in Cameron's party that UKIP will split the centre-right vote and allow the opposition Labour Party to win.
Nigel Farage, UKIP's leader, hailed the latest defection as a sign his insurgent party was attracting big financial backers to bankroll what he has described as an earthquake in British politics.
"The other parties are losing Councillors, MPs and backers to UKIP, not only voters, and they are all playing their part in changing the course of politics in the UK for good," he said.
Cameron's party played down the defection and Cameron used his speech to hammer home what has become his party's main rallying cry not to vote UKIP, presenting the 2015 election as a straight choice between Cameron and Ed Miliband, the leader of the Labour Party.
He and his aides have repeatedly argued that a vote for UKIP will weaken his own party — the traditional standard bearer of the centre-right — and make it easier for Miliband to win.
"It doesn't matter whether parliament is hung, drawn or quartered, there is only one real choice. The Conservatives or Labour," said Cameron.
"Me in Downing Street, or Ed Miliband in Downing Street. If you vote UKIP that's really a vote for Labour. On 7th May [election day] you could go to bed with Nigel Farage, and wake up with Ed Miliband."
Trailing the opposition Labour Party in most opinion polls, Cameron is straining to pacify the Eurosceptic wing of his own party which wants him to offer firmer commitments on changing Britain's relationship with Europe.
He has promised to renegotiate Britain's EU ties if reelected before holding an EU membership referendum in 2017, but has been coy about spelling out what he wants to change with some Conservatives sceptical about the strength of his resolve.
Cameron used his speech to try to calm those jitters, saying he was steadfastly committed to overhauling Britain's EU ties and would seek to alter the bloc's freedom of movement rules to curb intra-EU immigration.
"Britain, I know you want this sorted so I will go to Brussels, I will not take no for an answer and when it comes to free movement — I will get what Britain needs," he said.
"Anyone who thinks I can't or won't deliver this — judge me by my record."
Cameron also sought to appease the right wing of his party with a promise to scrap the Human Rights Act — domestic legislation which enshrines the international principles of the European Convention on Human Rights into British law.
Senior Conservatives have been frustrated by rulings under the act which they say allow criminals to unfairly escape or delay punishment and often cite the deportation of radical Muslim cleric Abu Qatada to Jordan which was stalled for years.
Cameron said he would introduce a new rights bill in its place — a move that would give the Conservatives freedom to pick and choose which principles from the ECHR were directly enforceable through British law.
Increasingly Eurosceptic rhetoric has stoked concerns among some big business leaders who largely support Britain's EU membership.
The Institute of Directors, a lobby group for British business, praised Cameron's tax cut proposals but said the attempt to hinder the free movement of people in the European Union was disappointing.
"On Europe, it is disappointing that the prime minister intends to put toughening up the rules around the free movement of people at the core of his impending renegotiation strategy," said Simon Walker, its director general.
Related Articles
May 05,2015
Britain's political leaders on Tuesday began a final push for votes ahead of this week's knife-edge election, even as they prepared for the likelihood of protracted coalition talks once polls close.
Mar 30,2015
Campaigning in Britain's closest election in decades began on Monday after Prime Minister David Cameron met Queen Elizabeth to tell her parliament had been dissolved, teeing up a fraught battle to govern a $2.8 trillion economy.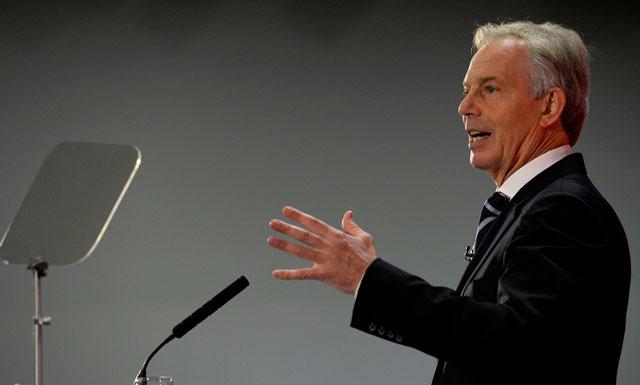 Apr 07,2015
Former prime minister Tony Blair plunged into Britain's general election fray on Tuesday, sounding a warning about the dangers of the country leaving the EU.
Newsletter
Get top stories and blog posts emailed to you each day.