You are here
'Go to hell': Trump under fire over Muslim ban call
By AFP - Dec 08,2015 - Last updated at Dec 08,2015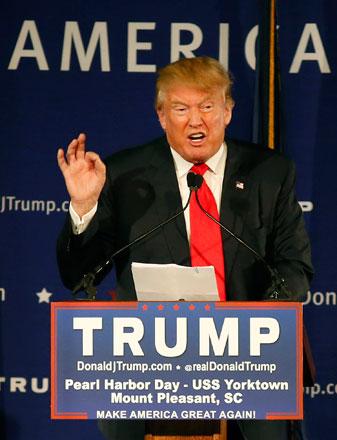 Republican presidential candidate, businessman Donald Trump gestures as he speaks during a rally coinciding with Pearl Harbor Day at Patriots Point aboard the aircraft carrier USS Yorktown in Mt. Pleasant, South Carolina, Monday (AP photo)
WASHINGTON — A firestorm erupted Tuesday over Donald Trump's call for a ban on Muslims entering the United States as religious leaders, the White House and his rivals on the presidential campaign roundly condemned the proposal.
The leading candidate for the Republican presidential nomination made the provocative remarks — just his latest on a range of topics on the campaign trail — after last week's shooting that left 14 dead in California by a Muslim couple said to have been radicalised.
In a rare primetime speech to the nation from the Oval Office on Sunday, President Barack Obama called the attack in San Bernardino an "act of terrorism" and vowed to defeat extremism, but also stressed that it was not "a war between America and Islam".
Less than 24 hours later, Trump's bombastic bid for the White House plumbed what critics called a new low and triggered calls for him to be barred from taking power after he urged a "total and complete shutdown of Muslims entering the United States until our country's representatives can figure out what is going on".
In a speech late Monday, the 69-year-old billionaire real estate mogul and reality television star doubled down on his initial statement.
"We have no choice," Trump said, saying that radicals want to kill Americans.
"It's going to get worse and worse. We're going to have more World Trade Centres," he said, referring to the deadly attacks on September 11, 2001.
His comments were condemned by the White House as "totally contrary" to American values and similarly slammed as far afield as London and Cairo, where Egypt's official religious body Dar Al Iftaa denounced them as "extremist and racist".
The strongest reaction came in the United States, including from Trump's rivals in the race to run for the White House in 2016.
Senator Lindsey Graham branded the remarks "un-American" and said Trump was only fueling radical Islam.
Trump was the "ISIL man of the year", said Graham, referring to the Daesh terror group.
"Do you know how you win this war? You side with people in the faith who reject this ideology, which is 99 per cent," Graham told CNN, before invoking Trump's campaign slogan — "make America great again".
"And do you know how you make America great again?" asked Graham, who is lagging badly in the nomination race.
"Tell Donald Trump to go to hell."
Other Republican contenders including Marco Rubio, John Kasich, Chris Christie and Jeb Bush, as well as Republican House Speaker Paul Ryan, also rejected Trump's proposal.
Hillary Clinton, the Democratic presidential frontrunner, tweeted: "Declaring war on Islam or demonising Muslim Americans is not only counter to our values — it plays right into the hands of terrorists."
And Rick Kriseman, the Democratic mayor of Saint Petersburg, Florida, tweeted: "I am hereby barring Donald Trump from entering St Petersburg until we fully understand the dangerous threat posed by all Trumps."
'Like lynch mob'
Muslim leaders in the United States also hit out at Trump.
Sohaib Sultan, Muslim Life Coordinator and Chaplain at Princeton University, was scathing, drawing parallels between Trump and the radical ideology of the Daesh terror group.
"ISIS is to Islam what Donald Trump is to American values: a complete distortion of everything that we as a country and a society stand for."
He added: "I think he's clearly disqualified himself from being the president of the United States."
But Sultan also lambasted other Republicans.
"I know a lot of Republican candidates are jumping on Trump about his latest comments, but a lot of Republican candidates have really been using similar type of rhetoric throughout the election cycle as well," he told CNN.
Nihad Awad, executive director of the Council on American-Islamic Relations, added: "Donald Trump sounds more like a leader of a lynch mob than a great nation like ours."
But Trump was characteristically unrepentant Tuesday, comparing the proposed ban to "presidential proclamations" made by Franklin D. Roosevelt during World War II.
Asked in an interview on MSNBC's "Morning Joe" programme if his proposal went against treasured American values, he responded: "No, because FDR did it!"
But that failed to quell the firestorm, with Jeff Bezos, the Amazon founder who also set up the space company Blue Origin, tweeting: "Will still reserve him a seat on the Blue Origin rocket. #sendDonaldtospace."
The British government also weighed in.
Prime Minister David Cameron "completely disagrees" with the remarks, which are "divisive, unhelpful and quite simply wrong", a spokeswoman for the Conservative leader said.
In Geneva, the United Nations refugee agency — though not directly responding to Trump's remarks — warned that rhetoric in the US presidential campaign was threatening a key refugee resettlement programme in the United States.
Related Articles
Dec 09,2015
WASHINGTON — A growing global backlash against Republican presidential front-runner Donald Trump's proposal to ban Muslims from entering the
Dec 13,2015
AMMAN — A group of MPs on Sunday called on the government to ban US presidential hopeful Donald Trump from entering Jordan, citing the Repub
Sep 08,2016
WHITE PLAINS, New York — US Democratic presidential candidate Hillary Clinton chastised Republican rival Donald Trump on Thursday for talkin
Newsletter
Get top stories and blog posts emailed to you each day.