You are here
Grand National Assembly condemns coup attempt
By JT - Jul 20,2016 - Last updated at Jul 20,2016
AMMAN — Turkey's Grand National Assembly condemned the attempted coup on Friday in a joint declaration, a copy of which was made available to The Jordan Times on Wednesday.
"We, the Justice and Development Party, Republican People's Party, Peoples' Democratic Party and Nationalist Movement Party, condemn in the strongest terms the attempted coup d'etat against our beloved nation, the national will, our State [particularly against members of parliament representing the national will], the Veteran Assembly; and we condemn the attacks against the Assembly which began on the night of 15 July and were quashed by the morning of 16 July," the declaration said.
"Our nation stood against and thwarted this bloody coup attempt in a way which set an example to the whole world. This beloved nation, which protected the Republic of Turkey and its institutions at the cost of its life, deserves every praise and appreciation. We, the whole nation, are grateful to the martyrs who gave their lives for this cause and we will never forget these heroes.
"The Grand National Assembly of Turkey [GNAT], in its capacity as the representative of this beloved and brave nation and acting with the authority given to it by the nation, fulfilled its duty under attack from bombs and bullets, and demonstrated, once again, that it is a parliament worthy of the nation."
The GNAT will continue to reflect the nation's unwavering belief in democracy, said the declaration
Related Articles
Jul 17,2016
ANKARA — Pouring out into the streets, forces loyal to Turkey's president quashed a coup attempt in a night and day of explosions, air battl
Jul 25,2016
ISTANBUL —Tens of thousands of supporters of Turkey's ruling and main opposition parties, usually bitter foes, rallied together on Sunday in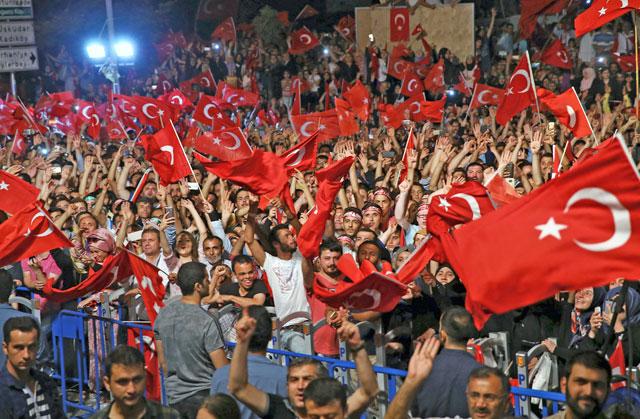 Jul 20,2016
ISTANBUL/ANKARA — Turkey vowed to root out allies of the US-based cleric it blames for an abortive coup last week, widening a purge of the a
Newsletter
Get top stories and blog posts emailed to you each day.