You are here
Impasse over China's island-building shows no sign of easing
By AP - May 30,2015 - Last updated at May 30,2015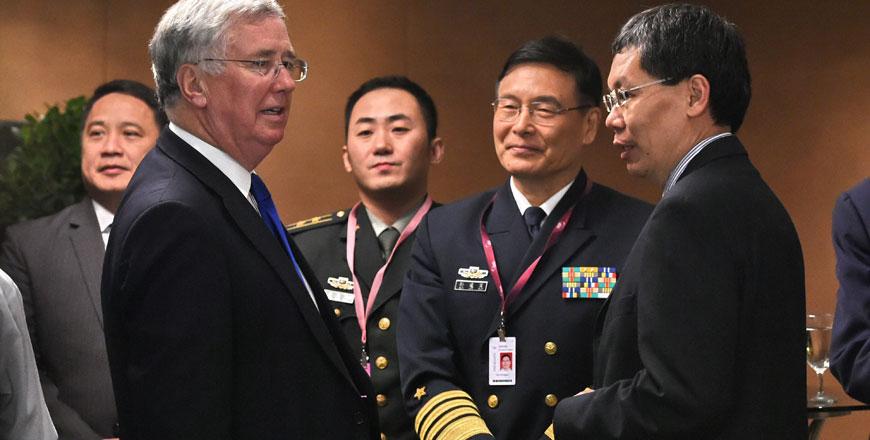 Britain's Secretary of State for Defence Michael Fallon (left) mingles with Sun Jianguo (centre), from the Chinese People's Liberation Army Navy, and Singapore minister for transport and second minister for defence, Lui Tuck Yew (right), during the ministerial luncheon at the 14th Asia Security Summit in Singapore on Saturday (AFP photo)
SINGAPORE — China vigorously defended its South China Sea land reclamation projects in the face of persistent criticism from US leaders at an international security summit Saturday as the stand-off in the Asia-Pacific region shows few signs of abating.
US Defence Secretary Ash Carter and other officials sharply condemned the artificial island-building, but provided no details on what steps the US may take to press China into diplomatic talks.
Carter said China's land reclamation was out of step with international rules, and that turning underwater land into airfields would not expand its sovereignty.
He and others said the US opposes "any further militarisation" of the disputed lands. That was a reference to two large motorised artillery vehicles that officials said China had placed on one of the artificial islands.
Chinese officials, in public statements and a private meeting, defended the construction and slammed the US for interfering.
Chinese foreign ministry spokeswoman Hua Chunying said the US was "making absurd remarks about China's long-established sovereignty and rights, stirring up trouble and slinging accusations regarding China's appropriate and rational construction activities on its islands. China resolutely opposes this".
David Shear, the assistant US defence secretary for Asian issues, told reporters that a private meeting with Chinese Rear Adm. Guan Youfei, the chief of foreign affairs at the defence ministry, was "spirited and candid".
"There aren't any silver bullets to resolving this," said Shear. "It's going to take time, and it's going to take some determined diplomacy by us and with our partners."
At the conference, US senators and officials from other Pacific nations questioned whether the US would take action.
Carter and other officials, including Adm. Harry Harris, who just took over US Pacific Command, declined to talk about what diplomatic or military steps the US would be willing to take.
US Sen. John McCain, chairman of the Senate Armed Services Committee, said the US should not invite China to a major military exercise in the Pacific in 2016. But Harris said China has already been invited, and that the two countries must engage if they are to build a better relationship and lessen the chances for misunderstandings.
But, he said, "we always have the option of changing our approach."
He also said he was concerned by the artillery weapons, which were discovered at least several weeks ago. Two US officials who are familiar with intelligence about the vehicles say they have been removed. The officials weren't authorised to discuss the intelligence and spoke only on condition of anonymity.
The Pentagon would not release any photos to support its contention that the vehicles were there.
China's assertive behaviour in the South China Sea has become an increasingly sore point in relations with the United States, even as President Barack Obama and China's President Xi Jinping have tried to deepen cooperation in other areas, such as climate change.
"Turning an underwater rock into an airfield simply does not afford the rights of sovereignty or permit restrictions on international air or maritime transit," Carter told the audience at the International Institute for Strategic Studies summit.
China's actions have been "reasonable and justified", said Senior Col. Zhao Xiaozhuo, deputy director of the Centre on China-America Defence Relations at the People's Liberation Army's Academy of Military Science.
Zhao challenged Carter, asking whether America's criticism of China and its military reconnaissance activities in the South China Sea "help to resolve the disputes" and maintain peace and stability in the region.
Carter responded that China's expanding land reclamation projects are unprecedented in scale. He said the US has been flying and operating ships in the region for decades and has no intention of stopping.
While Carter's criticism was aimed largely at China, he made it clear that other nations who are doing smaller land reclamation projects also must stop.
One of those countries is Vietnam, which Carter is scheduled to visit during this 11-day trip across Asia. Others are Malaysia, the Philippines and Taiwan.
Carter said the US will continue to sail, fly and operate in the region, and warned that the Pentagon will be sending its "best platforms and people" to the Asia-Pacific. Those would include, he said, new high-tech submarines, surveillance aircraft, the stealth destroyer and new aircraft carrier-based early warning aircraft.
One senior US defence official has said the US was considering more military flights and patrols closer to the projects in the South China Sea, to emphasise reclaimed lands are not China's territorial waters.
Officials also are looking at ways to adjust the military exercises in the region to increase US presence if needed. That official was not authorised to discuss the options publicly and spoke on condition of anonymity.
One possibility would be for US ships to travel within 12 miles of the artificial islands, to further make the point that they are not sovereign Chinese land.
Related Articles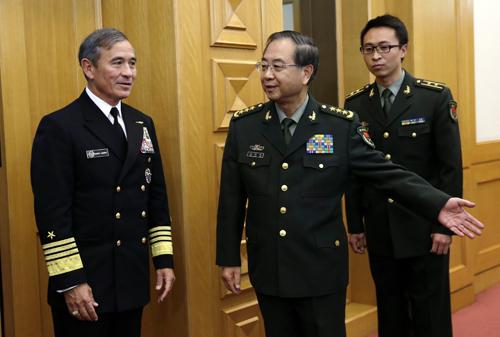 Nov 03,2015
BEIJING — The US military will continue to operate wherever international law allows, a top US admiral said in Beijing on Tuesday, a week af
Jun 01,2015
SINGAPORE — After a months-long row over Beijing's island-building in the South China Sea, the United States and China were relatively restr
Nov 05,2015
ABOARD THE USS THEODORE ROOSEVELT — Defence Secretary Ashton Carter on Thursday visited a US aircraft carrier in the South China Sea, where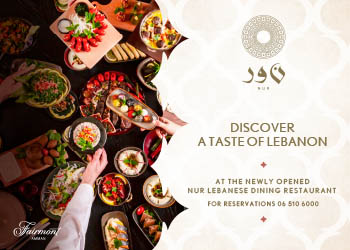 Newsletter
Get top stories and blog posts emailed to you each day.