You are here
Investigators seek motive in deadly Florida airport rampage
By Reuters - Jan 07,2017 - Last updated at Jan 07,2017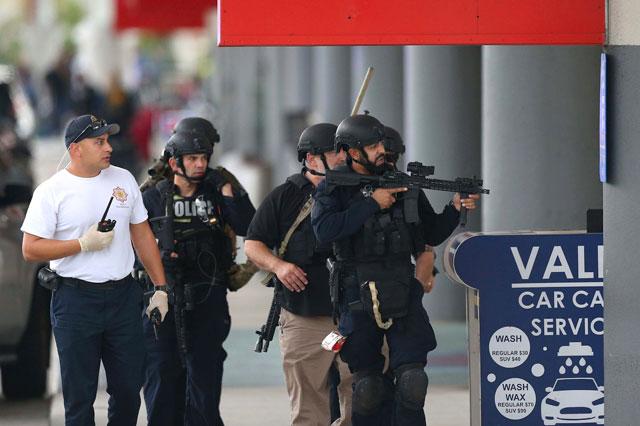 Law enforcement officers walk around Fort Lauderdale-Hollywood International Airport, on Friday, in Fort Lauderdale, Florida (AP photo)
FORT LAUDERDALE, Florida — The 26-year-old Iraq war veteran accused of killing five people at Fort Lauderdale International Airport was booked into jail for murder on Saturday, as investigators probed whether mental illness played a role in America's latest mass shooting.
Florida Governor Rick Scott said some of the victims were still in surgery fighting for their lives after Friday's rampage in the crowded baggage claim area. The gunman, who had a history of behaving erratically, was taken into custody by police.
"People trying to live their lives and enjoy the weekend were senselessly murdered. It was an absolutely horrific day," Scott told a news conference at the airport on Saturday morning.
Asked about official statements that the suspect, Esteban Santiago, had acted oddly in the past and had undergone mental health evaluations, the governor said law enforcement were working hard to figure out what drove him to open fire.
"I have a brother who suffers with mental illness and it's very hard to deal with some of these issues," Scott said. "As a society, after we understand what happened, we'll have the opportunity to have a conversation."
A Federal Bureau of Investigation (FBI) official said on Friday that investigators have not ruled out terrorism as a reason for the attack and were reviewing the suspect's recent travel.
Authorities say Santiago arrived in Fort Lauderdale on a connecting flight from Alaska, and that he retrieved a 9mm semi-automatic handgun from his checked luggage then loaded it in a bathroom before emerging and shooting indiscriminately.
Witnesses said the gunman, who was wearing a "Star Wars" T-shirt, said nothing as he fired, and that he surrendered to police only after running out of ammunition.
Decorated veteran
In addition to the five killed, eight people were wounded and some three dozen were taken to local hospitals with bruises or broken bones suffered in the chaos as passengers fled.
Commercial flights at the airport, which were halted after the attack, were due to resume on Saturday, officials said.
George Piro, special agent in charge of the FBI's office in Miami, told reporters on Friday that Santiago had walked into an FBI office in Anchorage in November last year behaving erratically. Piro said he was turned over to local police who took him to a medical facility for a mental evaluation.
A federal law enforcement official told Reuters that Santiago told agents at the Anchorage office in November that his mind was being controlled by a US intelligence agency, and that it was ordering him to watch videos made by the Daesh militant group.
Santiago served from 2007 to 2016 in the Puerto Rico National Guard and Alaska National Guard including a deployment to Iraq from 2010 to 2011, according to the Pentagon.
A private first class and combat engineer, he received half a dozen medals before being transferred to the inactive ready reserve in August last year.
An aunt said he came back from his deployment "a different person", MSNBC reported.
The attack was the latest in a series of mass shootings that have plagued the United States in recent years, some inspired by Islamist militants, others carried out by loners or the mentally disturbed.
In June last year Florida was the scene of the deadliest mass shooting in modern US history, when a gunman apparently inspired by Daesh killed 49 people and wounded 53 at the gay nightclub "Pulse" in Orlando.
up
5 users have voted, including you.
Related Articles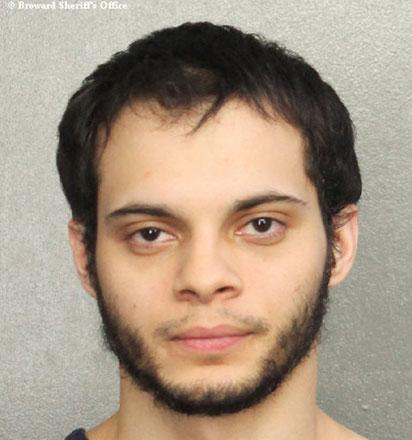 Jan 08,2017
MIAMI — US authorities have charged the Iraq war vet accused of shooting five people dead and wounding six at a Florida airport with federal
Apr 03,2014
The soldier suspected of gunning down three people before killing himself at the Fort Hood Army base in Texas was under psychiatric care but showed no signs of violence or suicidal tendencies, the secretary of the US Army said on Thursday.
Jun 13,2016
ORLANDO, Florida — The last of the bodies were removed from an Orlando gay nightclub overnight as investigators dug into the background of t
Newsletter
Get top stories and blog posts emailed to you each day.