You are here
Major quake cuts communications, halts oil, gas operations in Papua New Guinea
By Reuters - Feb 26,2018 - Last updated at Feb 26,2018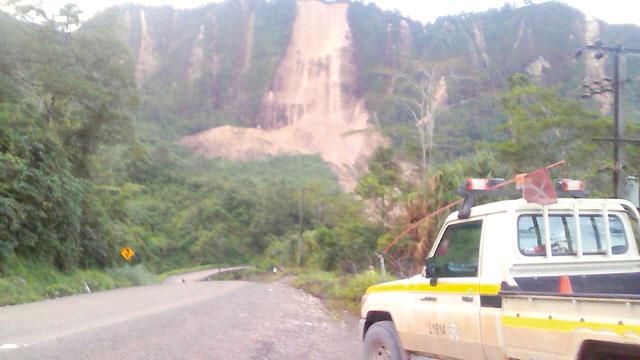 A supplied image shows locals inspecting a landslide and damage to a road located near the township of Tabubil after an earthquake that struck Papua New Guinea's Southern Highlands on Monday (Reuters photo)
WELLINGTON/MELBOURNE — At least one company began evacuating non-essential personnel after a powerful 7.5 magnitude earthquake hit Papua New Guinea's (PNG's) energy-rich interior on Monday, causing landslides, damaging buildings and closing oil and gas operations.
The tremour hit in the rugged, heavily forested Southern Highlands about 560km northwest of the capital, Port Moresby, at around 3:45am local time (15:45GMT Sunday), according to the US Geological Survey (USGS).
A spokesman at PNG's National Disaster Centre said by telephone the affected area was very remote and the agency could not properly assess damage until communication was re-established.
He said there were no confirmed casualties, although the International Red Cross (IRC) in PNG said some reports indicated there were "fears of human casualties".
"It's very serious all across the Southern Highlands and also all over the western highlands. People are definitely very frightened," Udaya Regmi, the head of the IRC in Papua New Guinea, said by telephone from Port Moresby.
The PNG government also said it had sent disaster assessment teams. At least 13 aftershocks with a magnitude of 5.0 or more rattled the area throughout the day, according to USGS data, but no tsunami warnings were issued.
Early on Tuesday, USGS reported that another quake with a magnitude of 6.4 had hit 142km from the city of Mount Hagen at a depth of
about 10km.
"The Papua New Guinea Defence Force has also been mobilised to assist with the assessment and the delivery of assistance to affected people as well as the restoration of services and infrastructure," Isaac Lupari, the chief secretary to the government, said in a statement after Monday's tremour.
ExxonMobil said it had shut its Hides gas conditioning plant and that it believed administration buildings, living quarters and a mess hall had been damaged. It also said it had suspended flights into the nearby Komo airfield until the runway could be surveyed.
"Due to the damage to the Hides camp quarters and continuing aftershocks, ExxonMobil PNG is putting plans in place to evacuate non-essential staff," the company said in an e-mailed statement.
Gas is processed at Hides and transported along a 700km line that feeds a liquefied natural gas plant near Port Moresby for shipping.
PNG oil and gas explorer Oil Search said in a statement it had also shut production in the quake-affected area.
The giant Grasberg copper mine operated by the Indonesian unit of Freeport McMoRan in neighbouring Papua province was not affected, a Jakarta-based spokesman said.
However, the quake and several aftershocks caused panic in Jayapura, the capital of Indonesian Papua, Indonesia's disaster mitigation agency said in a statement, but there were no reports of casualties or damage there.
The IRC's Regmi said communications were "completely down" in Tari, one of the larger settlements near the quake's epicentre, and that landslides had cut roads.
Several other aid and missionary agencies said poor communications in the area made damage and injury assessment difficult.
"The bush structures that they build tend to handle earthquakes extremely well," Christian missionary Brandon Buser told Reuters after contacting several remote villages by shortwave radio.
Earthquakes are common in Papua New Guinea, which sits on the Pacific's "Ring of Fire", a hotspot for seismic activity due to friction between tectonic plates.
"This is the Papuan fold-and-thrust belt, so it's a typical movement of faults in that region, but it's big," said Chris McKee, acting director of the Geohazards Management Division in Port Moresby.
Part of PNG's northern coast was devastated in 1998 by a tsunami, generated by a 7.0 quake, which killed about 2,200 people.
Related Articles
Mar 05,2018
SYDNEY - Strong aftershocks rocked Papua New Guinea's remote and rugged highlands on Monday, as the death toll climbed to 55 from a 7.5-mag
Dec 13,2017
BEIRUT — Iran's southeastern province of Kerman was hit by multiple strong quakes on Tuesday and Wednesday, injuring at least 18 people and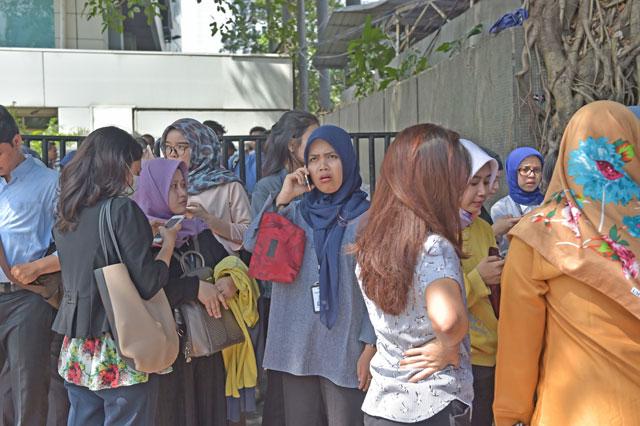 Jan 23,2018
JAKARTA — A strong quake rattled Indonesia on Tuesday, sparking panic in the capital Jakarta and ripping roads apart in the countryside.&nbs
Newsletter
Get top stories and blog posts emailed to you each day.