You are here
Nearly 2,000 boat people including Rohingya rescued in Southeast Asia
By AFP - May 11,2015 - Last updated at May 11,2015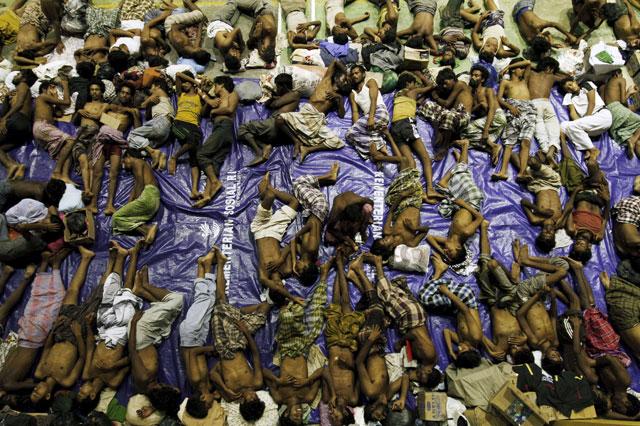 LANGKAWI, Malaysia — Nearly 2,000 boat people from Myanmar and Bangladesh have been rescued or swam to shore in Malaysia and Indonesia, authorities said Monday, warning that still more desperate migrants could be in peril at sea.
The spate of arrivals comes as Thailand, a key stop on a Southeast Asian people-smuggling route, cracks down following the discovery of mass graves that has laid bare the extent of the thriving trade.
Thousands of impoverished Muslim Rohingya — a minority unwanted by Myanmar's government — and Bangladeshis brave a perilous sea and land trafficking route through Thailand and into Malaysia, Indonesia and beyond every year.
Malaysian police said people-smugglers had dumped at least 1,018 hungry migrants in shallow waters off the coast of the resort island of Langkawi since Sunday.
One boat was still stuck on a breakwater offshore but the others are believed to have fled to sea.
"We know that there are more boats out there that want to come in," Langkawi police chief Haritth Kam Abdullah told AFP, citing police intelligence.
Indonesian authorities said they intercepted a boat off the coast of the northwestern province of Aceh early Monday with estimates of at last 400 people aboard, a day after 573 people described by one official as "sad, tired and distressed" came to shore in Aceh.
At least 92 children were among those brought ashore in Malaysia and Indonesia.
The vessel discovered off Indonesia on Monday was still at sea, shadowed by the country's navy, said naval spokesman Manahan Simorangkir.
He said the vessel was damaged but afloat, and its captain had fled. The navy was supplying the ship with water and food but the spokesman said there were currently no plans to allow it to berth.
Further arrivals
Aceh provincial search and rescue chief Budiawan, who like many Indonesians goes by one name, told AFP authorities were bracing for further arrivals.
"We are on stand-by and ready to rescue them when we receive an alert," Budiawan said.
Abdul Rahim, a 25-year-old Bangladeshi who swam ashore Sunday on Langkawi, told AFP he endured a 28-day journey on a ship operated by Myanmar smugglers and packed with hundreds of other people amid appalling conditions.
He was among about 300 Bangladeshi men who were being fed and tended to at a police detention centre badminton court, most of them shirtless and looking thin, weak and haggard.
"We were given only very little food and water. When I asked for more I was beaten with sticks and metal rods," he said, showing a two-inch gash on his back.
His ship had been bound from Bangladesh for Malaysia but the passengers were not expecting to be ordered into the surf off Langkawi.
Activists and refugee groups say the Thai crackdown may be leaving many migrants stuck on overcrowded ships or at risk of being dumped at sea by nervous smugglers.
"Thailand has tried to prevent traffickers from continuing their business... so that has forced them to go somewhere else," said Chris Lewa from The Arakan Project, a Rohingya rights group, who believes thousands may be at sea.
Migrants are "just trying to disembark before they die", she added.
Rohingya targeted
Buddhist-majority Myanmar views its population of Rohingya, estimated at more than a million, as illegal Bangladeshi immigrants. They have been targeted in outbreaks of sectarian violence there in recent years, prompting many to flee.
Boatloads have arrived off Aceh in the past, typically after becoming lost or running out of fuel.
Those who straggled ashore in Aceh on Sunday had been en route from Thailand to Malaysia, according to accounts by migrants and officials there.
They were falsely told they had arrived in Malaysia — a relatively prosperous magnet for migrants for surrounding nations — and ordered to swim to shore.
They included 83 women and 41 children, said Darsa, a local disaster management agency official.
One woman was pregnant and some of the children were aged under 10.
"Some of them were not doing too well and needed medical attention," Darsa said.
Langkawi police said the 1,018 people found there included 555 Bangladeshi men.
There were 463 Rohingya, including 101 women and 52 children.
The UN considers Rohingya to be among the world's most persecuted minorities.
Thai authorities have been at pains to show they are serious about tackling people-smuggling after years of accusations that they turn a blind eye to — or are even complicit in — the trade.
Four secret jungle camps have now been found in southern Songkhla province since last weekend, as well as 33 bodies, Thai police have said, with many pulled from shallow graves.
Related Articles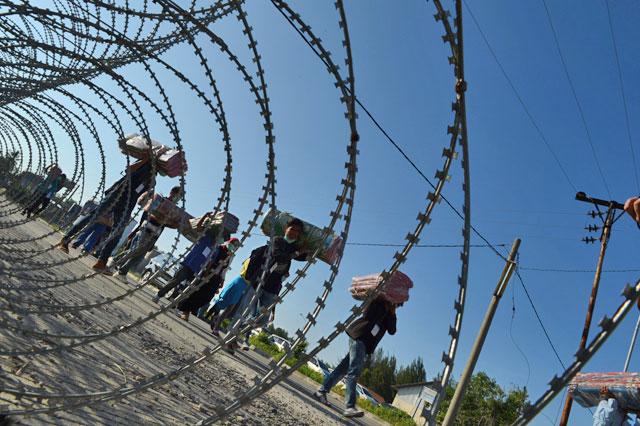 May 19,2015
At least 2,000 migrants stalked by hunger and violence have been trapped for weeks on boats off Myanmar, the UN said Tuesday, as Indonesia called for a regional effort to tackle the crisis.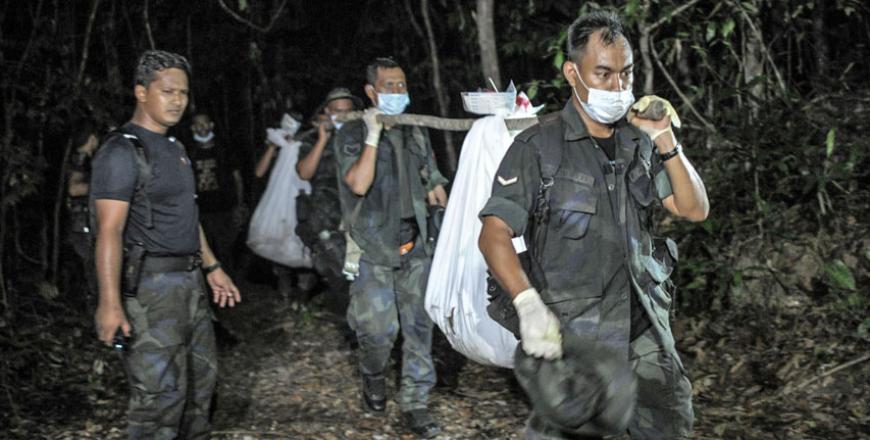 May 28,2015
WANG KELIAN, Malaysia — Malaysian police Thursday removed the remains of nine people from jungle camps near the Thai border where an estimat
May 30,2015
YANGON — More than 700 migrants found crammed into a fishing boat by Myanmar's navy will be taken to the country's troubled Rakhine state, a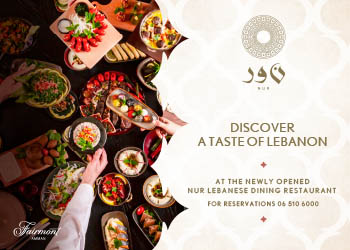 Newsletter
Get top stories and blog posts emailed to you each day.