You are here
Obama returning from summer vacation ready for busy fall
By AP - Aug 21,2016 - Last updated at Aug 21,2016
EDGARTOWN, Massachusetts — President Barack Obama is returning from vacation rested and ready for a busy fall, including pressing Congress for money to protect against the Zika virus and fending off lawmakers' attacks over the administration's $400 million "leverage" payment to Iran.
Obama also is expected to campaign doggedly to help elect Democrat Hillary Clinton as president.
Obama was due at the White House late Sunday after a 16-day getaway to Martha's Vineyard, Massachusetts, with his wife, Michelle, and daughters Malia and Sasha. He began the day by going on a hike with the first lady.
His first order of business is a Tuesday trip to Baton Rouge, Louisiana, to survey damage from flooding that killed at least 13 people and forced thousands into shelters.
Obama resisted pressure from Louisianans and others to interrupt his vacation to tour the ruins and meet with officials and flood victims. Republican presidential candidate Donald Trump filled the void created by Obama's absence, touring the ravaged area Friday with his running mate, Indiana Gov. Mike Pence, and helping to unload a supply truck.
Obama planned to spend the rest of the week in meetings, largely to prepare for an upcoming, weeklong trip to Asia, his 11th and likely final visit to the region as president.
With Congress still on a seven-week break, Obama and aides probably will focus on what the White House can get from lawmakers before they leave town to campaign for re-election. Congress returns after Labour Day, and the House and Senate will have just a month to pass a catch-all spending bill by the September 30 end of the federal budget year to keep the government operating.
Lawmakers plan to leave Washington again at the end of September, and not return until after the November 8 elections.
The White House will continue to press lawmakers for money to help keep the mosquito-borne Zika virus from spreading and to develop a vaccine, now that Florida last week identified the popular Miami tourist haven of South Beach as the second site of Zika transmission on the US mainland. A section of Miami's Wynwood arts district was the first.
Obama asked Congress for $1.9 billion this year for Zika prevention. Republicans offered $1.1 billion and added provisions that Democrats objected to, including language on Planned Parenthood and other issues, leaving the matter in limbo before Congress adjourned in mid-July. Lawmakers could end up adding Zika money to the broader spending bill.
In turn, incensed lawmakers have promised to keep the heat on the administration over $400 million it delivered to Iran in January. Republicans say the money was ransom, paid to win freedom for four Americans who were being held in Iran. Questioned about the payment earlier this month, Obama said: "We do not pay ransom. We didn't here. And we... won't in the future."
The president and other officials denied any linkage. But administration officials also said it made little sense not to "retain maximum leverage", as State Department spokesman John Kirby put it last week, for the money long owed to Iran, to ensure the US citizens' release, given uncertainty about whether Iran would keep its promise to free them the day the money was to be delivered.
The explanations have failed to satisfy critics in and out of Congress. Trump has begun telling supporters at his campaign rallies that Obama "openly and blatantly" lied about the prisoners. House Speaker Paul Ryan, R-Wis., said Obama has set a "dangerous precedent" and owes the public a "full accounting of his actions".
Obama opens the fall, and what's expected to be a dogged effort to boost Clinton to the White House, in improved standing with the public, according to the Pew Research Center. His job approval rating stands at 53 per cent, compared with 42 per cent disapproval. That is about the same as just before July's political conventions.
But Obama's standing among independent voters has reached positive territory for the first time since December 2012. Fifty-three percent of independents approve of Obama's job performance, the center found, while 40 per cent disapprove. Independents had split 46 per cent to 46 per cent on the question in June.
Obama won't spend much time at the White House after a vacation during which he played golf or went to the beach almost daily.
After the Louisiana visit, the president heads to Nevada on August 31 to discuss environmental protection at the Lake Tahoe Summit. He follows with the September 2-9 trip to China and Laos. Obama will become the first American president to visit Laos.
Related Articles
Aug 10,2015
CHILMARK, Massachusetts — President Barack Obama said Republicans are reflexively opposing the Iran nuclear deal because his name is on to i
Nov 05,2014
President Barack Obama faces the prospect of a turbulent final two years in office after Republicans stormed to power in the US Senate, extended their majority in the House of Representatives in a midterm election that was a clear repudiation of the president's leadership.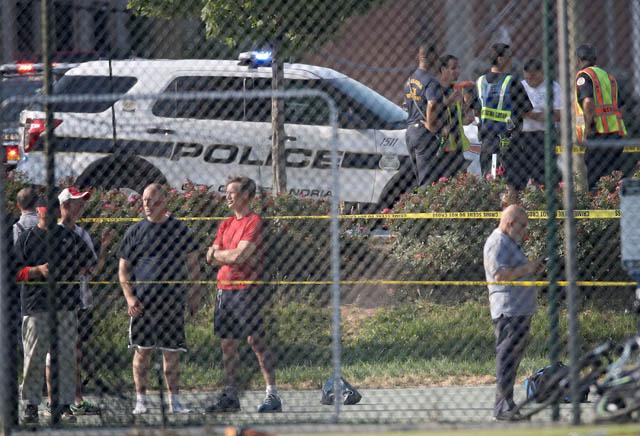 Jun 14,2017
ALEXANDRIA, United States — A man wielding a rifle opened fire on lawmakers and staff at a baseball practice just outside the US capital ear
Newsletter
Get top stories and blog posts emailed to you each day.