You are here
Plane debris to be probed in France as MH370 enigma swirls
By AFP - Jul 31,2015 - Last updated at Jul 31,2015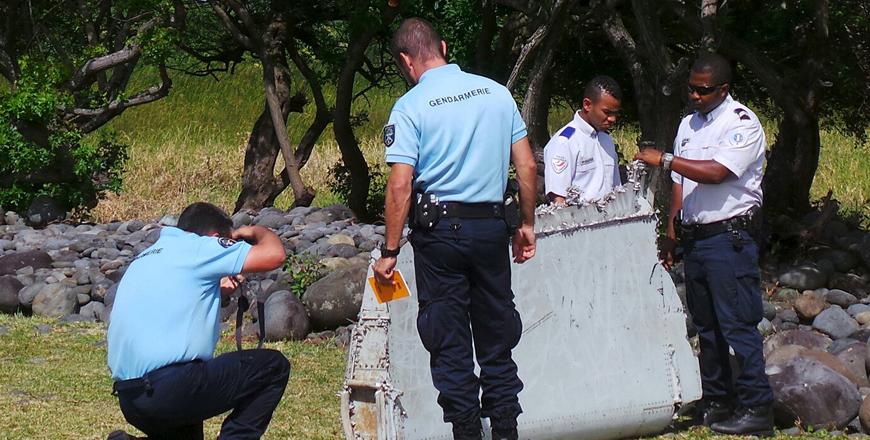 French gendarmes and police inspect a large piece of plane debris which was found on the beach in Saint-Andre, on the French Indian Ocean island of La Reunion, on Wednesday (Reuters photo)
SAINT-ANDRÉ, France — Plane wreckage washed up on a tiny Indian Ocean island will be sent to France for investigation, as hopes mounted Thursday the mysterious object could unlock the riddle of missing Flight MH370.
After a fruitless 16-month search for the Malaysia Airlines plane, the discovery of a piece of a plane wing offered up the bittersweet hope of closure to the families of 239 people, who seemingly disappeared into thin air on the doomed flight.
Malaysian Prime Minister Najib Razak said the two-metre long piece of wreckage found on the French island of La Reunion was "very likely" from a Boeing 777, but it remained to be seen if it indeed came from MH370.
Malaysian investigators rushed to the island to study the object and a French military helicopter slowly circled the area above the island where the debris washed up on a rocky beach.
However as expectation mounted over the find, authorities warned against jumping to conclusions.
"Whatever wreckage is found needs to be further verified before we can further confirm whether it belongs to MH370," said Malaysian Transport Minister Liow Tiong Lai.
Flight MH370 was travelling from Kuala Lumpur to Beijing when it mysteriously turned off its route and vanished on March 8 last year.
For relatives of those aboard, torn between wanting closure and believing their loved ones were still somehow alive, the discovery was yet another painful turn on an emotional rollercoaster.
"It has started all over again, staring at the phone constantly for news," said Jacquita Gonzales, wife of Patrick Gomes, the flight's cabin crew supervisor.
Local government officials on La Reunion said France's civil aviation investigating authority BEA has been asked to coordinate an international probe into the origin of the debris.
Najib said authorities would send the object to the southern French city of Toulouse to be examined by the BEA.
Further adding to the mystery, a torn fragment of luggage was discovered in the same place as the plane wreckage.
"It is really weird, it gives me the shivers," said Johnny Begue, a member of a beach clean-up crew who discovered the plane debris on Wednesday.
'Important development'
Australia, which has led the search for MH370, said the discovery was an "important development".
"If it is indeed wreckage from MH370, it starts to provide some closure for the families of the people on board," said Australia's Transport and Infrastructure Minister Warren Truss.
Authorities involved in the search at sea, guided by the analysis of signals from the plane that were detected by a satellite, believe it went down in the southern Indian Ocean.
But no confirmed physical evidence has ever been found and Malaysian authorities in January declared that all on board were presumed dead.
Excitement over the discovery was tempered by suggestions it could be from planes that went down in the region before, including a South African Airways Boeing 747 that crashed near the island of Mauritius in 1987, killing all 159 people on board.
Malaysia Airlines said it remained "too premature for the airline to speculate [on] the origin of the flaperon", a wing component.
La Reunion lies about 4,000 kilometres from the area considered the most likely impact zone, but experts said it could have drifted there.
Valborg Byfield, a scientist at the National Oceanography Centre in Britain, said there were two plausible scenarios.
"Were the plane to have gone done south of the equator, the debris might have been transported by the South Equatorial Current, which bifurcates as it approaches the African coast, with one stream going south along the eastern coast of Madagascar. This would take it past La Reunion."
She said that if it had gone further south it was "perfectly possible" the debris could have been caught up in the South Indian Ocean Gyre current and taken to La Reunion.
'Many false alarms'
Angry next of kin have accused Malaysia's government of incompetence, secrecy, and insensitivity toward relatives, and many have questioned the focus on the Indian Ocean, saying other possibilities were being ignored.
Speculation on the cause of the plane's disappearance has focused primarily on a possible mechanical or structural failure, a hijacking or terror plot, or rogue pilot action.
However, nothing has emerged to substantiate any scenario, sustaining a flow of conspiracy theories, with books, documentaries and a thriving online debate positing a range of possibilities.
These include suggestions that the plane was diverted to Kazakhstan, or commandeered to be used as a "flying bomb" headed for US military installations on the Diego Garcia atoll, and was shot down by the Americans. The United States has dismissed this.
"We have had many false alarms before, but for the sake of the families who have lost loved ones, and suffered such heartbreaking uncertainty, I pray that we will find out the truth so that they may have closure and peace," said Najib.
Related Articles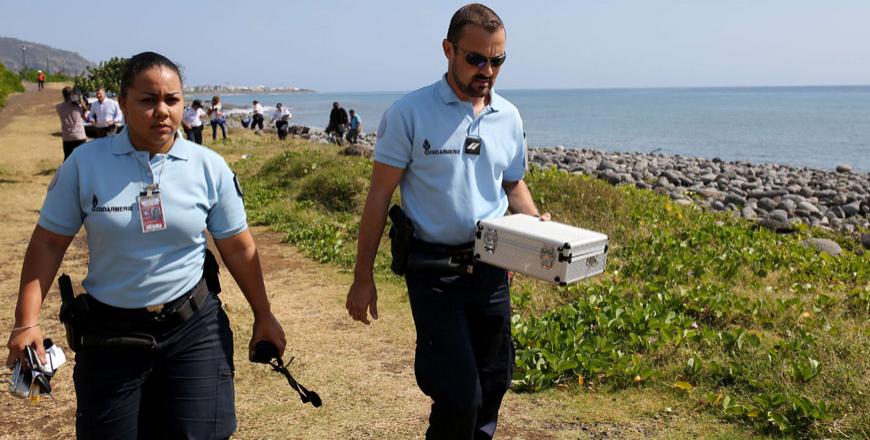 Aug 02,2015
Saint-André, France — A fevered hunt for more wreckage from missing Flight MH370 on La Reunion Island turned up no new clues Sunday as autho
Aug 01,2015
PARIS — A piece of Boeing 777 wreckage washed up on an Indian Ocean island and suspected to belong to missing Flight MH370 arrived Saturday
Aug 06,2015
KUALA LUMPUR — Malaysia's transport minister said Thursday that a maintenance seal and other details prove that a wing part found on an Indi
Newsletter
Get top stories and blog posts emailed to you each day.