You are here
Sarkozy detained in French corruption probe
By AP - Jul 01,2014 - Last updated at Jul 01,2014
PARIS (AP) — Former French President Nicolas Sarkozy was detained Tuesday and reportedly questioned by financial investigators in a corruption probe that could cloud his chances of a political comeback.

The detention — a very unusual move for such a high-level figure — dominated French news broadcasts. The investigation is the latest in a string of probes to target the former leader.

Yet Sarkozy has not been convicted of anything, remains well-known on the international stage — and may be his troubled conservative party's best chance to regain the presidency in 2017.

A judicial official said Sarkozy was detained for questioning Tuesday at the headquarters of the judicial police in the Paris suburb of Nanterre. The official, who was not authorised to be publicly named while discussing an ongoing investigation, would not elaborate.

Sarkozy could be held up to 24 hours, which could be extended for another day. His lawyer, Thierry Herzog, and a magistrate, Gilbert Azibert, were also held for questioning.

French media reports say Sarkozy is being questioned in an investigation linked to financing for his 2007 presidential campaign, notably allegations that late Libyan leader Moammar Gadhafi gave Sarkozy millions of euros in illegal campaign donations.

The case centres around whether Sarkozy and his lawyer were kept informed about the investigation by a friendly magistrate, Azibert.

Sarkozy and Herzog have denied wrongdoing. Azibert's lawyer told reporters he hoped the detention would be over by the evening.

Investigators are basing suspicions at least in part on tapped phone conversations between Sarkozy and his lawyer. The tapping raised questions about the limits between investigative needs and individual privacy. Sarkozy compared the situation to actions by the secret police in the old East Germany.

Allies from Sarkozy's conservative UMP party — which has been in a leadership crisis because of questions about spending during Sarkozy's 2012 presidential campaign — jumped to the former president's defense.

"They have never imposed such treatment on a former president, with such a surge of hate," lawmaker Christian Estrosi tweeted.

Former French President Jacques Chirac was convicted in a corruption investigation in 2011 after he left office, but when he was questioned he was not held in police custody.

The Socialist government tried to stay above the fray.

"Justice officials are investigating, they should carry out the task to the end. Nicolas Sarkozy is a citizen answerable to justice like any other," government spokesman Stephane Le Foll said on i-Tele television.

Political scientist Thomas Guenole said it's too early to draw any conclusions about Sarkozy's political career based on his latest detention.

"Nicolas Sarkozy has often been pronounced politically dead over the last two years because he was implicated in political-judicial affairs ... And he has always emerged," Guenole said.

He described an "immense love" for Sarkozy amid the hard-core of his party, which views the investigations against him as politically driven.

Sarkozy was handed preliminary charges in another investigation into whether he illegally took campaign donations from France's richest woman, L'Oreal heiress Liliane Bettencourt. Those charges were later dropped.

In a separate case, relatives of French victims of a deadly 2002 bombing in Pakistan filed a complaint in Paris last year against Sarkozy and two former advisers for allegedly violating a duty to secrecy in the investigation of the case.
Related Articles
Jul 01,2014
Nicolas Sarkozy on Tuesday became the first former French president to be placed in custody for questioning in a criminal investigation.
Dec 17,2015
PARIS — International Monetary Fund (IMF) chief Christine Lagarde was ordered Thursday to stand trial over her handling of a massive state p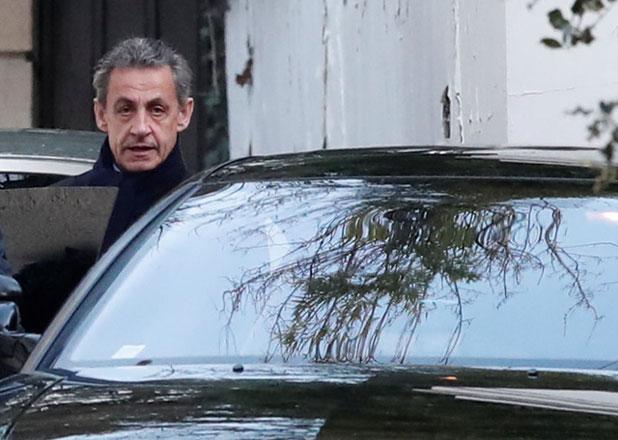 Mar 22,2018
PARIS, France — French ex-president Nicolas Sarkozy angrily protested his innocence on Thursday after he was charged with corruption over ex
Newsletter
Get top stories and blog posts emailed to you each day.