You are here
Scores arrested as Ferguson protests spread to other US cities
By Reuters - Nov 26,2014 - Last updated at Nov 26,2014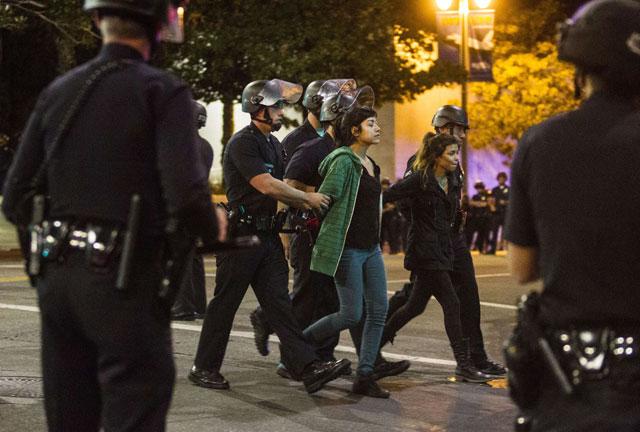 FERGUSON, Missouri — Police arrested scores of people in cities around the United States who were protesting a Missouri grand jury's decision not to indict a white police officer for killing an unarmed black teenager, authorities said on Wednesday, but the town where the shooting took place was a little calmer.
Protests in Boston, New York, Los Angeles, Atlanta and elsewhere came on a second night of street violence in the St. Louis suburb of Ferguson, Missouri, where policeman Darren Wilson shot to death 18-year-old Michael Brown on August 9. The shooting has highlighted the often-tense nature of US race relations and the strains between black communities and police.
There was less violence on the streets of Ferguson than on the previous night, as the deployment of some 2,000 National Guard troops to the area helped police prevent the rioting, looting and arson that erupted on Monday night.
Police made 45 arrests in Ferguson from Tuesday night into early Wednesday for offenses ranging from a couple of dozen misdemeanors for unlawful assembly to five for assaulting law enforcement officers. Thirty of the arrested listed Missouri addresses and one was from Berlin, Germany, police said.
In other cities, demonstrators marched through city streets, sometimes blocking traffic and scuffling with police. Police in Boston said on Wednesday 45 people were arrested in protests overnight that drew more than a thousand demonstrators.
Wilson said he was acting in self-defence and his conscience was clear. He told ABC News that there was nothing he could have done differently that would have prevented Brown's death. But the parents of the slain teenager said they did not accept the officer's version of the events.
"I don't believe a word of it," Brown's mother Lesley McSpadden told "CBS This Morning" on Wednesday.
Tensions between police and black Americans have simmered for decades, with many blacks feeling the US legal system and law enforcement authorities do not treat them fairly. For example, blacks account for disproportionate percentages of the overall prison population and of the inmates sentenced to death.
The crowds in Ferguson were smaller and more controlled than on Monday, when about a dozen businesses were torched and others were looted amid rock-throwing and sporadic gunfire from protesters and volleys of tear gas fired by police. More than 60 people were arrested then.
"Generally, it was a much better night," St. Louis County Police Chief Jon Belmar told reporters early on Wednesday, adding there was very little arson or gunfire, and that lawlessness was confined to a relatively small group.
In New York, where police used pepper spray to control the crowd after protesters tried to block the Lincoln Tunnel and Triborough Bridge, 10 demonstrators were arrested, police said.
Protesters in Los Angeles threw water bottles and other objects at officers outside city police headquarters and later obstructed both sides of a downtown freeway with makeshift roadblocks and debris, authorities said.
Atlanta police made 24 arrests Tuesday night, including some in a group of about 150 people who broke away from an otherwise peaceful protest of more than 1,000 people and blocked traffic on a downtown freeway, Mayor Kasim Reed said on Wednesday.
Reed said protesters also threw rocks at police cars and damaged property, including a bank and a taxi cab. No officers were hurt, the mayor said, adding the city police force used a strategy of "available force with a light touch".
"I'm not going to have the city of Atlanta look like it's under martial law," he said.
Two Milwaukee police officers suffered minor injuries on Tuesday when they tried to stop protesters from entering the BMO Harris Bradley Centre, where the Milwaukee Bucks were playing an NBA basketball game, police said. No arrests were made.
In Oakland, California, protesters set rubbish on fire in the middle of a street and swept onto a downtown stretch of Interstate 980, briefly halting traffic.
Four people were arrested for blocking a roadway in Denver, where police said several hundred people turned out for a protest march.
Related Articles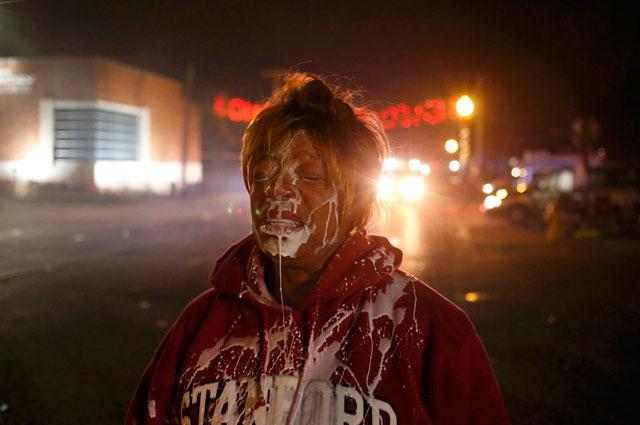 Nov 25,2014
Aiming to head off more looting and rioting, Missouri's governor on Tuesday ordered National Guard reinforcements into the St Louis suburb of Ferguson following overnight violence ignited by the clearing of a white police officer in the fatal shooting of an unarmed black teenager.
Aug 10,2015
FERGUSON, Missouri — A man was critically wounded in a gun battle with police as street protests turned violent in Ferguson, Missouri, on Su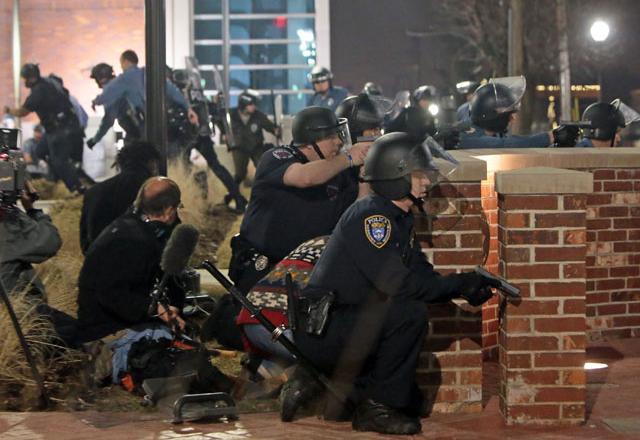 Mar 12,2015
Two police officers in Ferguson, Missouri, were shot and wounded in what officials called an ambush early on Thursday, the latest spasm of violence arising from months of tension between African-Americans and the city's mostly white police force.
Newsletter
Get top stories and blog posts emailed to you each day.