You are here
South Korea opposition votes to seek Park's impeachment
By AFP - Nov 21,2016 - Last updated at Nov 21,2016
SEOUL — South Korea's main opposition party voted Monday to seek the impeachment of President Park Geun-hye after prosecutors named her a criminal suspect in a snowballing corruption case.
But it remains unclear exactly when Park's opponents will formally try to start the process, a difficult and lengthy one with no guarantee about the outcome.
Members of the Democratic Party voted unanimously in favour of seeking Park's impeachment and setting up a working group to review related legal issues, its spokesman Ki Dong-min told reporters.
"We have decided to join efforts with civic groups, other opposition parties and even members of the ruling party who want Park to be impeached," Ki said.
He said the party would formally begin the process when it sees the "biggest possibility" of parliament approving such a move.
Two smaller opposition parties have already said they will seek to remove Park. Even some members of the president's ruling conservative party have come out in favour of impeachment.
But their commitment to the process is unclear for now, partly due to fear of a political backlash if the impeachment bid fails.
A failed attempt in 2004 to impeach then-President Roh Moo-hyun backfired badly, with two parties that led the bid suffering a devastating defeat in a general election the same year.
In some ways, the opposition has had its hand forced by the huge outpouring of anti-Park sentiment, which has seen hundreds of thousands take to the streets of Seoul in recent weeks demanding that she step down.
With Park showing no sign of going voluntarily, the opposition has come under pressure to take a more assertive stance, but is wary of the political dangers involved.
"Even if there is great public anger over Park for now, many lawmakers may be reluctant to take such a big risk by walking into an impeachment minefield," said political commentator Kim Hong-guk.
Park has just over a year to run of her single, five-year presidential term, and impeachment could take months, as it requires a two-thirds approval by the national assembly and a similar majority in the constitutional court.
There are concerns about a backlash from conservative voters who — while disappointed with Park — would see her impeachment as unwarranted and overly punitive.
On Sunday, Seoul prosecutors said Park had colluded with her long-time friend Choi Soon-sil, who is accused of coercing local firms to donate more than $60 million and of meddling in state affairs.
That made Park the first South Korean president to become a criminal suspect while in office.
Choi and a former Park aide were formally indicted on charges of abuse of power and coercion, while another aide was charged with leaking confidential state documents.
Park had previously said she would submit to prosecutors for questioning, but her lawyer signalled a change on Sunday, saying she would only answer to an independent team of investigators which will soon take over the case.
A sitting president cannot be charged with a criminal offence except insurrection or treason, but she can be investigated and potentially charged once her term is over.
The three opposition parties hold a combined 55 per cent of parliamentary seats — short of the two-thirds majority, for which they would require the support of conservative MPs.
The scandal has sent Park's job approval ratings diving to 5 per cent, a record low for a South Korean president.
up
14 users have voted, including you.
Related Articles
Oct 31,2016
SEOUL — The woman at the centre of a South Korean political scandal begged forgiveness on Monday as she arrived to meet prosecutors investig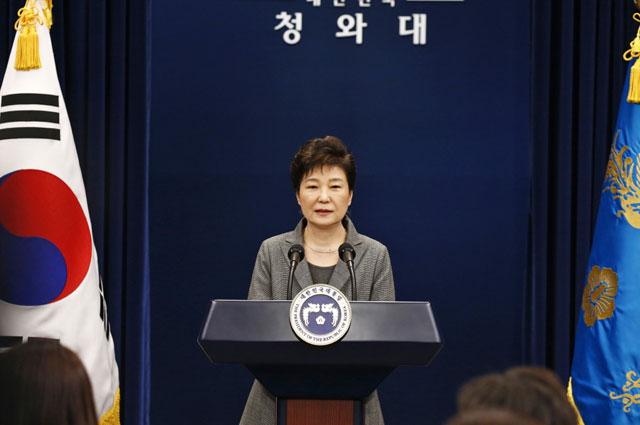 Dec 01,2016
SEOUL — Battered by massive protests and an impeachment push, South Korea's president cried Thursday during her first public appearance amon
Nov 17,2016
SEOUL — South Korean President Park Geun-hye will not be ready to appear before prosecutors until next week despite their demand to question
Newsletter
Get top stories and blog posts emailed to you each day.