You are here
Three killed in protests against disputed Kenya vote
By AFP - Aug 12,2017 - Last updated at Aug 12,2017
Supporters of the opposition candidate Raila Odinga demonstrate against the election results in slum neighbourhood Kibera of Nairobi, Kenya, on Saturday (AFP photo)
NAIROBI — Three people, including a child, have been shot dead in Kenya during opposition protests which flared for a second day Saturday after the hotly disputed election victory of President Uhuru Kenyatta.
Demonstrations and running battles with police broke out in isolated parts of Nairobi slums after anger in opposition strongholds against Tuesday's election that losing candidate Raila Odinga claims was massively rigged.
Interior Minister Fred Matiangi blamed the unrest on "criminal elements" looting and robbing businesses and assured Kenyans that "there is no need for alarm", urging them to return to their daily lives.
The uncertainty gripping the nation provided a grim reminder of the disputed 2007 election which led to two months of ethno-political violence that left 1,100 dead and 600,000 displaced.
Kenyatta was declared the victor in the presidential election on Friday night with 54.27 per cent to Odinga's 44.74, with protests erupting in the opposition leader's strongholds in Nairobi and the western city of Kisumu almost immediately.
Local government official Wilson Njega confirmed one person had been shot dead outside Kisumu in protests, while an AFP reporter saw three patients with gunshot wounds in the city's hospital.
At the hospital Truphena Achieng said his brother had been shot and injured "and yet he was just standing outside our house where people were demonstrating... we don't know why police were shooting".
In the southwestern town of Siaya, a police officer speaking on condition of anonymity said a man had been shot dead in a demonstration, but "we have not managed to collect the body... because of resistance from protesters".
On Saturday morning, an AFP photographer saw the body of a girl whose family said she had been shot in the back while watching the protests from their balcony in Mathare, a slum in the capital.
Matiangi denied there had been any casualties, and said police had clamped down on "erratic incidents of lawlessness", adding the government would stop at nothing to protect citizens.
"The police have not used live bullets on any peaceful protesters," he said.
Human Rights Watch on Saturday urged police to show restraint.
"With growing reports of demonstrations and heavy gunfire in some areas, it is important for security forces to work to de-escalate — not escalate — the violence," said Otsieno Namwaya, Africa researcher at HRW.
"The police should not use tear gas or live ammunition simply because they consider a gathering unlawful."
Odinga, 72, is a veteran opposition politician seen as having taken his last shot at the presidency, which he has sought four times. He believes elections in 2007, 2013 and now 2017 were snatched away from him.
Politics in Kenya is largely divided along tribal lines, and the winner-takes-all nature of elections has long stoked communal tensions.
Odinga's ethnic Luo supporters — and their allies from other groups — believe they have been denied political power by elites from the Kikuyus, the same ethnic group as Kenyatta, the country's biggest community.
"President Kenyatta, unlike his first term, must include everyone in his government," wrote the Daily Nation in an editorial, warning that limiting power to his tribal allies was "exacerbating exclusion and creating resentment and disillusionment".
In his acceptance speech Kenyatta urged Odinga and his supporters, to "work together... so that we can build this nation together".
"Let us be peaceful... We have seen the results of political violence. And I am certain that there is no single Kenyan who would wish for us to go back to this."
The latest deaths mean nine people have been killed in election-related violence since Tuesday.
Martin Kivuva, head of the Kenya Conference of Catholic Bishops (KCCB), urged Kenyatta to move fast to "unite the seemingly divided nation after the elections".
'Court is not an option'
Foreign observers praised a peaceful, credible voting process — which saw turnout of 78 per cent — but the mood quickly turned sour when Odinga rejected the results after only a few hours of counting earlier this week.
The main opposition coalition, the National Super Alliance (NASA), has claimed both that the outcome was manipulated by a massive hacking attack, and that it is in possession of results being concealed on IEBC servers that show Odinga to be the rightful winner.
On Thursday it demanded Odinga be declared president. the opposition leader has yet to speak out since the final result was declared.
In 2013 Odinga took his grievances to court and lost.
"We have been there before. Court is not an alternative," said top NASA official James Orengo.
Related Articles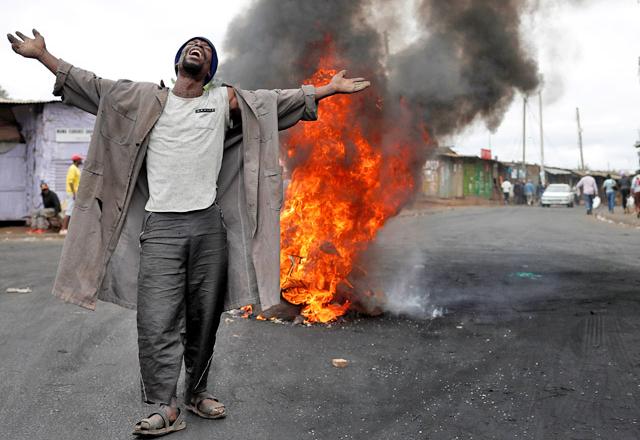 Aug 14,2017
NAIROBI — Kenyans largely ignored an opposition call to go on strike on Monday, re-opening shops and returning to work as they shrugged off
May 04,2015
US Secretary of State John Kerry vowed support to Kenya on Monday in the battle against Somalia's Al Qaeda-affiliated Al Shabab, after calling for unity in the face of terror attacks.
Jul 25,2015
NAIROBI — US President Barack Obama declared Saturday that "Africa is on the move", praising the spirit of entrepreneurship at a business su
Newsletter
Get top stories and blog posts emailed to you each day.