You are here
Trump aims to ease Asian allies' qualms when he meets Japan's Abe
'I expect he is going to reaffirm his commitments to the alliance'
By Reuters - Nov 16,2016 - Last updated at Nov 16,2016
In this November 10 photo, a Chinese man holds up a Chinese newspaper with the front page photo of US President-elect Donald Trump and the headline 'Outsider counterattack' at a newsstand in Beijing, China (AP photo)
TOKYO/WASHINGTON — Donald Trump is expected to use his first meeting with a foreign leader as US president-elect this week to try to reassure Japanese Prime Minister Shinzo Abe and other Asian allies rattled by his campaign rhetoric, advisers to Trump said.
Abe, a political blue blood and veteran lawmaker, and Trump, a brash outsider with no diplomatic or government experience, have differences on policy issues such as free trade.
But the two may find they have more in common when they meet in New York on Thursday, including pledges to restore their countries' global stature and a desire to counter a rising China while improving relations with Russia.
"Prime Minister Abe and Mr Trump will have good chemistry," said Takashi Kawakami, a professor at Tokyo's Takushoku University. "Both tend to decide and act based on intuition. And both are pragmatists who put their countries' interests first."
An adviser to Trump said the president-elect would reaffirm his commitment to the US-Japan alliance and the region, despite campaign rhetoric that raised questions about the future of what has been the bedrock of Japanese defence since World War II.
Abe wants to build a relationship of trust while taking the measure of the real-estate magnate, whom few in Japan thought would become president.
"The first and by far, top priority is to establish a personal relationship rather than debate specific policy areas," said a person familiar with Japan's preparations for the meeting.
Trump's campaign comments on the possibility of Japan acquiring nuclear arms and demands allies pay more for the upkeep of US forces on their soil have fanned worries.
His election has also dashed hopes for US approval of a 12-nation trade pact, the Trans-Pacific Partnership (TPP), a lynchpin of Washington's "pivot" to Asia and a pillar of Abe's economic reforms.
A Trump adviser said he expected the meeting to "set the tone" for Trump's relations with Japan and the region. Some diplomats say, however, that until Trump makes key appointments, it will be hard to assess his policies on issues including China's maritime aggressiveness and North Korea's nuclear threat.
"I think the message... is going to be extremely reassuring," the adviser said. "I expect he is going to reaffirm his commitments to the alliance and the American commitment to being in the Pacific long-term."
The adviser, who spoke on condition of anonymity, said Japan's financial support for US troops in Japan might come up, but was unlikely to be a focus.
Japan agreed last December to boost spending for US forces in Japan by 1.4 per cent for the next five years, at an average of 189.3 billion yen ($1.74 billion) per year. Defence Minister Tomomi Inada has said Tokyo was paying enough.
Abe has boosted Japan's overall defence spending since taking office in 2012 while stretching the limits of its pacifist post-war constitution to allow the military to take a bigger global role.
Defence spending still stands at just over 1 per cent of GDP against over 3 per cent in the United States.
Some of Trump's rhetoric suggests an image of Japan forged in the 1980s, when Tokyo was seen by many in the United States as a threat to jobs and a free-rider on defence.
The Trump adviser stressed a more positive view.
"Frankly, the prime minister has been more assertive and forthright in trying to make those changes to Japan's global posture," he said. "I think he's going to get a very receptive audience there."
Trump and Abe could also have a meeting of minds over Russian President Vladimir Putin.
Obama has had tense ties with Russia but Trump has praised Putin and stressed the possibility of better relations. Abe wants to resolve a row over islands seized by Moscow at the end of World War II and will meet Putin for a summit in December.
On the economic front, Abe might also be able to offer Japanese technology and financing for US infrastructure projects Trump has said he wants to promote.
That would fit with Abe's stress in his growth strategy on exports of technology such as high-speed trains.
Finessing differences on free trade will likely be tougher given Trump's opposition to the TPP.
"We have to continue waving the flag," the person familiar with Japan's preparations said. "If there is strong opposition from Trump, that's a disaster for our TPP efforts. We'll have to handle it with care."
Related Articles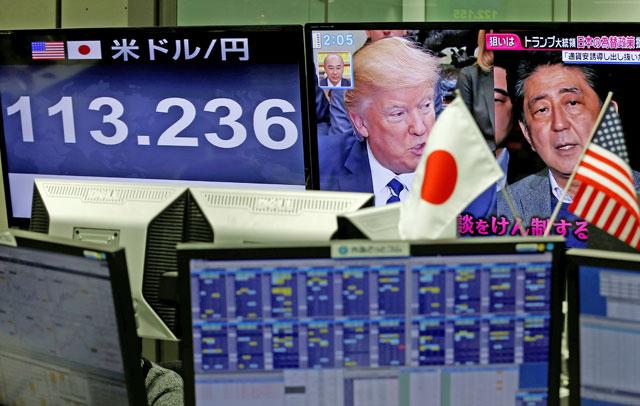 Feb 08,2017
TOKYO — Shinzo Abe heads to the US on Thursday — and to a game of golf with Donald Trump — teeing off a drive to keep Japan's most important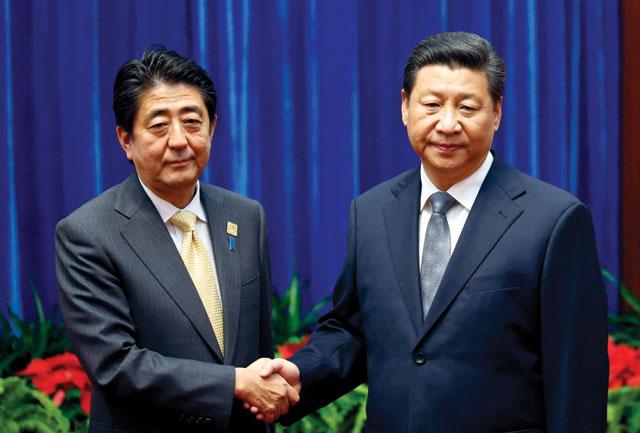 Nov 10,2014
An uneasy handshake Monday between Chinese President Xi Jinping and Japanese Prime Minister Shinzo Abe marked the first meeting between the two men since either took power, and an awkward first gesture towards easing two years of high tensions.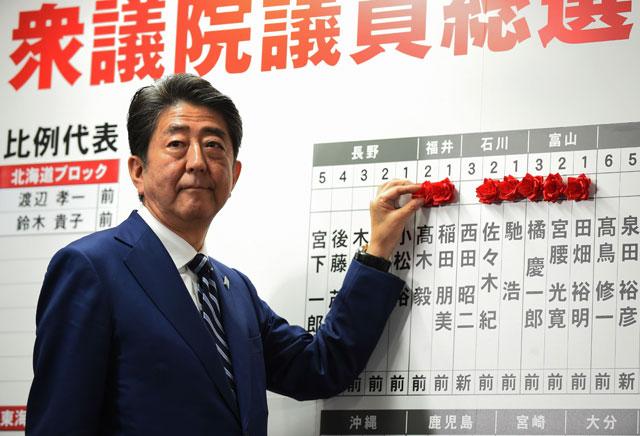 Oct 22,2017
TOKYO — Japanese Prime Minister Shinzo Abe swept to a resounding victory in a snap election Sunday and immediately vowed to "deal firmly" wi
Newsletter
Get top stories and blog posts emailed to you each day.