You are here
Twin suicide bombers attack church in Pakistan's Quetta ahead of Christmas, killing eight
By Reuters - Dec 17,2017 - Last updated at Dec 17,2017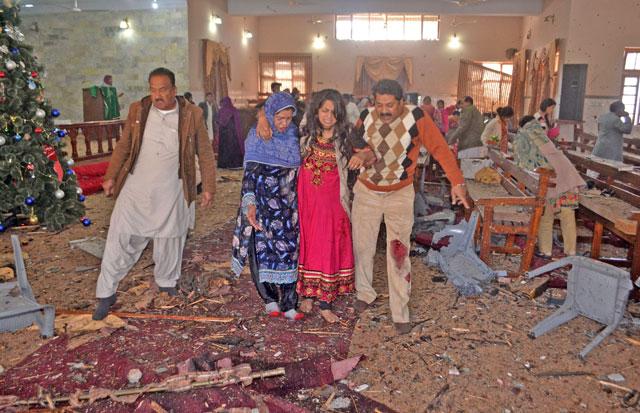 Pakistani Christians assist an injured worshipper after suicide bombers attacked a Methodist Church in Quetta on Sunday (AFP photo)
QUETTA/ISLAMABAD — Two suicide bombers attacked a packed church in southwestern Pakistan on Sunday, killing at least eight people and wounding up to 45 before one of them blew himself up and police killed the other, officials said.
The gunmen wearing explosives-filled vests stormed the church in Quetta city when Sunday services had just opened, exploding a suicide vest and shooting at the worshippers, said Sarfraz Bugti, the home minister of Baluchistan province.
Police guards at the church exchanged fire with the attackers before they could enter the main sanctuary, said provincial police chief Moazzam Jah. He said two women were among those killed.
"There were nearly 400 people inside the church, but the attackers couldn't get inside the services," Jah said. "We killed one of them, and the other one exploded himself after police wounded him," he said.
Jah said the venue — Bethel Memorial Methodist Church — was on high alert as Christian places of worship were often targeted by extremists over Christmas.
Another police official, Abdur Razaq Cheema, said two attackers escaped from the scene.
No one has claimed responsibility.
Baluchistan has long been the scene of an insurgency by separatists fighting against the state to demand more of a share of the gas- and mineral-rich region's resources. They also accuse the central government of discrimination.
The Taliban, Sunni militants and sectarian groups linked to Al Qaeda and the terror group Daesh also operate in the strategically important region, which borders Iran as well as Afghanistan.
The violence has fuelled concern about security for projects in the $57 billion China Pakistan Economic Corridor, a transport and energy link planned to run from western China to Pakistan's southern deep-water port of Gwadar.
Pakistan has launched several military offensives over the last decade against the militants who want to install their own harsh brand of religion.
Although beaten and dispersed, the militants have shown resilience to launch spectacular attacks. Early this month, three Taliban suicide bombers attacked an agriculture college in northwestern Peshawar city, killing eight students and a guard.
Related Articles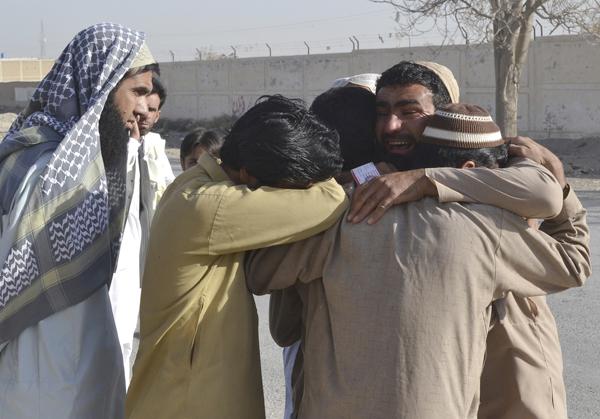 Oct 25,2016
QUETTA, Pakistan — The Daesh terror group said on Tuesday that fighters loyal to its movement attacked a police training college in Quetta i
Dec 23,2017
QUETTA, Pakistan/JAKARTA — Christmas church services and other celebrations are being held this weekend under the gaze of armed guards and s
May 14,2023
QUETTA, Pakistan — More than a dozen people were killed in an overnight battle between Pakistan paramilitary troops and militants who storme