You are here
Under fire, Denmark moves ahead with bill to curb migrants' rights
By AFP - Jan 22,2016 - Last updated at Jan 22,2016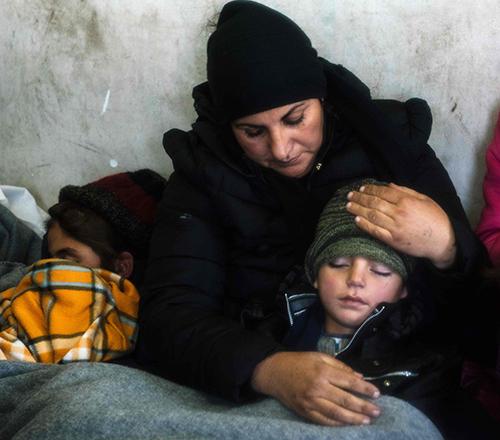 A woman comforts her sleeping child while waiting with other migrants and refugees at a train station for a train in the southern Serbian town of Presevo on Wednesday (AFP photo)
COPENHAGEN — Danish lawmakers on Thursday gave a final nod to drastic reforms curbing the rights of asylum seekers as legal and human rights experts castigated Copenhagen for turning its back on its international commitments.
The new law backed by the country's right-wing government would delay family reunifications, confiscate migrants' valuables and make already stringent permanent residency requirements even tougher.
Danish Foreign Minister Kristian Jensen meanwhile appeared before the UN on Thursday for a review of Denmark's human rights policies.
In the Human Rights Council's first review of the country's rights record since 2011, several countries decried Denmark's tighter migration rules and voiced alarm over rising xenophobia.
In Copenhagen, the Danish speaker of parliament presented the bill Thursday in its final form to the assembly for its second reading, and it was a last chance for lawmakers to demand changes.
Just one request was presented and swiftly rejected by legislators, as a majority have already agreed to back the bill in its existing form following thorny negotiations.
"The big legislative work... has already been done," said University of Copenhagen political science professor Kasper Moller Hansen of Thursday's expeditious procedure.
As a result, Prime Minister Lars Lokke Rasmussen's minority government, supported in parliament by an anti-immigration far-right party that has for 15 years dictated increasingly restrictive immigration policies, is assured of winning a January 26 parliamentary vote.
Fearing a domino effect across Europe, the UN refugee agency UNHCR has decried the bill, saying it "could fuel fear [and] xenophobia".
Once a champion of refugees' rights, Denmark would be in violation of the European Convention on Human Rights, the UN Convention on the Rights of the Child, and the UN Refugee Convention, the UNHCR concluded in a January report.
Unfazed, Copenhagen maintains it is not able to finance more migrants nor integrate them into society.
"Denmark's immigration policy is decided in Denmark, not in Brussels," Integration Minister Inger Stojberg of Rasmussen's Venstre Party has repeatedly said.
Seizing valuables
The confiscation of migrants' valuables has been the reform that has dominated international headlines.
The bill allows Danish authorities to seize asylum seekers' cash exceeding 10,000 kroner ($1,450), as well as any individual items valued at more than 10,000 kroner. Wedding rings and other items of sentimental value are exempt.
Legal experts have however voiced more alarm over the measures which make it harder to obtain family reunifications and residency permits.
Copenhagen wants to increase from one year to three years the waiting period for war refugees before they can apply to bring over their family members.
Amnesty International's deputy director for Europe, Gauri van Gulik, denounced a "discriminatory practice" in singling out refugees already traumatised by war.
Undeterred, Rasmussen has suggested Denmark may seek a revision of the UN Refugee Convention if the migrant crisis "continues or gets worse".
Violating conventions
In a January 15 letter to Stojberg, the Council of Europe's commissioner for human rights, Nils Muiznieks, said the issue of family reunifications raises "issues of compatibility with Article 8 of the European Convention on Human Rights which protects the right to respect for one's family life".
The bill "could also infringe on the rights of children to live within their family environment, as prescribed by the United Nations' Convention on the Rights of the Child".
"Those are his personal views," Venstre's Jensen retorted.
"The Council of Europe, as an organisation, has not started any type of case against Denmark," he told AFP.
Home to 5.6 million people, Denmark registered 21,000 asylum applications in 2015, making it one of the top EU destinations per capita for migrants.
The country implemented spot checks on its border with Germany on January 4, the same day neighbouring Sweden introduced controls on its frontier with Denmark to stem the flow of refugees.
The number of asylum seekers has fallen from a daily average of about a hundred to just 17 on Wednesday.
As elsewhere in Europe, tensions have begun to emerge between locals and migrants as the continent struggles to cope with its largest migration flow since 1945.
Young women have filed police reports against migrants for inappropriate behaviour, while one nightclub in Sonderborg bars entry to those who do not speak English, Danish or German and other establishments are now considering following its lead.
Critics believe the bill could hurt Denmark's international standing.
"There will be very significant diplomatic, political and legal criticism of Denmark," human rights lawyer Poul Hauch Fenger told AFP.
European MPs were to discuss the Danish bill on Monday in the European parliament's civil liberties committee.
Once voted by parliament next week, Denmark's Queen Margrethe will sign the bill into law within a few days. No date has been set for the law to go into force, but it is expected in early February, according to observers.
Related Articles
Sep 19,2015
COPENHAGEN — A Danish supervisory body said Friday it had launched an inquiry into whether controversial advertisements published by the gov
Mar 29,2015
As hopes fade for a commodities boom in Greenland there is growing concern that an exodus of young people could cripple the economy of a territory already facing an uncertain outlook.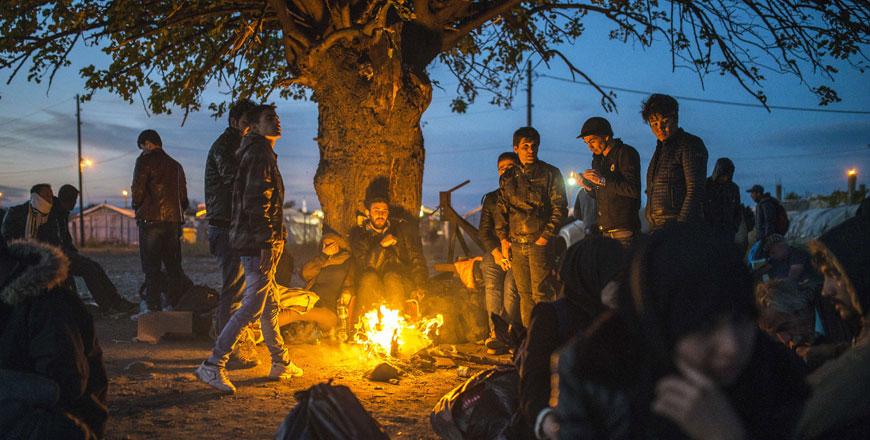 Nov 08,2015
OSLO — Asylum seekers flowing to Scandinavia are finding chillier welcomes as their numbers surge and far-right parties increasingly assert
Newsletter
Get top stories and blog posts emailed to you each day.