You are here
Under fire Trump admits Obama is American
Latest surveys indicate tight race; Cinton retains notable lead in vital battleground states
By AFP - Sep 17,2016 - Last updated at Sep 17,2016
Republican presidential candidate Donald Trump speaks during a campaign rally at the James L. Knight Centre on Friday in Miami (AP photo)
WASHINGTON — After years of fueling conspiracy theories, Republican White House nominee Donald Trump admitted on Friday that President Barack Obama is an American as he tried to neutralise damaging charges of racism.
But he also stepped up attacks against his Democratic rival Hillary Clinton, accusing her of initiating the doubts about Obama and later raising the specter of violence against her again.
In a much-hyped televised event, Trump gave a lengthy plug for his new Washington hotel before acknowledging that "President Barack Obama was born in the United States, period."
The mogul-turned-politico pointedly did not apologise, nor did he walk back similarly baseless claims that Obama — whose father was a Kenyan Muslim — founded the violent Daesh group.
Instead, he tried to pin blame for "birtherism" on his Democratic rival Hillary Clinton, whom he accused, without evidence, of starting the movement that questions Obama's nationality and right to be president.
"Her campaign of 2008 started the birther controversy. I finished it. I finished it. You know what I mean," Trump said.
The celebrity TV star has questioned Obama's US citizenship — a legal prerequisite for becoming president — since at least 2011.
The White House has long viewed Trump's claims as a racist attempt to delegitimise the president.
The charges also served to launch Trump's political career, propelling him onto the national stage and winning him fans on the far right.
But five years on, now in a tight presidential election race, Trump's position has become a liability, repulsing black, Hispanic and moderate voters whose support he needs to win the Oval Office.
The controversy reignited Thursday when Trump again demurred on Obama's citizenship, forcing his campaign into damage control.
Threat of violence
Trump's Democratic rival Hillary Clinton jumped on the statement as more evidence that Trump is unfit to be president.
"For five years, he has led the birther movement to delegitimise our first black president," she said. "His campaign was founded on this outrageous lie. There is no erasing it in history."
"He's feeding into the worst impulses, the bigotry and bias that lurks in our country," she added.
"Barack Obama was born in America, plain and simple. And Donald Trump owes him and the American people an apology."
Trump went on the attack again later in the day, raising the threat of violence against Clinton again, suggesting her Secret Service guards voluntarily disarm and "see what happens to her".
Members of Clinton's government-appointed guard detail should abandon their weapons because she wants to "destroy your Second Amendment", he said, referring to the US Constitution's clause that enshrines the rights of Americans to bear arms.
"I think that her bodyguards should drop all weapons," the real estate billionaire told a cheering rally in Miami. "Take their guns away. She doesn't want guns. Take them. Let's see what happens to her. Take their guns away, OK. It will be very dangerous."
Clinton campaign manager Robby Mook condemned Trump's remarks, saying they "should be out of bounds for a presidential candidate".
CNN and other major TV stations did not broadcast Trump's rally as they often do, suggesting the US media is heeding widespread criticism that it devotes too much attention to the Republican candidate.
'Bigotry and bias'
First Lady Michelle Obama also criticised Trump during her 2016 campaign debut on Friday, saying the choice for voters is "excruciatingly clear" between Clinton and a candidate who "traffics in prejudice, fear and lies".
She said her husband had answered slanders through legislative achievements and "by going high when they go low", as she encouraged supporters to go to the polls.
The latest opinion surveys indicate a tight race, although Clinton retains a notable lead in vital battleground states.
Asked in the Oval Office about the renewed birther controversy Friday, President Obama gave the question short shrift, making a dig at the US media and its obsessive coverage of Trump.
"I am shocked that a question like that would come up at a time when we have so many other things to do," he said, before adding "Well, I am not that shocked."
"I was pretty confident about where I was born. My hope would be that the presidential election reflects more serious issues than that."
Obama produced his birth certificate in 2011 — showing he was born at the Kapiolani Medical Centre in Hawaii on August 4, 1961 — to put an end to the allegations.
Appearing at the White House Correspondents' Dinner shortly after, he publicly ridiculed Trump, who was in the audience.
"No one is prouder to put this birth certificate matter to rest than The Donald," Obama said.
"And that's because he can finally get back to focusing on the issues that matter, like, did we fake the moon landing? What really happened in Roswell? And where are Biggie and Tupac?"
Related Articles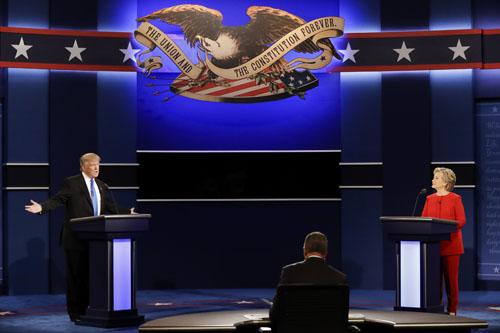 Sep 27,2016
HEMPSTEAD, New York — Republican Donald Trump vowed on Tuesday to hit rival Democrat Hillary Clinton harder in the next US presidential deba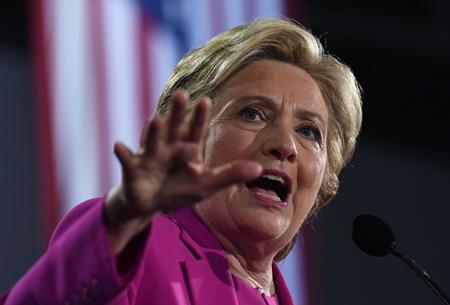 Nov 07,2016
WASHINGTON — Hillary Clinton has one of the strongest resumes of anyone ever to run for US president, with stints as first lady, senat
Sep 08,2016
WHITE PLAINS, New York — US Democratic presidential candidate Hillary Clinton chastised Republican rival Donald Trump on Thursday for talkin
Newsletter
Get top stories and blog posts emailed to you each day.