You are here
US Soldier kills 3, wounds 16 before taking own life at Texas Army base
By Reuters - Apr 03,2014 - Last updated at Apr 03,2014
FORT HOOD, Texas — The soldier suspected of gunning down three people before killing himself at the Fort Hood Army base in Texas was under psychiatric care but showed no signs of violence or suicidal tendencies, the secretary of the US Army said on Thursday.
There was no motive given for the incident, which also left 16 wounded, although officials have so far ruled out terrorism in the second mass shooting at the base in five years.
The gunman, who had been treated for depression and anxiety, was yet to be officially named but security officials said preliminary information identified the gunman as Ivan Lopez.
US Army Secretary John McHugh said the soldier, who joined the service in 2008, had served two tours of duty abroad, including four months in Iraq in 2011. He had no direct involvement in combat and suffered no wounds.
"He was undergoing a variety of treatment and diagnoses for mental health conditions, ranging from depression to anxiety to some sleep disturbance. He was prescribed a number of drugs to address those, including Ambien," McHugh told a US Senate committee hearing.
"The background checks we have done thus far show no involvement with extremist organisations of any kind," he said.
McHugh said the soldier and his wife were from Puerto Rico, and that he had served in the Puerto Rican national guard before joining the US Army.
The suspect's wife was cooperating with law enforcement officers, a Federal Bureau of Investigation official said, according to CNN.
In a news conference late on Wednesday, Fort Hood commanding officer Lieutenant General Mark Milley said the shooter was undergoing evaluation for post-traumatic stress disorder.
The shooter had "self-reported" a traumatic brain injury after returning from Iraq but was never wounded in action, Milley said. He arrived in Fort Hood in February from another military installation.
At about 4:00pm local time (2100 GMT) on Wednesday, the soldier went to two buildings on the base and opened fire before he was confronted by military police, Milley said.
The gunman then shot himself in the head with a .45-caliber pistol. Milley said law enforcement was looking into reports of an argument at the base ahead of the shooting.
Heartbroken
The rampage is the third shooting at a military base in the United States in about six months that, along with a series of shootings in schools and malls, has sparked a national debate over gun-control regulations.
The Scott & White Hospital in Temple, Texas, where some of the wounded were taken, said nine patients were in intensive care, of which three were in critical condition and six were stable.
US President Barack Obama said he was "heartbroken" another shooting had occurred and that the incident "reopens the pain of what happened at Fort Hood five years ago".
"We are going to get to the bottom of exactly what happened," Obama said.
The incident highlights the US military's so-far frustrated efforts to secure its bases from potential shooters, who increasingly appear to target the facilities.
Milley said the shooter walked into one of the unit buildings, opened fire, then got into a vehicle and fired from there. He then went into another building and opened fire again, until he was engaged by Fort Hood law enforcement officers.
When confronted by a female military police officer, he shot himself with his semi-automatic weapon in the parking lot.
"He was approaching her at about 20 feet. He put his hands up, then reached under his jacket, pulled out the [.45] and she pulled out her weapon and then she engaged, and he then put the weapon to his head," Milley said.
One of the buildings housed medical brigade day-to-day operations and the other, nearby, served the administration of the transportation battalion.
Security overhaul
As soon as the shooting broke out, the base went on lockdown. Police secured the base perimetre, emergency vehicles rushed to the scene, helicopters circled Fort Hood and officers went from building to building searching for the shooter.
Fort Hood, a base from which soldiers prepare to deploy to Iraq and Afghanistan, had overhauled its security to better deal with potential "insider threats" after a 2009 rampage by an Army psychiatrist who shot dead 13 people and wounded 32 others.
In September, a gunman opened fire at the Washington Navy Yard, killing 12 and wounding four before being killed by police. Last month, a civilian shot dead a sailor aboard a ship at a US Navy base in Norfolk, Virginia.
US Defence Secretary Chuck Hagel ordered steps to improve Pentagon security after reviews found the Navy Yard shooting could have been averted if the gunman's mental health had been properly handled.
up
14 users have voted, including you.
Related Articles
Jul 28,2017
AMMAN — Chairman of the Joint Chiefs of Staff Lt. Gen. Mahmoud Freihat has met with his US counterpart Gen. Mark A.
Nov 05,2017
WASHINGTON — A gunman shot dead at least 20 worshippers during Sunday morning services at a Baptist church in Texas, news media reported.The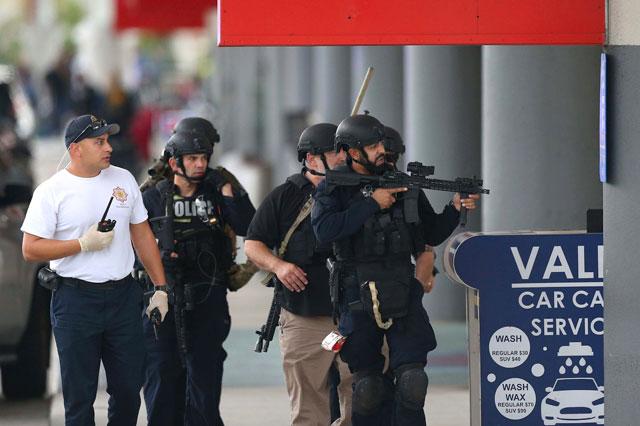 Jan 07,2017
FORT LAUDERDALE, Florida — The 26-year-old Iraq war veteran accused of killing five people at Fort Lauderdale International Airport was book
Newsletter
Get top stories and blog posts emailed to you each day.