You are here
Uzbek asylum seeker pleads guilty to Stockholm truck attack
By AFP - Feb 13,2018 - Last updated at Feb 13,2018
Journalists wait outside the courtroom on Tuesday at Stockholm district court during the opening of the trial of Rakhmat Akilov, who pleaded guilty to terrorism charges for an April 2017 Stockholm truck attack (AFP photo)
STOCKHOLM — A rejected Uzbek asylum seeker pleaded guilty to terrorism charges on Tuesday for an April 2017 Stockholm truck attack that killed five people, after going underground in a city he described as full of "infidels".
Rakhmat Akilov appeared handcuffed in Stockholm's special high-security courtroom, wearing green prison clothes and with a shaved head and a beard, accompanied by his lawyer Johan Eriksson.
Akilov, whose Swedish asylum application had been denied in 2016, had sworn allegiance to the terror group Daesh on the eve of his assault in one of Europe's safest cities, though the militant group never claimed responsibility.
On the afternoon of Friday, April 7, Akilov stole a beer delivery truck and barrelled down a bustling pedestrian shopping street, swerving wildly to hit as many people as possible.
Three Swedes were killed, including an 11-year-old girl, as well as a 41-year-old British man and a 31-year-old Belgian woman. Ten others were injured.
Rakhmat "Akilov took the truck... and drove it... He killed five people and physically injured 10," his lawyer Johan Eriksson told the court adding: "The lives of a large number of people were put in danger."
"The motive was to instigate fear and to get Sweden to end its participation in the coalition against the Islamic State [Daesh]," Eriksson added.
Akilov, who turns 40 on Wednesday, ended his rampage by crashing the truck into the facade of a department store and detonating an explosive device — made up of five gas canisters and nails — though it didn't explode as planned and caused damage only to the truck.
Akilov fled the scene by running into a nearby metro station, and was arrested several hours later thanks to public transport video surveillance images.
He told investigators he had planned to die in the assault and confessed in police questioning. Investigators believe Akilov acted alone.
Uzbek police claim he tried to enter Syria from Turkey to join Daesh in 2015, but there is no proof of that.
'Plenty of infidels'
The prosecution showed the court amateur videos filmed just after the attack, showing panicked passersby and a body lying on the ground.
In an adjoining room, some observers watching the proceedings on a screen, including relatives of victims and survivors, sobbed and held hands.
The prosecution also showed images from a surveillance video of Akilov carrying out a reconnaissance mission at the scene of the attack weeks before the assault and buying chemicals to build explosives.
Investigators have recovered several smartphone exchanges Akilov had with unidentified contacts on encrypted chat sites before, during and after the attack.
During Tuesday's proceedings, the prosecution presented a list of his conversations on WhatsApp, Telegram, Facebook and Zello, found on his phone.
Of 209 messages, 16 are "interesting", according to prosecutor Hans Ihrman, in particular those on a Zello chat forum where Akilov spoke to contacts using several pseudonyms.
Akilov wrote a list of potential targets to one of his contacts, including a synagogue, a ferry transporting "sinners" and a nightclub, adding: "There are plenty of infidels here."
On February 12, he also googled "gay club in Stockholm".
Prosecutors have said they will seek a life sentence and, thereafter, his expulsion from the Scandinavian country. A life sentence in Sweden varies, but is on average 16 years.
Eriksson told the court his client would not oppose either measure.
Akilov arrived in Sweden in 2014, at the start of the big migration wave to Europe. His application for residency was rejected in 2016, after which he went underground to avoid expulsion and worked odd jobs in construction.
In an April 2017 interview with AFP, Sweden's Justice Minister Morgan Johansson said that around 10,000 people per year have received a deportation order but later did not leave the Nordic nation.
Akilov's wife and four children had stayed behind in Uzbekistan.
Europe has seen a wave of truck attacks in recent years.
The deadliest was in Nice, on July 14, 2016, when a truck rammed crowds leaving a fireworks display for France's national holiday, killing 86 people.
The Scandinavian country has experienced only one other terror attack in modern times. In December 2010, a man blew himself up in a suicide attack in central Stockholm that lightly injured two passersby.
Akilov is scheduled to address the court as of February 20. The case is to continue through May with a verdict due in June.
Related Articles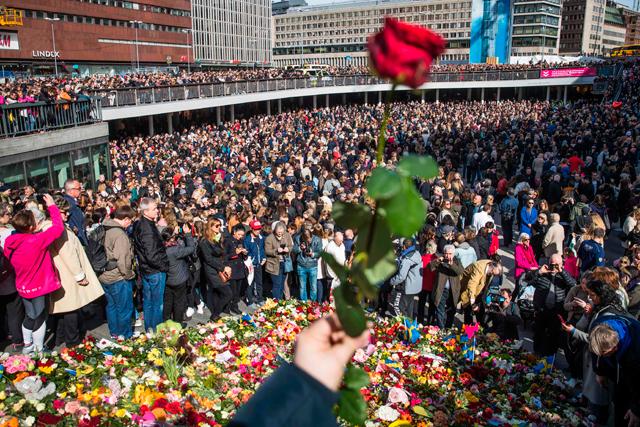 Apr 09,2017
STOCKHOLM — Huge crowds gathered in Stockholm for a "Lovefest" vigil against terrorism on Sunday, two days after a truck attack that police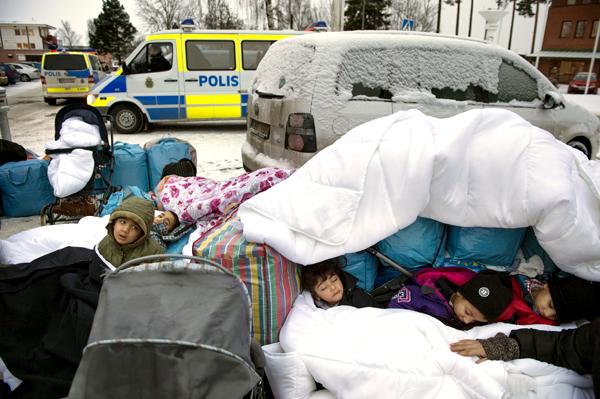 Jan 28,2016
STOCKHOLM — Sweden said it expects to expel up to 80,000 migrants whose asylum requests will likely be rejected, as another 24 people includ
Feb 09,2015
Palestinian President Mahmoud Abbas arrived in Stockholm on Monday for an official visit tainted by a diplomatic row with Israel following Sweden's recognition of Palestine.
Newsletter
Get top stories and blog posts emailed to you each day.