You are here
Statistics department cooperating with EU institutions to enhance performance
By Abeer Numan - Feb 26,2014 - Last updated at Feb 26,2014
AMMAN — The Department of Statistics (DoS) is currently working in cooperation with sister institutions from the EU to further enhance its capabilities, officials said on Wednesday.
At a ceremony to mark this partnership, representatives of European institutions and diplomats from several EU countries underscored its importance.
Under an EU-funded? twinning project, which commenced in November 2013, statistical agencies of Jordan, Denmark, Italy, Latvia and the UK are joining efforts to ensure the partnership fulfils its goals.
These include cooperation to support capacity building within the DoS, investment in training and development of human resources, and building a modern statistical system to further support policies and attract investments, according to Italian Ambassador to Jordan Patrizio Fondi.
"These goals can be reached by sharing know-how, experiences and best practices, creating fruitful linkages and establishing a longer and stable bilateral cooperation in the sector," he noted, highlighting the growing responsibilities of statistical institutions.
"Today, their role is to provide planners, decision makers, researchers, media and civil society with reliable socio-economic information, constantly meet users' and stakeholders' needs, and act as a key instrument to support, monitor, and assess progresses and policies," he said.
Andres Østervang, deputy head of mission of the Danish embassy in Jordan, had a similar message.
"Good solid, reliable and impartial statistics are crucial to society, policy makers and the economy," he said at the ceremony.
"By using common international standards, reliable official statistics can be harmonised and compared between the countries in the European Union and Jordan," Østervang noted.
Furthermore, EU Ambassador to Jordan Joanna Wronecka stressed the need for reliable and timely data for the proper functioning of societies and to assist decision makers.
"Statistics can answer many important questions touching Jordanians at large," she said in her address.
Such questions cover whether society is heading in the direction promised by politicians, how many women go to work, what the schooling rates are, and how the economy is performing, Wronecka added, noting that it is up to DoS to gain the trust of the users of statistics.
Stressing the department's commitment to ensure transparency and credibility, its acting director general, Jamal Alaween, said DoS is keen on benefiting from the project and also hopes to qualify its staff on sampling techniques.
Highlighting the project, Statistics Denmark Resident Twinning Adviser Thomas Olsen said experts from EU countries engaged in this partnership are in Jordan to work with the DoS staff and share their expertise.
He added that the project is about aligning Jordanian statistics with European standards to improve the statistical system.
The project focuses on four areas: national accounts, sampling techniques, quality and documentation, and data warehouse, according to Olsen.
"When you are an official statistical institution, people believe in the figures, so it is important to gain people's confidence, create more visibility and showcase how the process is done to help users," Olsen told The Jordan Times.
Users should trust statistics and use them, Lars Thygesen, a director at Statistics Denmark, reiterated, noting that statistics should reflect reality and be accessible.
The statistical figure "is not about somebody painting a rosy picture of reality that cannot be used for anything", he noted.
The 1.2 million euro EU Twinning project on strengthening the capabilities of DoS is implemented within the framework of the European Neighbourhood Policy.
Related Articles
May 04,2015
The Department of Statistics (DoS) on Monday launched a new website (http://web.dos.gov.jo/?lang=en), which is an output of the twinning project between the DoS and the statistics agencies of Denmark and Italy.
Feb 11,2017
AMMAN — Minister of Planning and International Cooperation Imad Fakhoury on Saturday met with the MEDSTAT (Euro-Med Statistics Programme) te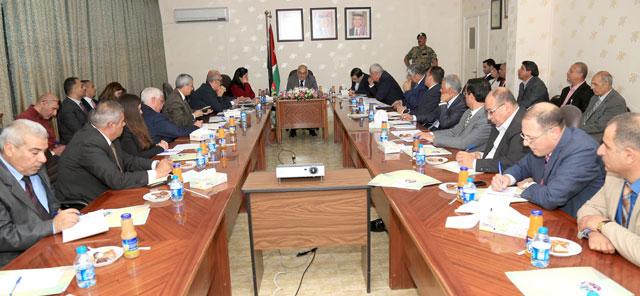 May 02,2015
Statistical information is a national power that should be utilised in a modern, scientific way, HRH Prince Hassan, chairman of the Higher Council for Science and Technology (HCST), said Friday.
Newsletter
Get top stories and blog posts emailed to you each day.