You are here
Taliban 'spring offensive' opens with bloody Afghan attacks
By AFP - May 12,2014 - Last updated at May 12,2014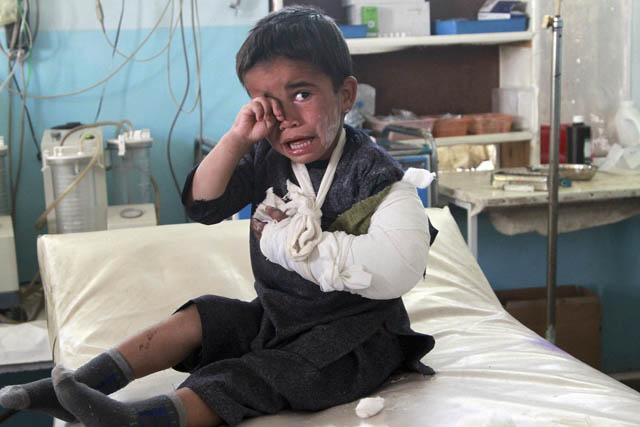 JALALABAD, Afghanistan — The Taliban began their annual "spring offensive" Monday with attacks across Afghanistan, including a suicide assault on government offices that killed seven people and multiple rocket strikes on two airports.
At least 10 people were killed in a series of attacks after Taliban leaders vowed last week that the offensive would target US-led foreign forces and government facilities.
Afghanistan's instability was underlined by an International Crisis Group (ICG) released on Monday that said "the overall trend is one of escalating violence and insurgent attacks".
The report added that residents of Ghorak village in the southern province of Kandahar had resorted to eating grass after being blockaded for months by Taliban fighters.
On the first day of the Taliban offensive, officials said three suicide bombers entered the provincial justice department in the eastern city of Jalalabad, triggering a firefight with security forces that lasted several hours.
"All of the attackers were killed and their bodies displayed at the building," Abdul Rauf Uruzgani, chief police investigator, told reporters.
"The dead were three justice department employees, two policemen, a 15-year-old boy who was caught up in fighting and another visitor."
Two rockets exploded near Kabul airport at 5:00am (0030 GMT), the exact time that the insurgents had pledged to start a nationwide operation to cleanse "the filth of the infidels" from the country.
Four rockets were also fired at Bagram airport, the biggest NATO military base in Afghanistan, which lies north of Kabul.
There were no casualties in either airport attack. But two women and a policeman died in Ghazni province southwest of Kabul, when Taliban insurgents targeted several police checkpoints.
Mohammad Ali Ahmadi, Ghazni's deputy governor who gave the casualty figure, told AFP that two police officers and six civilians were wounded.
The Taliban's "Khaibar" offensive, is named after an ancient battle between Muslims and Jews. This year it has begun in the run-up to a second round of elections next month to choose a successor to President Hamid Karzai, who has ruled since the Taliban regime was toppled in 2001.
About 51,000 US-led NATO troops still deployed in Afghanistan are set to withdraw by December, ending a long and costly battle against the Taliban, who launched a fierce insurgency after being ousted from power.
A small number of US troops may stay on from next year on a training and counter-terrorism mission, if a long-delayed deal is struck between Kabul and Washington.
Monday's ICG report warned that the absence of a continuing US force "could prove extremely problematic".
The report also detailed how residents of Ghorak, a pro-government enclave under a long Taliban siege, "have resorted to boiling and eating grass".
It cited an unnamed resident who was interviewed by telephone last month.
NATO's International Security Assistance Force confirmed it was investigating Monday's airport attacks.
"A vacant building and some equipment were damaged at Bagram," a spokesman said. "There were no casualties."
Sediq Sediqqi, the interior ministry spokesman, confirmed that two rockets fell outside Kabul airport but caused no casualties.
The Taliban claimed responsibility for the spate of attacks on Monday via a recognised Twitter account.
The group said ambushes, bombings and firefights in provinces including Nimroz, Kapisa, Zabul, Patika and Paktika had killed US soldiers, and Afghan police and soldiers during the day.
The Taliban often exaggerate attacks and death tolls.
The insurgents' statement last week said that attacks during the offensive would target US military bases, foreign embassies and vehicle convoys, as well as Afghan officials, politicians and translators.
Afghanistan's fighting season traditionally begins in April or May as snow recedes from the mountains, and the Taliban mark the occasion with an annual declaration to attack foreign forces and unseat the Kabul government.
Related Articles
Jan 18,2016
JALALABAD, Afghanistan — At least 14 people were killed when a suicide bomber struck the home of a prominent politician in Jalalabad Sunday,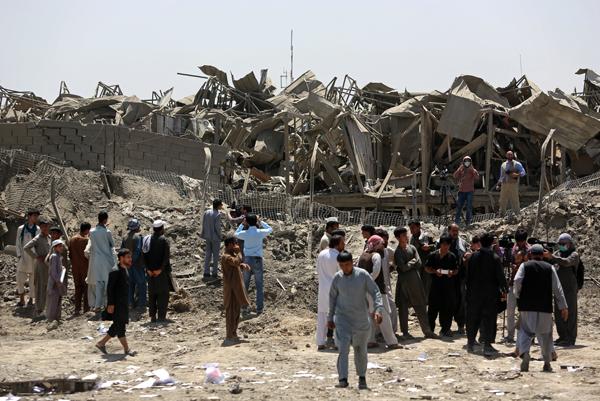 Aug 01,2016
KABUL — A Taliban truck bomb exploded outside a protected hotel compound used by foreign service contractors in Kabul on Monday, ripping a d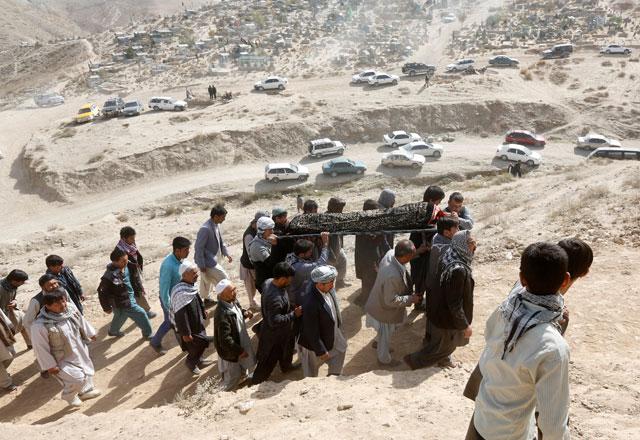 Oct 21,2017
KABUL — A suicide bomber killed 15 Afghan army trainees as they were leaving their base in Kabul on Saturday, the defence ministry said, as
Newsletter
Get top stories and blog posts emailed to you each day.