You are here
Ensour prods financiers to prop up small- and medium-sized enterprises
By JT - Nov 24,2014 - Last updated at Nov 24,2014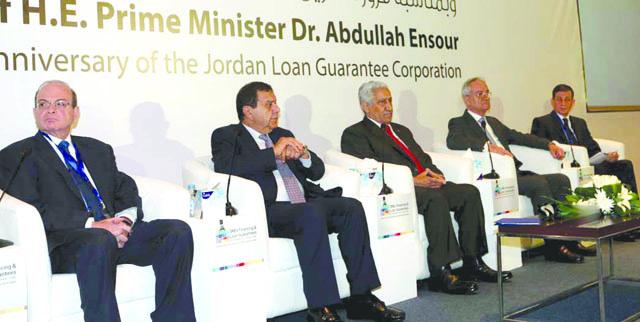 AMMAN — Prime Minister Abdullah Ensour on Monday urged bankers, experts and financiers to give greater attention to small- and medium-sized enterprises (SMEs).
Inaugurating a conference on SME financing and loan guarantee programmes, the prime minister told the participants that the SMEs sector still gets a modest share of financing .
The conference is organised by the Jordan Loan Guarantee Corporation (JLGC) marking the 20th anniversary of its establishment.
During the inauguration ceremony, Ensour stressed the importance of the conference, which is synchronised with the government's work on preparing a 10-year economic plan expected to be ready before the end of the year, especially that the government is aware of the importance of these projects.
He said the government has a comprehensive framework to support these projects as part of its economic programme and plan.
A higher committee was formed to support these projects, headed by the minister of planning and international cooperation and the membership of relevant ministers and institution directors, according to a JLGC statement.
This committee is tasked with making a strategy that streamline efforts, facilitates procedures and supports participants in the sector, in addition to considering the incentive structure presented to this vital sector.
The premier said the government is interested in providing different local and international finance sources for these projects on easy terms that enable them to expand and enhance their competitiveness.
Ensour also affirmed the government's commitment to supporting this sector for its economic and social role in light of current circumstances in the Kingdom.
He added that this vision focuses on employment and providing productive jobs through training, rehabilitation and empowerment as a base to contain unemployment and fighting poverty.
The challenge in this context, the prime minister continued, is to coordinate all efforts to execute supporting programmes and develop small- and medium-sized projects in joint efforts between the public and private sectors.
Central Bank of Jordan (CBJ) Governor Ziad Fariz said JLGC was established in 1994 under a CBJ initiative, and it has been able to perform its responsibilities and achieve its goals efficiently.
Fariz said the CBJ has offered finance programmes to industry, tourism and renewable energy sectors at preferential interest rates and with financing up to 5 per cent of the loan portfolio at each operating bank.
CBJ has recently developed loan terms within this programme to accommodate with financing programmes applied in Islamic banks in the Kingdom, Fariz added, noting that CBJ also seeks to provide special credit lines for small- and medium-sized projects through all banks in the Kingdom.
Jordan has managed to get an easy loan of $70 million from the World Bank and a credit line of $50 million with similar conditions from the Arab Fund for Economic and Social Development followed by a $150 million from the same fund due to the success of the banking sector in utilising these amounts for such projects.
Work is under way to finish final reference conditions for a special loan from the European Bank for Reconstruction and Development (EBRD) worth $150 million for the same purpose, Fariz said.
Nimeh Sabbagh, chief executive officer of Arab Bank which provided exclusive support for the conference, underlined in a speech the importance of the pivotal role of the banking sector in creating job opportunities and developing the economy.
Sabbagh noted that statistics show that Arab economies need to create jobs for around 25 million youths expected to need jobs during the next 10 years.
To create these jobs, Sabbagh said, Arab countries have to double their already low growth rates which stand below 3 per cent.
JLGC General Manager Mohammad Jaafari said the two-day conference hosts international experts to intensify knowledge exchange on loan guarantee industry in the Middle East and North Africa region.
Jaafari added that guarantee companies from Morocco, Tunisia, Egypt, Iraq, Lebanon, Turkey, Malaysia, Algeria, Oman, Kosovo and France are participating in the event.
Experts representing the World Bank, International Finance Corporation, EBRD and USAID are also participating in the conference.
Related Articles
Jun 26,2016
AMMAN — The Jordan Renewable Energy and Energy Efficiency Fund (JREEEF) on Saturday signed agreements with local banks and the Jordan Loan G
Mar 12,2016
AMMAN — Achieving sustainable economic growth and empowering small- and medium-sized enterprises (SMEs) are among top national priorities, C
Feb 25,2015
Jordan's banking sector is "highly liquid" but the private sector has to come up with bankable projects to ensure funding, Governor of the Central Bank of Jordan (CBJ) Ziad Fariz told businesspeople on Wednesday. 
Newsletter
Get top stories and blog posts emailed to you each day.