You are here
Mongolian herders reined in by new government restrictions
By AFP - Nov 18,2015 - Last updated at Nov 18,2015
Undated picture of 11-year old Bayandalai holds a reindeer at a Dukha camp in the East Taiga region of northern Mongolia (AFP photo by Greg Baker)
TSAGAAN NUUR, Mongolia — For thousands of years Mongolia's Dukha ethnic minority have depended on their reindeer herds to survive the bitter winters, but now their nomadic way of life is threatened by new government restrictions introduced on environmental grounds, they say.
The Dukha spend the winter in snow-covered mountain forests where temperatures plunge as low as -50ºC.
Just a few dozen such families remain, sleeping in tarpaulin tents beside their tethered animals.
But raising livestock — including reindeer — has been banned in parts of the "taiga", rugged wooded areas stretching from Mongolia to neighbouring Russia, where a national park was declared in 2011.
The area is the Dukhas' traditional autumn feeding grounds, where they fatten their animals before the onset of the severest cold, and the measure has put them under what they call intolerable pressure.
"There is no place left for us to live in the taiga," said Sandagiin Ganbat, a 57-year-old Dukha and father of five.
"The park authority's decision is no different than letting us cease to exist."
Even by the standards of one of the world's most sparsely populated countries, life in the taiga is harsh. There are only a few tracks, and often the only mode of transportation is horse or reindeer.
Staying warm is a constant struggle and attacks from roaming packs of wolves an everyday threat.
Some of their tents are equipped with solar panels and satellite phones in a nod to modernity, but younger Dukha are tempted by apartments in Mongolia's expanding towns and cities.
Herder Tsendeegiin Ganbat — no relation — recalled one harsh season when he could not find anything to eat.
"I wanted to give up several times, when the weather got too cold... and all my kids got sick," he said.
His 11-year-old son Bayandalai spends his weekends at the family camp, riding a reindeer for an hour every Sunday to the nearest track, and then going by car to spend the week at a school in the nearest town.
He also has a daughter who studies in Mongolia's bustling capital Ulan Bator, and has told her parents she will stay there after graduation — a decision they understand.
'No more'
Most Dukha do not eat their reindeer, which they keep mainly for milk, and many keep guns to shoot elk and other wild mammals as well as for protection from wolves.
But Mongolia heavily restricts hunting, citing concerns about declining animal stocks, and the nomads are forced to buy mutton, goat meat and staples such as rice from nearby farmers in order to stay within the law.
The park had been made off-limits to nomads to protect it from illegal gold mining, which causes ecological damage, Tsedendashiin Tuvshinbat of Mongolia's environment ministry told AFP.
Nomads can graze their reindeer outside the park, he added.
Some younger Dukha — known as Tsaatan in Mongolian — flout the rules, bringing their animals into forbidden zones to graze on moss and lichen buried under the snow.
Many Dukha are dependent on government handouts — worth about $65 each month for adults — and income generated from tourists visiting their camps.
"If there were no allowance, all the reindeer men would have gone to jail," Sandagiin Ganbat said. "And there will be no more reindeer and reindeer riders."
Related Articles
Mar 14,2018
Lagos - Herders are believed to have killed 25 villagers in central Nigeria's Plateau state, police said on Wednesday, in the latest violenc
Jan 14,2014
Forty-eight reindeer have been killed in northern Sweden, struck by a speeding train they tried in vain to outrun, transport officials said Tuesday.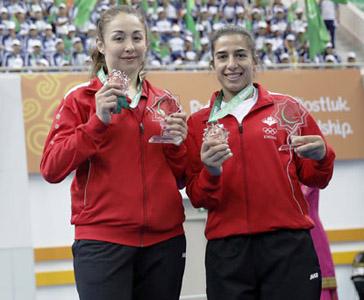 Sep 20,2017
AMMAN — Jordan's Ju Jitsu team has added two more medals to the Kingdom's tally at the 5th Asian Indoor and Martial Arts Games in Ashgabat,
Newsletter
Get top stories and blog posts emailed to you each day.