You are here
Watch for US recession, zero interest rates in China next year, Citi says
By Reuters - Dec 02,2015 - Last updated at Dec 02,2015
Workers sew clothes in a small industrial settlement in Jakarta in this December 11, 2012 file photo (Reuters photo)
LONDON — The outlook for the global economy next year is darkening, with a US recession and China becoming the first major emerging market to slash interest rates to zero both potential scenarios, according to Citi.
As the US economy enters its seventh year of expansion following the 2008-09 crisis, the probability of recession will reach 65 per cent, Citi's rates strategists wrote in their 2016 outlook published late on Tuesday. A rapid flattening of the bond yield curve towards inversion would be an key warning sign.
"The cumulative probability of US recession reaches 65 per cent next year," Citi's rates strategists indicated. "Curve inversion will likely come more quickly than the consensus thinks."
Normally, short-dated yields such as two-year yields are lower than longer-dated ones like 10-year yields, as investors demand a premium for taking on risk several years into the future. The curve has inverted before each of the last five US recessions since the mid-1970s.
In China, deflationary pressures and downside risks to growth will force Beijing to loosen fiscal policy, let the yuan depreciate and perhaps become the first major emerging market economy to cut interest rates to zero, Citi said.
Separately, a study commissioned and paid for by US automaker General Motors (GM), said that despite numerous pledges and years of effort to transform Southeast Asia into a single market, the 10-nation region remains resistant to free-flowing trade and fortified against imports, to the cost of some global companies,
The study for one of the region's biggest investors highlights a lack of progress by the Association of Southeast Asian Nations (ASEAN) to harmonise trade and investment rules, leaving the autos industry with little to show for a decade of trade liberalisation.
In the study, consultancy Oxford Economics found that tariffs in ASEAN on imported goods such as cars generally have fallen "dramatically", but this is undermined by industrial policies that promote some products, through tax and other incentives, but require them to have high levels of locally made components that put imported goods at a competitive disadvantage.
Policies like Indonesia's "low-cost green cars" (LCGC) and one in Thailand dubbed Eco2 neutralise the positive impact of lower tariffs, says GM.
"South Korea is GM's major manufacturing hub. There is a free trade agreement between Korea and ASEAN and we would like this to operate as a free trade agreement and as effectively as possible," Matt Hobbs, vice president in charge of government relations and public policy for GM International, told Reuters.
Under current conditions, GM cannot deploy vehicles made in Korea to be sold competitively in ASEAN countries, he said.
Single market
ASEAN formally established an ASEAN Economic Community (AEC) at its annual summit last month, aiming to create a single market with few barriers to the flow of trade, capital and professional labour in an area of 625 million people.
"In practice, we have virtually eliminated tariff barriers between us," said Malaysian Prime Minister Najib Razak, the summit host. "Now we have to assure freer movements and removal of barriers that hinder growth and investment."
Twelve years in the making, Najib indicated that it will take another 10 years to put into effect all the measures of the AEC, which comes into being on December 31. Politically sensitive sectors such as agriculture, auto production and steel will remain protected during that period.
An integrated ASEAN economy is meant to compete with China, India and Japan — ASEAN's combined gross domestic product (GDP) of $2.6 trillion would make it the world's seventh largest economy — but endemic corruption, poor governance and a lack of transparency in some members pose formidable obstacles to full integration.
Drag on growth
For GM, being able to use existing capacity in South Korea, a major export hub for the company, is critical to its bottom line, especially as it restructures its business in southeast Asia. As part of that process, GM has stopped producing GM-branded cars in Indonesia and is scaling down its Thai plant.
Without significant export markets, like southeast Asia, GM Korea will find it tougher to be profitable and may need to make permanent capacity cuts, analysts say. Not so long ago, Korea was producing close to a fifth of GM's global output, but labour costs have risen by nearly half in five years, pushing it into a high-cost bracket along with Japan.
According to the GM-commissioned study, non-tariff measures have gained momentum in ASEAN since the global financial crisis. The study counted 190 additional non-tariff measures implemented in 2009-13, with 75 such measures in Indonesia, 39 in Vietnam, 27 in Thailand, and 16 in Malaysia.
These are a drag on the region's economic growth, and cost jobs, the study said, adding that if all these measures were removed, GDP in the bloc's five biggest economies would grow by an extra 0.5 percentage point in 2025, resulting in more than half a million new jobs.
For GM, policies such as LCGC and Eco2 make a car like the Chevrolet Spark less competitive. The specifications for the Korean-built subcompact model are similar to those required to qualify for the Indonesian and Thai programmes.
But in Thailand, the Spark carries an 80 per cent duty as there is no coverage under the 2007 ASEAN-South Korea free trade agreement. Also, the Spark would not qualify for the lower tax and other Eco2 benefits because it doesn't meet local content requirements.
The cost of manufacturing an imported Spark would be "thousands of dollars" more than an average Eco2-qualified car made in Thailand, a GM spokesman indicated.
GM's Hobbs reckons ASEAN could be the world's sixth-largest car market by volume by 2018 — if it operates as a true single market.
"If you add all the [ASEAN] countries together and they could function as a single, unified region, then that would make [ASEAN] even more competitive as a production base for the rest of the world," he added.
Related Articles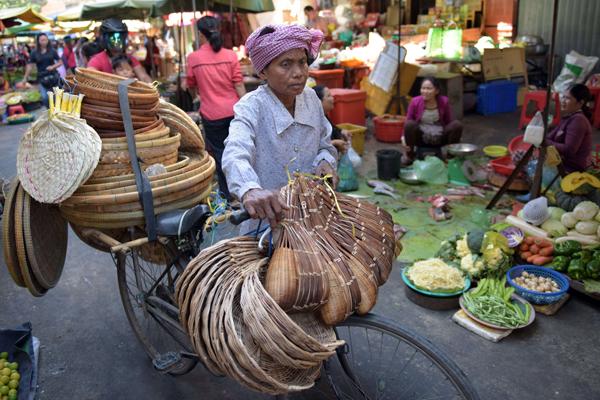 Jan 01,2016
JAKARTA — Southeast Asian nations officially launched a European Union (EU)-inspired economic bloc Thursday aimed at boosting the region's t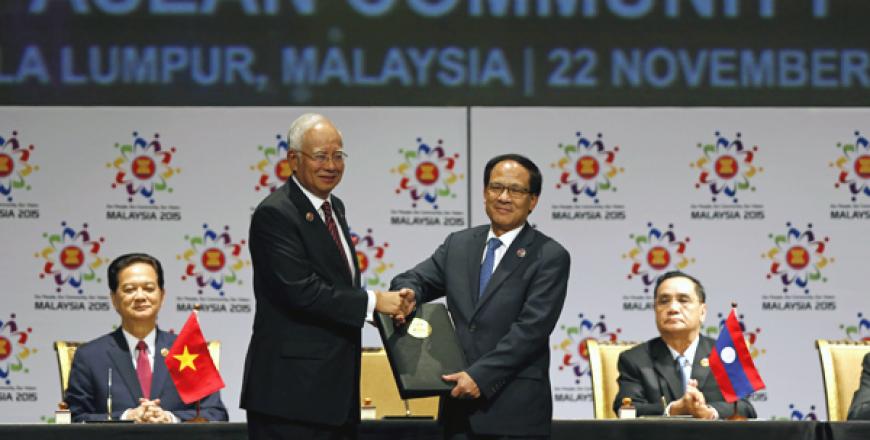 Nov 22,2015
KUALA LUMPUR — Southeast Asian leaders on Sunday symbolically declared the establishment by year-end of a European Union (EU)-style regional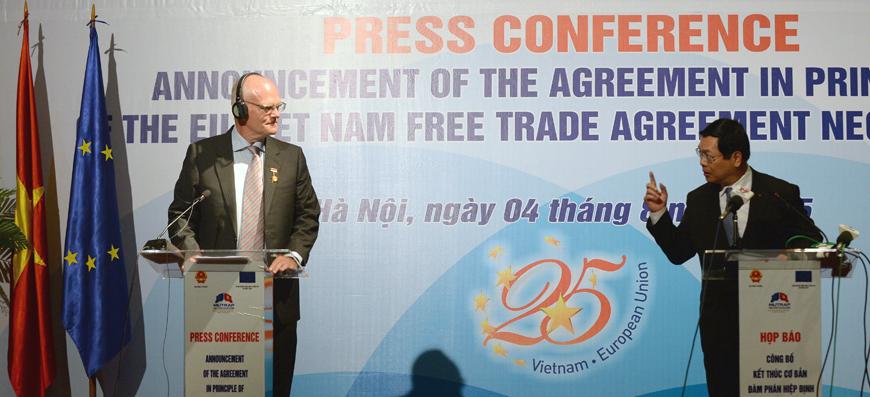 Aug 04,2015
HANOI/BRUSSELS — The European Union (EU) and Vietnam reached a free trade agreement on Tuesday, the EU's second in Southeast Asia, paving th
Newsletter
Get top stories and blog posts emailed to you each day.