You are here
'Sri Lanka looks to expand cooperation with Jordan in trade, tourism'
By Mohammad Ghazal - Feb 03,2016 - Last updated at Feb 03,2016
AMMAN — Several steps will be taken this year to tap the potential to strengthen Sri Lankan-Jordanian cooperation in various areas, according to Sri Lankan Ambassador Abdul Latiff Lafeer.
Sri Lanka and Jordan, which established diplomatic ties in 1965, enjoy solid relations and trade exchange is steadily growing, Lafeer said on the occasion of the Sri Lankan national day, which the embassy marks on Thursday.
However, the potential remains high for exploring new areas of cooperation, especially that Sri Lanka is embarking on a series of major projects in different areas, the ambassador told The Jordan Times in an interview.
In the next two months, a meeting for the Jordanian-Sri Lankan joint committee will be held in Amman to explore areas of cooperation and enhance ties, he said.
Prior to the meeting, the Ceylon Chamber of Commerce and the Jordan Chamber of Commerce are expected to sign a memorandum of understanding to increase trade ties and exchange, Lafeer added.
Trade exchange between the two countries in 2014 was around $45 million, of which $36 million were exports of tea from Sri Lanka to Jordan.
In addition, Sri Lanka exports electronic items, material for the garment industry and rubber material to Jordan.
"The trade volume is steadily growing but the potential to increase is high, especially that Sri Lanka is a growing market, where its economy rose by about 6 per cent in 2015," said the ambassador.
As Sri Lanka is embarking on a $40 billion project to turn the country into a hyper centre over the next 15 years, the ambassador said Jordanian developers and contractors can play a significant role in the mega project due to the know-how and expertise they enjoy in this regard.
The project includes creating an aviation city, a maritime city, a knowledge city, and industrial parks, IT centres and other facilities.
"We are even looking forward to attracting Jordanian investments to the project as they will have access to several countries in the area," said Lafeer, adding that Sri Lanka is working on another project to divide the country into 45 industrial zones.
The ambassador said a catalogue show will be held in Amman this year, where several Sri Lankan companies will highlight their products and services in various areas.
The show will be followed by a Sri Lankan business delegation visit to the Kingdom to meet with counterparts to explore mutual cooperation.
Turning to tourism, the ambassador said some 4,000 Jordanians visited Sri Lanka in 2015.
"I will soon meet with several tour operators to look into what needs to be done to increase tourism… There is a great potential even to attract Sri Lankan tourists to Jordan as the Kingdom is home to various religious, historic and tourism sites that are worthy of visiting," he noted.
According to the ambassador, some 1.8 million tourists visited Sri Lanka in 2015 out of whom 6 per cent were from the Middle East.
Lafeer noted that there are 14,000 highly-skilled Sri Lankan workers in the garment sector in Jordan, where the total volume of Sri Lankan investments is around $30 million.
There are also some 5,000 Sri Lankan caregivers working in the country, said the ambassador.
As Sri Lanka imports around 800,000 metric tonnes of fertilisers for the consumption of its agricultural sector, the diplomat said his country is keen on looking into means of cooperating with Jordan in this regard.
The ambassador said there is room for increased cooperation in counterterrorism as well.
Highlighting Sri Lanka's "success in annihilating terrorism", the diplomat said his country is willing to share its expertise with Jordan.
Related Articles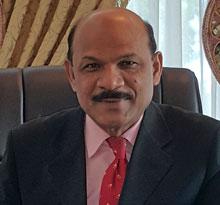 Feb 03,2018
AMMAN — Several memoranda of understanding (MoU) are expected to be signed between Sri Lanka and Jordan this year to boost ties in various a
Feb 04,2017
AMMAN — Public-private partnerships are essential to tap the huge potential for increased cooperation between Jordan and Sri Lanka in touris
Jul 04,2016
COLOMBO — The number of Jordanian and Middle Eastern tourists heading to Sri Lanka is on the rise and expected to witness a further boom as
Newsletter
Get top stories and blog posts emailed to you each day.