You are here
Investing in children an investment in change, peace — experts
By Muath Freij - Mar 17,2016 - Last updated at Mar 17,2016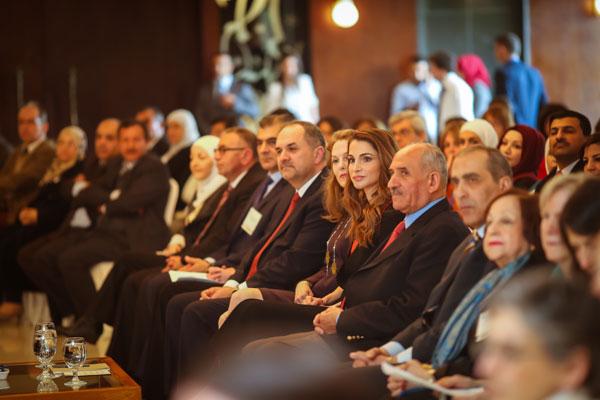 Her Majesty Queen Rania attends a meeting held in Amman on Wednesday by the Forum on Investing in Young Children Globally (Photo courtesy of Royal Court)
AMMAN — There is a great need to invest in young children in order to develop their abilities and the future of their societies, said Ann S. Masten, regents professor of child development at the University of Minnesota.
If people invest early in child development, they create "a very powerful" human capacity for change, Masten told The Jordan Times on the sidelines of the seventh in a series of nine workshops hosted by the Forum on Investing in Young Children Globally on Wednesday.
"There has been a lot of progress worldwide on preventing child mortality and improving survival, but we think [the issue] is… beyond survival and help children be resilient and thrive in societies around the world," she added.
Nearly 100 policymakers, economists, child development experts, leaders on the ground and youth from the region are meeting in Amman for three days to promote knowledge exchange, and identification of opportunities to leverage investments in early childhood development and protection to uphold human rights, promote social justice and sustain peace, according to a statement from the organisers.
The Amman meeting is held under the patronage of Her Majesty Queen Rania, who also attended the opening day of the workshop.
The meeting, dubbed "Investing in Young Children for Peaceful Societies: Individual and Structural Transformation", is held in partnership with UNICEF and the King Abdullah Bin Abdulaziz International Centre for Interreligious and Intercultural Dialogue (KAICIID).
"This particular meeting and workshop focuses on children who are facing issues in conflict zones, or refugee children, and we are trying to encourage not only awareness but evidence about how we can support and help these children, and help societies where they are settling in order to make a better life both for those children and for the future [of their] countries," Masten said.
"We are trying to hear the voices of those who work closely with these children to help us understand how we can do the most effective job… We want to hear from young people; we want to hear from agencies," she added.
"We are very excited about our meeting in Jordan because we think Jordan has played a very major role in promoting this kind of investment in young children."
According to a statement from the Queen's office, Amman was selected to host this workshop because of Jordan's commitment to early childhood and youth, particularly through the call to action in the UN Resolution on Youth, Peace and Security.
UNICEF Representative to Jordan Robert Jenkins praised Queen Rania's efforts in focusing on the welfare of children.
"Jordan has made a lot of progress in increasing access and improving the quality of education," he told The Jordan Times.
Mohammed Abu-Nimer, the workshop co-chair and senior adviser at KAICIID, said the main objective is to invest more in early childhood education and development in general and to emphasise that education for pluralism, diversity and education should be an integral part of early childhood development.
"One of the challenges we have been hearing is that the region is going through massive campaigns of violence and does not have the luxury to deal with these issues, and I think [it's] quite [the] contrary. We think that there is enough tangible evidence that illustrates [that] the more we invest in education of children… the less they will be engaged in violence," he told The Jordan Times.
Once the dust of conflict settles, Abu-Nimer said rebuilding houses is not enough.
"Every conflict area around the world has gone through the same mistake. They fight and kill each other; they rebuild the buildings, [but] they forget to invest in the children and in the minds of the people."
Related Articles
Dec 23,2017
AMMAN — Investing more in the first 1,000 days of every child's life, can vastly improve their future wellbeing, happiness, educational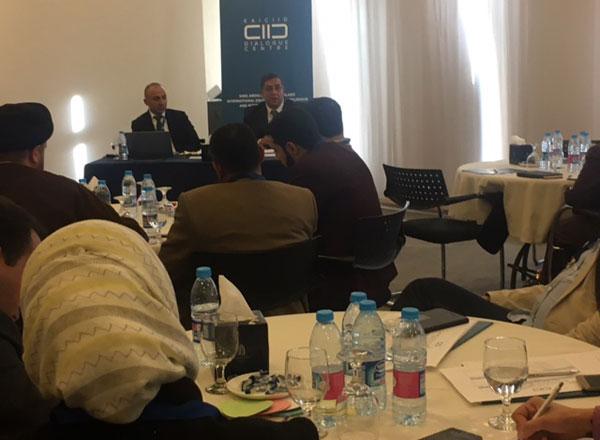 Feb 21,2017
AMMAN — In a quest to enhance conflict prevention and peacebuilding between individuals, an International Fellows Programme for the Arab wor
Feb 07,2018
AMMAN — The Ministry of Education and its partners on Wednesday launched a national programme for empowerment and employment in the kinderga
Newsletter
Get top stories and blog posts emailed to you each day.