You are here
World Bank lending hits post-financial crisis peak
By AFP - Apr 11,2016 - Last updated at Apr 11,2016
A worker takes his break on a bulldozer parked near a construction site at the Central Business District of Beijing on Monday (AP photo)
WASHINGTON — Lending to needy countries by the World Bank surged to a level last year normally only seen during financial crises, the bank said Monday.
Facing slowing growth and low commodity prices, developing countries borrowed the most money from the World Bank in 2015 since the 2008-2009 crisis.
"As developing countries continue to face strong economic headwinds, demand for lending from the World Bank has risen to levels never seen outside a financial crisis," the World Bank indicated in a statement.
During its 2015 fiscal year, lending to emerging-market and low-income economies totalled $42.4 billion, up from $40.8 billion in 2014.
Of that total, lending for emerging, or middle-income countries, was $23.5 billion in 2015, compared with only $14 billion in 2006. The bank projects that lending for emerging economies this year will surpass $25 billion.
Hit particularly hard by the sharp fall in oil and other commodity prices and China's cooling economy, a number of developing countries are suffering from strained finances and economic difficulties.
"Developing country governments are feeling the pressure to find additional ways to accelerate growth, in the current downturn," said Jan Walliser, a World Bank vice president, in the statement.
A large part of its support has been to help countries diversify sources of growth and buffer themselves against future shocks, the bank said.
The World Bank, which holds its spring meetings with the International Monetary Fund this week in Washington, has set a goal of ending extreme poverty by 2030.
"We are in a global economy where growth is expected to remain weak, so it is critically important that the World Bank play our traditional role of helping developing countries accelerate growth," World Bank President Jim Yong Kim said in the statement.
Separately, the World Bank said Monday that China's economic slowdown will hit growth in developing East Asia and the Pacific from this year until at least 2018, warning of volatile global markets and urging caution.
Regional growth is forecast to slow from 6.5 per cent in 2015 to 6.3 per cent this year and 6.2 per cent in 2017 and 2018, the bank indicated in its latest outlook.
However, Southeast Asian economies led by Vietnam and the Philippines are still expected to see healthy expansion, with both forecast to see growth rates of more than 6 per cent, it added.
According to the bank, the regional outlook reflected China's gradual shift to slower, more sustainable growth, expected at 6.7 per cent this year and 6.5 per cent in 2017 and 2018, from 6.9 per cent in 2015.
China is in the midst of reforms as it moves to make domestic consumption a key economic growth driver instead of exports and as manufacturing gives way to services taking on a bigger role in the economy.
"Continued implementation of reforms should support the continued rebalancing of domestic demand," the report said on the Chinese economy.
"In particular, growth in investment and industrial output will moderate, reflecting measures to contain local government debt, reduce excess industrial capacity and reorient fiscal stimulus toward social sectors," it added.
Victoria Kwakwa, incoming World Bank East Asia and Pacific vice president, indicated in a statement that the region's developing countries accounted for "almost two-fifths of global growth" last year.
"The region has benefited from careful macroeconomic policies, including efforts to boost domestic revenue in some commodity-exporting countries. But sustaining growth amid challenging global conditions will require continued progress on structural reforms," she said.
Major drag
The forecasts were made against a backdrop of slowing world growth, weak global trade, low commodity prices and volatile financial markets, with China's economic slowdown a major drag.
Excluding China, regional growth is projected to pick up from 4.7 per cent last year to 4.8 per cent this year and 4.9 per cent in 2017 and 2018, powered by Southeast Asia's robust economies, the bank indicated.
"Among the large developing Southeast Asian economies, the Philippines and Vietnam have the strongest growth prospects, both expected to grow by more than 6 per cent in 2016," it said.
"In Indonesia, growth is forecast at 5.1 per cent in 2016 and 5.3 per cent in 2017, contingent on the success of recent reforms and implementation of an ambitious public investment programme," the bank added.
Vietnam is forecast to grow 6.5 per cent this year, 6.4 per cent in 2017 and 6.3 per cent in 2018, down from 6.7 per cent last year.
Expansion for the Philippines is seen at 6.4 per cent this year and 6.2 per cent in 2017 and 2018 from 5.8 per cent in 2015.
The region, however, faces "elevated risks" from a weaker-than-expected recovery in advanced economies and from the possibility of China's slowdown being steeper than anticipated, said World Bank chief regional economist Sudhir Shetty.
"This is a very volatile time for the global economy. This is a time for all countries to be cautious," he told reporters in Asia during a video conference call from Washington.
"There is not a lot of room to manoeuvre on the macroeconomic side," he warned.
Countries should "rebuild fiscal buffers because... there's going to be bad shocks down the road, which will require the use of fiscal policy," he said.
Shetty also called on countries to continue with flexible exchange rates "to adjust to whatever shocks there are" and to push through with needed structural reforms.
East Asia and the Pacific under the World Bank covers China, Indonesia, Malaysia, the Philippines, Thailand, Vietnam, Cambodia, Laos, Myanmar, Mongolia, Fiji, Papua New Guinea, the Solomon Islands and East Timor.
Related Articles
Apr 17,2018
AMMAN — The International Monetary Fund's (IMF) World Economic Report that was issued on Tuesday expected the economic growth in the Kingdom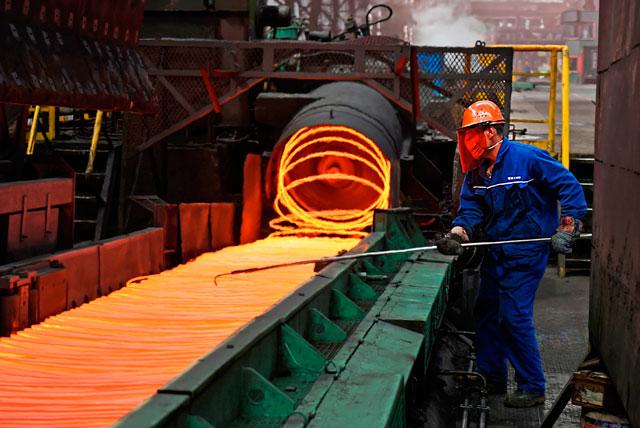 Mar 05,2018
BEIJING — China set its 2018 economic growth target at "around 6.5 per cent" on Monday, in line with expectations but lower than the 6.9 per
Apr 13,2016
WASHINGTON — Public debt has soared in advanced economies to the highest levels since World War II as governments struggle against slow grow
Newsletter
Get top stories and blog posts emailed to you each day.