You are here
All set for 31st Jerash festival, organisers say
By Bahaa Al Deen Al Nawas - Jun 04,2016 - Last updated at Jun 04,2016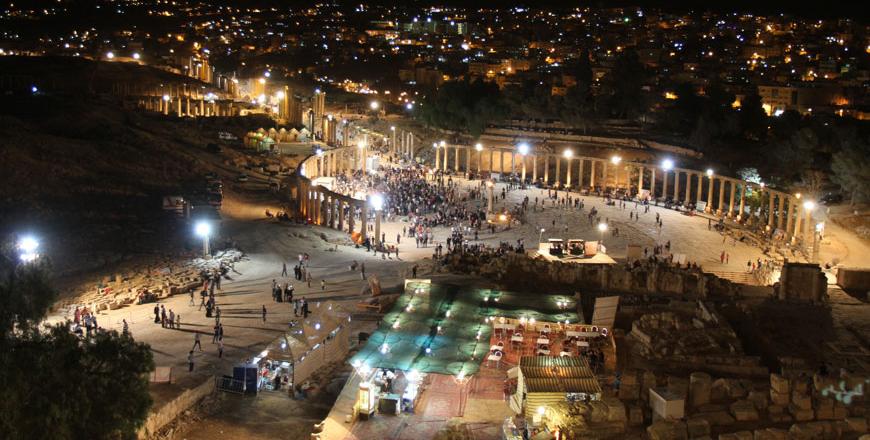 The Jerash festival is held in the ancient Greco-Roman town of Jerash, known in old times as Gerasa (File photo)
AMMAN — For some Jordanians, the image of Jerash festival is only limited to popular singers on stage with people listening and cheering at the ancient city's Greco-Roman theatres, although the festival features a host of other cultural and artistic activities.
The Jerash Festival for Culture and Arts, to be held this year in its 31st iteration, also includes lectures on a variety of topics such as sustainable development, women and Islam, according to the organisers.
There are also several poetry recitals and exhibitions showcasing handicrafts, food products and other traditional items, to be set up in cooperation with various societies in Jerash, some 48km north of Amman.
The festival once again highlights the Kingdom's stability and security amidst a turbulent region, Amman Mayor Aqel Biltaji, head of the festival's higher committee, told reporters on Saturday, adding that the concerned authorities will ensure that the event will be held in a safe environment for all attendees.
Also speaking at the press conference, the festival's executive director, Mohammad Abu Summaqa, commended the government and the local community in Jerash for supporting the event, which starts this year on July 21 and concludes on July 30.
The Jerash festival is an annual celebration of local, Arabic and international culture during the summer. It is held in the ancient Greco-Roman town of Jerash, known in old times as Gerasa.
In 2011, the government revived the festival, which was first launched in 1981, after a four-year suspension.
In cooperation with the Tourism Ministry, this year's festival will also be promoting the "Jordan Is More Beautiful" programme, which targets Jordanian families and guest workers in the Kingdom through its discounts on meals, transport and entry fees, covering four days of the festival.
Abu Summaqa said that as part of the festival's activities, an international panel discussion on the Great Arab Revolt will be held in cooperation with the University of Jordan between July 23 and 24 at the Royal Cultural Centre.
Some 45 per cent of the funding for the festival is from partners and the private sector, he said.
The festival's executive director said eight Arab artists, five Arab bands, seven foreign bands, 12 Jordanian bands, 81 Jordanian artists, and 112 local and Arab writers and poets will be performing at the festival.
He added that while activities are ongoing in Jerash, other activities will also be held in Amman.
Abu Summaqa said eight vehicles will be designated to transport people with disabilities to the festival in Jerash, helping them access the theatres. He stressed that those vehicles are fully prepared for that purpose.
Information regarding the programmes, artists and the festival is available on www.jerashfestival.jo and www.facebook.com/Festival.Jarash/.
Related Articles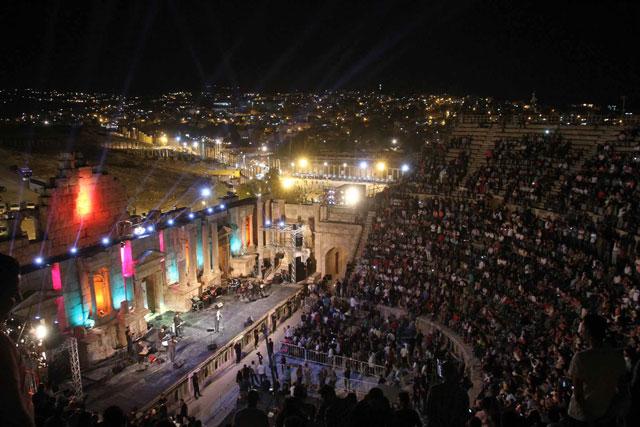 Jul 30,2016
AMMAN —The 31st Jerash Festival for Culture and Arts concluded in the ancient Greco-Roman city on Saturday, and will move to Amman for a ser
Jul 31,2016
AMMAN — The 31st Jerash Festival for Culture and Arts attracted over 100,000 visitors, the festival's executive director, Mohammad Abu Summa
Jun 01,2015
AMMAN – This year's Jerash Festival for Culture and Art will kick off on July 23, featuring an assortment of shows performed by Jordanian, A
Newsletter
Get top stories and blog posts emailed to you each day.