You are here
Gulf emirate targets status as major oil export platform
Increased demand from China and India expected
By AFP - Sep 22,2016 - Last updated at Sep 22,2016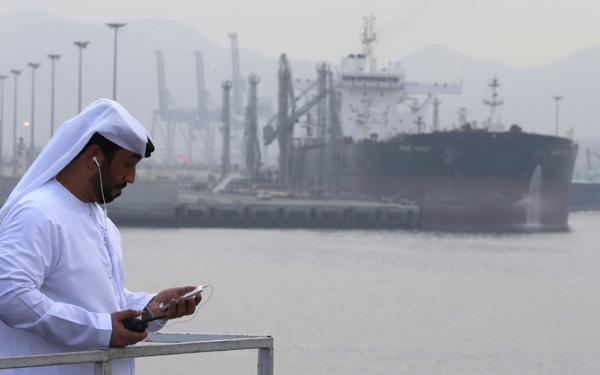 An Emirati man stands at the oil terminal of Fujairah during the inauguration ceremony of a dock for supertankers on Wednesday (AFP photo)
FUJAIRAH, United Arab Emirates — At the mouth of the oil-rich Gulf region, the little-known UAE emirate of Fujairah is positioning itself as a major player in oil exports with a new dock for supertankers.
Sandwiched between the rocky Hajar mountains and the Gulf of Oman, the city of Fujairah has evolved around its port, whose oil terminal and storage facilities keep expanding.
The facility handled 56 million tonnes of petroleum products in 2015.
Fujairah's location on the Gulf of Oman allows the seven-member United Arab Emirates to ship the bulk of its oil exports bypassing the strategic Hormuz Strait, which giant neighbour Iran threatens to close in times of tension.
Other major oil producers in the Gulf, including world top exporter Saudi Arabia, have to ship most of their exports through the Hormuz.
The UAE in 2012 inaugurated a 360-kilometre pipeline connecting Abu Dhabi's rich oil fields with Fujairah's coast. It has a capacity to pump 1.6 million barrels per day.
The OPEC member produces around 2.5 million
But in a bid to capitalise on its location, Fujairah on Wednesday opened a new dock for supertankers, built at a cost of 650 million dirhams ($177 million).
The new terminal facility allows it to handle tankers up to 334 metres in length and weighing 330,000 tonnes, port director Mussa Murad said at the inauguration ceremony.
At 26 metres, "this dock is the deepest oil dock in the Middle East", he said.
Murad said the jetty could process 2 million tonnes of petroleum products at loading or unloading in 24 hours.
"We are determined to put the name of Fujairah... on the map of petroleum exchange on the regional and global levels," said the emirate's Industry and Economics Department head, Sheikh Saleh Bin Mohammed Al Sharqi.
A port official said Fujairah did not spare any effort to "move mountains" to be able to handle supertankers.
As much as 22 million tonnes of rocks were quarried to reclaim land and build the new jetty, allowing supertankers to dock and load at ease.
Supertanker Kelly inaugurated the new jetty, blasting its siren as it berthed for loading.
The facility can load or unload 2 million tonnes of oil products in 24 hours, according to Mourad.
The port already boasts a large storage capacity with hundreds of giant reservoirs spread across the facility.
"Storage capacity has jumped from 550,000 tonnes in 1994 to 10 million tonnes today," said Mourad. The number of reservoirs has shot up from 8 to 338 in the same period.
Refuelling services have also expanded from 2 million tonnes to 24 million annually.
Fujairah officials said they are counting on increased demand from India and China, and on diversification of its services, such as bunkering.
Related Articles
May 16,2015
The Aqaba Special Economic Zone Authority has announced that the Kingdom will receive the first shipment of the liquefied natural gas (LNG) via a new specialised terminal, which its investment arm, Aqaba Development Corporation (ADC), has completed.
Mar 09,2014
Iran's oil tanker fleet is gearing up for more business, with some vessels taking to the high seas after over more than a year at home ports, another sign that an easing in Western sanctions is enabling exports to begin to pick up.
Mar 08,2014
Libya threatened on Saturday to bomb a North Korean-flagged tanker if it tried to ship oil from a rebel-controlled port, in a major escalation of a stand-off over the country's petroleum wealth.
Newsletter
Get top stories and blog posts emailed to you each day.