You are here
Jordan to play New Zealand in U-17 Women's World Cup
By Aline Bannayan - Oct 06,2016 - Last updated at Oct 06,2016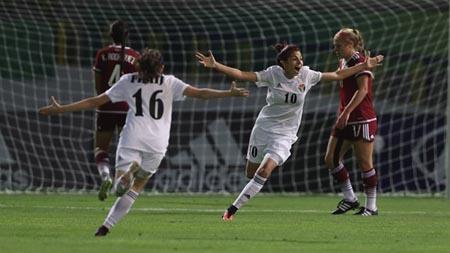 Jordan's Sarah Abu-Sabbah celebrates after scoring during the FIFA U-17 Women's World Cup Group A match against Mexico at Al Hassan International Stadium in Irbid on Monday (AFP photo)
AMMAN — Jordan plays New Zealand in Zarqa at 4:00pm on Friday in its 3rd and final match at the FIFA U-17 Women's World Cup currently under way in Amman.
The entire nation has rallied behind Team Jordan for the U-17 Women's World Cup. After their opening 6-0 defeat to European champs and U-17 runner-up Spain, Jordan was the first to score through Sarah Abu-Sabbah in the second match against Mexico which Jordan later lost 4-1. Abu-Sabbah who plays for Bayer Leverkusen in the German league, scored Jordan's sole goal through individual effort when she managed to get past Mexico's midfielders and her shot nestled in the top right of the goalie early in the match.
Abu-Sabbah who helped Bayer Leverkusen win the German U-17 Girls' Cup and signed a new contract for the first team in the Women's Bundesliga, became the first Arab player to do so. She now already looking beyond this final fixture: "We cannot regress to where we were before. We've contested an international competition and we need to keep working non-stop to get good results. Our next aim is to qualify for the U-20 Women's World Cup in two years' time," she told FIFA.com
While the host nation officially bowed out of the competition, team coaches hope they can manage a good result against New Zealand which is also winless and eliminated from Round 1. Mexico lead Group A on goal difference after a 5-0 win of New Zealand while Spain beat New Zealand 2-0.
The biggest sporting event to be hosted in the Kingdom registered a series of firsts for Jordan and the region. Not only was this the nation's first appearance at the U-17 Women's World Cup, it was Jordan's first appearance at any level at a FIFA World Cup. It was also the first time that a women's tournament of this scale has been hosted in the Middle East region.
Regardless of match results, most observers concur hosting the event is a major milestone. The tournament has undoubtedly provided much needed competitive experience for Jordan's squad and provided a big boost to women's sports in general.
Others point out that the event and Jordan as host has not been marketed enough and noted minimal signage in the capital apart from billboards with Jordan's match schedules.
"This should have been a big celebration where everyone spoke of a World Cup being held in our country. The parliamentary election banners filled this streets more. This is a World Cup after all," said an avid fan.
Another said, "I noticed billboards are all in Arabic and no banners filling the streets to draw locals attention that a major event is under way. For those arriving at the airports, or even near stadiums, I think it should be more visible and highlighted to all."
The 32 matches over the course of 22 days are being hosted at four stadia: Amman International Stadium, King Abdullah II Stadium in Quweismeh, Al Hassan Stadium in Irbid and Prince Mohammad Stadium in Zarqa. Jordan played its matches in different governorates with the first in Amman, in Irbid and the third in Zarqa.
Jordan is the only Arab team at the U-17 World Cup after Egypt and Morocco were eliminated from the qualifiers. Cameroon is the other country to never have previously participated in the U-17 World Cup.
The draw put the 16 teams into four groups with the top two teams from each group moving on to Round 2. Round 1 ends October 8 following which the quarters will be played on October 12-13, the semis on October 17 and the final, as well as, 3rd and 4th place on October 21.
Related Articles
Oct 12,2016
AMMAN — Deyna Castellanos struck twice on Wednesday as Venezuela came from behind to beat Mexico 2-1 in the quarter-finals of the 2016 U-17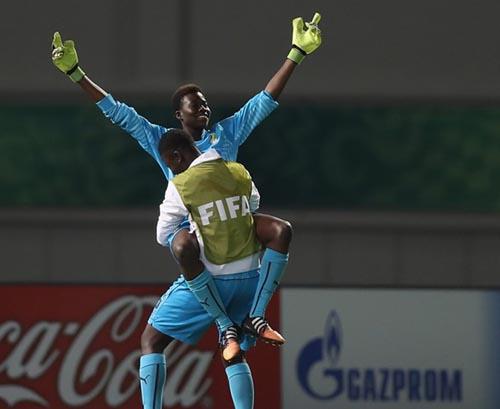 Oct 11,2016
AMMAN — The FIFA U-17 Women's World Cup gets into high gear on Wednesday when the quarter-finals kick off in Amman and Irbid, with eight tea
Oct 13,2016
AMMAN — It's down to the final four at the 2016 U-17 Women's World Cup being held in Jordan.The matchup will see Spain versus Japan and Vene
Newsletter
Get top stories and blog posts emailed to you each day.