You are here
FIFA blocks Europe from hosting 2026 World Cup, lifting US hopes
By AP - Oct 15,2016 - Last updated at Oct 15,2016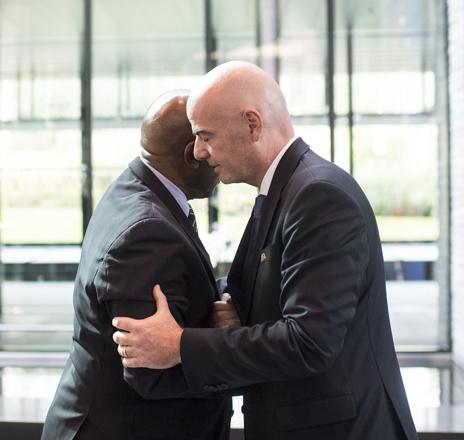 FIFA President Gianni Infantino (right) hugs FIFA official Tokyo Sexwale during the FIFA Council meeting at the Home of FIFA in Zurich, Switzerland, on Friday (AP photo by Ennio Leanza)
ZURICH — North America became a stronger favourite to host an expanded World Cup in 2026 after FIFA essentially barred European countries from bidding on Friday.
The FIFA Council agreed that UEFA and Asian confederation members should not bid again so soon after Russia hosts the 2018 World Cup and Qatar has the 2022 tournament.
"That has changed the landscape [of the 2026 contest] a little bit," said US Football Federation President Sunil Gulati, a FIFA Council member.
FIFA said Europe would be put on standby only if "none of the received bids fulfil the strict technical and financial requirements".
That's unlikely if the United States bids as expected, either alone or with Canada and Mexico.
FIFA favours co-hosting among regional neighbours, and a three-way bid could be more popular if the tournament grows to 40 or 48 teams.
A decision will be made on whether to expand the tournament on January 9-10 when the FIFA Council next meets in Zurich.
FIFA has targeted 2020 for its member federations to choose the 2026 host.
FIFA President Gianni Infantino, who was elected this year after promising voters a 40-team World Cup, would not declare North America as the most likely host region.
"It is still too early to say that," Infantino said. "We hope we have many bidders and we can choose... who the best bidder is."
Still, the North American regional body CONCACAF has long been seen as the natural host for 2026 and its claim got stronger on Friday. The United States was the last country in the region to stage the tournament in 1994.
"The answer is 'Sure,' it would be silly to say anything but that," Gulati said of a contest that could also include bids from Africa and South America.
CONCACAF lost out when a hosting rotation system approved during Sepp Blatter's presidency was abandoned before its scheduled turn in 2018 came around.
Back then, FIFA preferred to block continents from two World Cup bidding contests after hosting, but when statutes were updated in recent reforms the rule said only one tournament had to be skipped.
Gulati said the new clarity in bidding would encourage an entry from the United States.
"We now know some of the rules," said Gulati, FIFA's top American official. "We will look at it. We have great relationships with Canada and Mexico. We also have a country with 320 million people that has hosted a World Cup and with a lot of terrific stadiums and great infrastructure."
A US-hosted World Cup would likely set attendance records — in 1994 there were 3.59 million total fans and an average of 69,000 per match.
Infantino said Friday that a bigger World Cup — potentially of 48 teams and 80 matches with an opening playoff round — would be for sporting reasons, "not a financial or political decision".
Still, he foresaw more revenue from FIFA's current $5 billion per tournament, which could help increase the funding he promised to FIFA members.
"Whatever additional costs there will be, will be largely outweighed by additional revenues, obviously. Which means we are in a comfortable position," Infantino said.
Other decisions Friday:
— FIFA's 2017 congress will be held in Manama, Bahrain — the home city of FIFA Vice President Sheik Salman Bin Ebrahim Al Khalifa of Bahrain — on May 11. The original venue of Kuala Lumpur, Malaysia, pulled out citing problems with issuing visas to delegates.
— The rebranded FIFA annual awards ceremony, formerly known as the Ballon d'Or, will still be held in Zurich on January 9. FIFA had explored a move to London.
— The dates of CONCACAF's Gold Cup tournament in 2017 have been modified. It will kick off two days earlier, end four days earlier and be played July 7-26.
Related Articles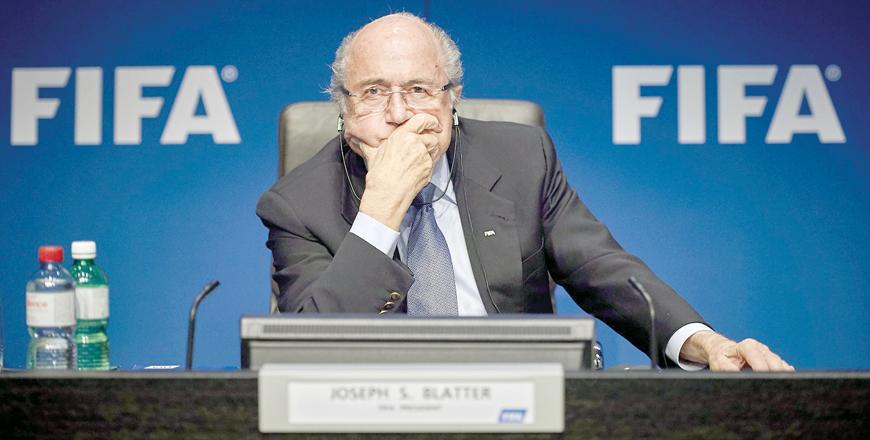 Feb 21,2016
GENEVA — The Sepp Blatter era at FIFA is set to finally end Friday when football's scandal-scarred world body picks a new president after ni
Nov 07,2015
GENEVA — In a FIFA election now more open than expected, HRH Prince Ali has changed his strategy since Michel Platini was caught up in a cor
Mar 22,2014
FIFA President Sepp Blatter refused to comment on allegations linking Qatar's winning World Cup bid to payments received by voters.
Newsletter
Get top stories and blog posts emailed to you each day.