You are here
Trump soon to face sobering 'reality' check — Obama
President says he told Trump his actions can move markets, tanks, public sentiment
By AFP - Nov 15,2016 - Last updated at Nov 15,2016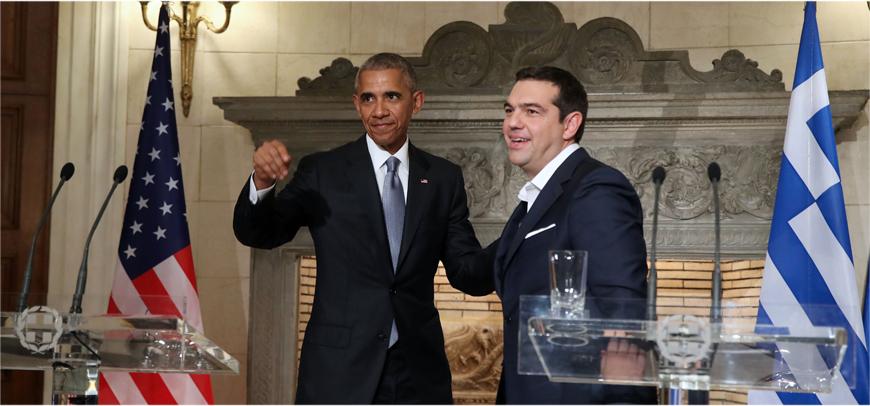 President Barack Obama (left) gestures next to Greek Prime Minister Alexis Tsipras during a press conference after their meeting at the Maximos Mansion in Athens on Tuesday (AFP photo)
WASHINGTON — President Barack Obama cautioned against dire predictions for Donald Trump's presidency on Monday, saying his Republican successor faces a reality check if he tries to enact his most controversial campaign promises.
The outgoing Democratic leader made his comments at a wide-ranging news conference before he embarked on a farewell visit to Europe to reassure worried allies about a man he once warned was "unfit" to lead the United States.
Trump's election win last week over Hillary Clinton has been met with euphoria among his supporters, but also with a wave of protests across the nation that are unusual for the world's leading democracy.
The 70-year-old Republican billionaire — who takes office in just nine weeks — was holed up in his home office in Manhattan with his inner circle, working to shape his new administration.
While admitting that he had "concerns" about his successor, the message Obama delivered on Monday was designed to comfort those still ill at ease with Trump — and a lesson for the billionaire populist in the art of the presidency.
Trump, a real estate developer and reality TV star who has never held political office, has threatened to shake up America's most important international relationships.
But Obama said that deporting millions of immigrants, tearing up mutual defence treaties with NATO and Japan, and unravelling global deals on Iran's nuclear programme and the environment were not as simple as delivering tub-thumping rhetoric.
"Regardless of what experience or assumptions he brought to the office, this office has a way of waking you up," Obama said.
"Reality has a way of asserting itself," he added, offering his view that Trump is pragmatic rather than ideological.
Obama said that during a meeting with Trump at the White House last week, he had told the president-elect that his actions can move markets, tanks and public sentiment.
"I emphasised to him that, look, in an election like this that was so hotly contested and so divided, gestures matter," Obama said.
"It's really important to try to send some signals of unity, and to reach out to minority groups or women or others that were concerned about the tenor of the campaign."
"Do I have concerns? Absolutely. Of course, I have concerns. He and I differ on a whole bunch of issues. But the federal government and our democracy is not a speedboat — it's an ocean liner."
'Pragmatic'
Amid dire predictions about the end of the republic and the global order, Obama said that Trump's inexperience in politics and lack of intellectual baggage could be an asset.
"I don't think he is ideological. I think ultimately he is pragmatic in that way," he told reporters at his first news conference since the Republican mogul defeated his Democratic rival Clinton in last week's presidential election.
"And that can serve him well as long as he's got good people around him and he has a clear sense of direction," he continued.
Obama said that Trump had already conveyed a "commitment to NATO" that seemed to run against his campaign promises.
"In my conversation with the president-elect, he expressed a great interest in maintaining our core strategic relationships," Obama said.
During a visit this week to Europe, and then Peru for a summit with Asia-Pacific leaders, Obama said he would be able to tell allies "there is no weakening of resolve when it comes to America's commitment to maintaining a strong and robust NATO relationship."
"This is a time of great change in the world, but America's always been a pillar of strength and a beacon of hope to peoples around the globe. And that's what it must continue to be," he said.
Related Articles
Nov 10,2016
WASHINGTON — Barack Obama and Donald Trump put acerbic rows and profound differences aside in a 90-minute transition meeting at the White Ho
Apr 28,2016
LONDON — Donald Trump's first major foreign policy address alarmed American allies, who view the Republican front runner's repeated invocati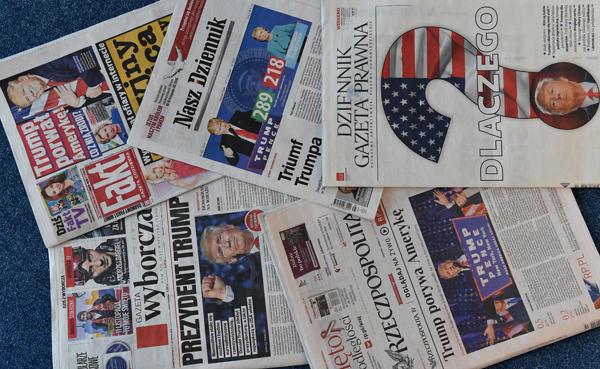 Nov 10,2016
WASHINGTON — Build a wall, make nice with Moscow, tear up free trade deals and force Washington's allies to pay more for their own security.
Newsletter
Get top stories and blog posts emailed to you each day.