You are here
Milwaukee Bucks stun Cleveland Cavaliers
By AP - Nov 30,2016 - Last updated at Nov 30,2016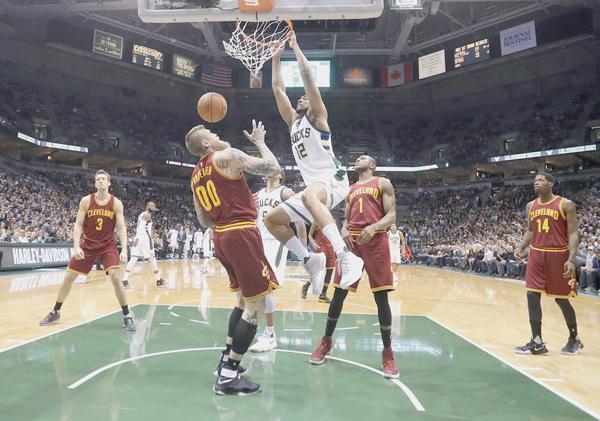 Milwaukee Bucks' Jabari Parker dunks during the second half of an NBA basketball game against the Cleveland Cavaliers, on Tuesday, in Milwaukee (AP photo by Morry Gash)
MILWAUKEE — Giannis Antetokounmpo tied a career high with 34 points and the Milwaukee Bucks stunned the Cleveland Cavaliers 118-101 on Tuesday night.
Antetokounmpo added 12 rebounds and five assists while Milwaukee ended Cleveland's four-game winning streak. Jabari Parker had 18 points and Michael Beasley had 17 off the bench for the Bucks.
LeBron James had 22 points for the Cavaliers, who fell to 13-3. Kyrie Irving added 20 points.
Milwaukee led by 22 points in the fourth quarter and cruised past the defending champions, who benched their starters midway through the final period.
The Bucks outscored Cleveland by 14 points in the third quarter.
Cleveland rode hot early shooting to a 14-point first quarter lead, but Milwaukee closed on a 10-0 run and trailed by only two at the end of the period.
The hot hands of Antetokounmpo and Beasley sparked Milwaukee in the second quarter as the Bucks built an advantage of eight points before leading 58-54 at the half.
Nets 127, Clippers 122, 2OT
Sean Kilpatrick scored 31 of his career-high 38 points after the third quarter and Brooklyn stopped a seven-game losing streak with a double-overtime victory over Los Angeles.
The Clippers started the game without Blake Griffin, ended it without the ejected coach Doc Rivers and dropped their third straight game by blowing an 18-point lead.
Chris Paul had 26 points, 13 assists and 10 rebounds for the Clippers, but the best guard on the floor in crunch time was Kilpatrick, who also had a career-best 14 rebounds.
Brook Lopez added 27 points for the Nets.
DeAndre Jordan had 21 points and 23 rebounds for the Clippers, who rested Griffin, their leading scorer.
Magic 95, Spurs 83
Serge Ibaka had 18 points and Orlando took advantage of a sloppy night by San Antonio to snap the Spurs' nine-game winning streak.
San Antonio committed a season-high 19 turnovers in its worst scoring performance of the season. The Spurs have four home losses in the first two months of this season after falling just once at AT&T Centre in 2015-16.
Evan Fournier scored 13 points and Nikola Vucevic had 12 to help the Magic snap a four-game skid.
Orlando entered having lost eight of 11, but they were looser and more fluid than San Antonio from the start.
The Spurs' turnovers resulted in 19 points for the Magic.
Kawhi Leonard had 21 points for San Antonio and LaMarcus Aldridge added 16.
Pelicans 105, Lakers 88
Anthony Davis had 41 points and 16 rebounds, helping New Orleans dominate short-handed Los Angeles.
Jrue Holiday scored 22 points in his first start this season and Omer Asik had 10 points and 11 assists while New Orleans snapped a two-game skid.
The Lakers expected to be healthier with forward Julius Randle returning to the line-up following a three-game absence because of a hip injury, but about two minutes into the game, starting shooting guard Nick Young was carried off with a strained right Achilles tendon.
Lou Williams scored 16 points for the Lakers and Randle finished with 12, but Los Angeles was in a 20-point hole by the second quarter.
Jazz 120, Rockets 101
Gordon Hayward scored a season-high 31 points, helping Utah beat Houston for its season-best fourth straight win.
Utah started strong en route to a season high for scoring. Rodney Hood had 10 points during a 20-5 first-quarter run after trailing 16-9, and Houston never led again. Hood finished with 19 points.
Rudy Gobert recorded his 11th double-double of the season with 16 points, 14 rebounds and three blocks. Hayward had seven assists and five rebounds.
James Harden scored 26 points but was an inefficient 8 for 23 from the field. He also had seven assists and five rebounds, while Eric Gordon scored 24 points off the bench.
Pistons 112, Hornets 89
Tobias Harris scored 24 points, Kentavious Caldwell-Pope and Marcus Morris each had 18 points and Detroit beat Charlotte for its third straight win.
Ish Smith added 13 points while Detroit shot 49 per cent from the field.
Kemba Walker had 23 points for the Hornets, who were playing their fourth game in five nights.
The Pistons had not played since Saturday and looked much fresher throughout the game in snapping Charlotte's two-game winning streak.
Detroit took a 10-point lead into the fourth quarter after Caldwell-Pope knocked down a pair of 3-pointers late in the third. Things got sloppy from there with the Hornets turning the ball over frequently on bad passes, and the game quickly turning into a blowout.
Related Articles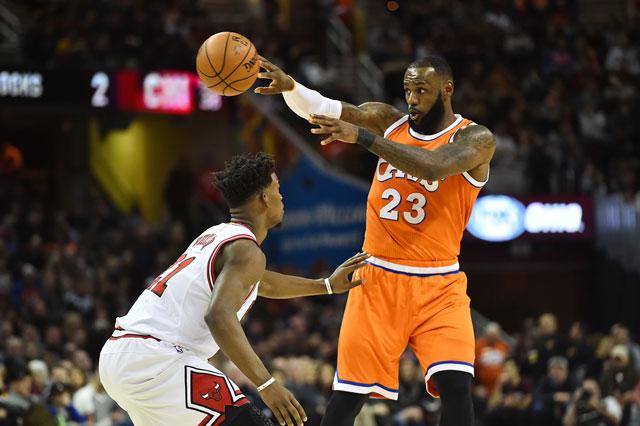 Jan 05,2017
CLEVELAND — Jimmy Butler scored 10 straight points during a critical stretch in the fourth quarter, leading the Chicago Bulls to a 106-94 wi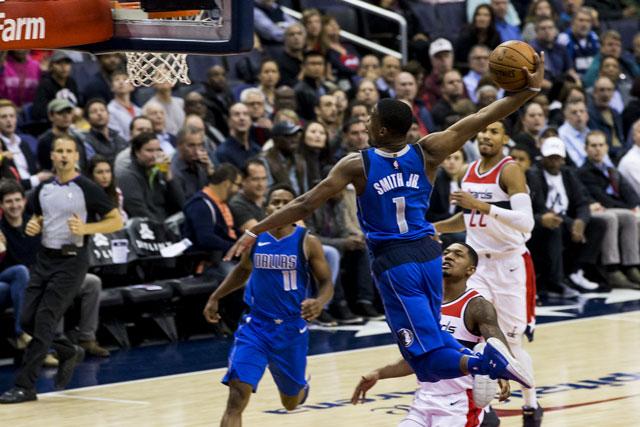 Nov 08,2017
Harrison Barnes scored 31 points as the Dallas Mavericks, owners of the NBA's worst record, upset the Washington Wizards 113-99 on Tuesday n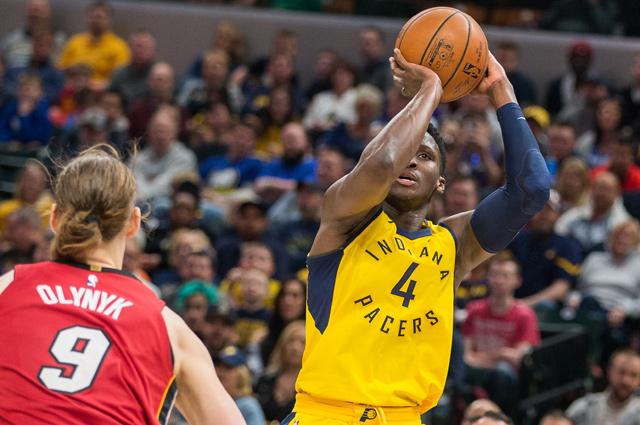 Mar 26,2018
Victor Oladipo scored 23 points, including a key overtime 3-pointer, to lead the Indiana Pacers to a 113-107 victory over the Miami Heat on
Newsletter
Get top stories and blog posts emailed to you each day.