You are here
Washington further supports AmCham to expand US-Jordan ties
By Mohammad Ghazal - Dec 08,2016 - Last updated at Dec 08,2016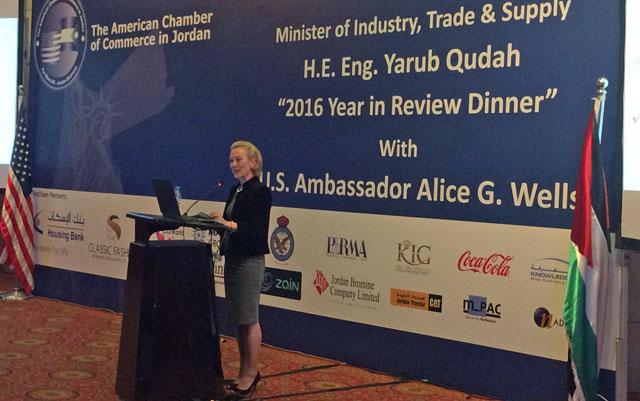 US Ambassador Alice G. Wells delivers a speech at the American Chamber of Commerce in Jordan Annual Year in Review Dinner in Amman on Wednesday (Photo courtesy of US embassy)
AMMAN — US Ambassador to Jordan Alice G. Wells announced late Wednesday a new USAID $600,000 grant to the American Chamber of Commerce in Jordan (AmCham) to expand commercial relations through a new unit at the chamber specialised in Free Trade Agreement (FTA).
The new unit aims to build upon over a decade of annual growth in bilateral trade by helping more US and Jordanian firms take advantage of the "unique" FTA, the ambassador said at the AmCham-Jordan Annual Year in Review Dinner in the presence of officials and businesspeople from both countries.
"Not only will AmCham organise awareness workshops and outreach to firms, they will also provide focused services to businesses that will improve export readiness, business-to-business matchmaking and build capacity that will lead to greater market entry for Jordanian firms and increased investment opportunities," said the ambassador.
Over the next 18 months, the FTA Unit will work to achieve "aggressive yet realistic targets" of facilitating millions in new investments, increasing exports by an additional 2-3 per cent annually over and above expected growth rates under the FTA, and seeking to create 4,000 new direct and indirect jobs, she explained.
Through the unit, AmCham will reach out and collaborate with chambers and business associations, and other strategic partners to harness the private sector to take advantage of the US-Jordan FTA, Wells said.
"US consumers have been so impressed with the quality of Jordanian garment exports, which represent over 80 per cent of the total," she added, noting that some firms have witnessed over 10 per cent annual growth.
US is committed to seeing Jordan's border with Iraq reopened, Wells said, adding that "our colleagues in Baghdad are working closely with Iraqi authorities as they review proposals to improve the Baghdad-Treibil road to Jordan".
From January until September 2016, Jordanian exports to the US rose by 5.5 per cent — an increase of over $60 million.
US exports over the same period rose by 1.1 per cent, but "we typically see a boom in exports over the fall, so I expect the year-end to witness even higher growth", Wells said.
Also speaking at the event, Minister of Industry, Trade and Supply Yarub Qudah said the FTA with the US is one of the most successful agreements Jordan has signed. However, it is mostly focused on one sector — garment and textile.
"There are other key sectors that have not yet benefited from the FTA," said the minister, stressing that the need to diversify Jordanian exports to the US under the deal.
Although Jordan faces several challenges including a rate of unemployment that stands at 15.6 per cent, which is the highest in the past 15 years, there are many opportunities that need to be tapped, said Qudah.
He stressed the key role the private sector plays in stimulating growth, highlighting the importance of the public-private partnerships.
Related Articles
Aug 22,2016
AMMAN — US Ambassador Alice G.
Dec 16,2015
AMMAN — The US is committed to Jordan's economic prosperity and, despite regional security challenges, the Kingdom remains a beacon of oppor
Sep 02,2015
AMMAN — US Embassy Economic Counsellor Susannah Cooper told a gathering organised this week by the American Chamber of Commerce in Jor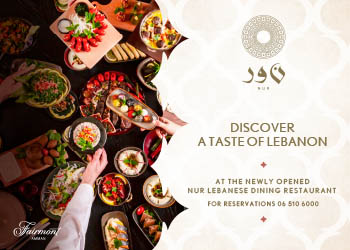 Newsletter
Get top stories and blog posts emailed to you each day.