You are here
Iranian cancer researcher sent home after being detained
By Reuters - Jul 12,2017 - Last updated at Jul 12,2017
BOSTON — An Iranian cancer researcher who had been headed to a prominent Boston hospital to work as a scholar was sent back to his country on Tuesday, a day after US immigration officials detained him and his family, media said.
Mohsen Dehnavi, his wife and three children were put on a return flight at about 9pm after being detained late on Monday at Logan International Airport, the Boston Globe said, citing Stephanie Malin, a spokeswoman for US Customs and Border Patrol.
The detentions were apparently unrelated to President Donald Trump's executive order temporarily banning travelers from six majority-Muslim countries, according to Boston Children's Hospital and immigration law specialists, who said Dehnavi had a valid entry visa.
"Based on what we know, it's not travel-ban related. It's probably something much more stupid than that," said Susan Church, chair of the New England chapter of the American Immigration Lawyers Association.
"The rules say if you have a valid visa you have to be let in," she told Reuters.
A spokesman for US Immigrations and Customs Enforcement did not immediately respond to telephone calls and emails to seek comment.
Two weeks ago, the US Supreme Court upheld a revised version of Trump's ban on travellers from Iran, Libya, Somalia, Sudan, Syria and Yemen, though it excluded visitors with a "bona fide" family tie. The executive order itself did not apply to travelers with valid visas.
During the 2016 presidential campaign, Trump had called for a "complete and total shutdown" of Muslims entering the United States, a move he called necessary to protect national security in the wake of attacks at home and abroad by Islamist extremists.
Opponents of the idea called it a violation of the US Constitution's protections for free expression of religion.
Trump's initial January version of the order, which also applied to Iraq, caused a weekend of chaos at US airports as travellers were turned away upon arrival and crowds of thousands turned out to protest against the move.
Related Articles
Jul 11,2017
BOSTON — US immigration officials have detained an Iranian cancer researcher who was headed to a prominent Boston hospital to work as a scho
Dec 24,2017
WASHINGTON — A federal judge in Seattle partially blocked US President Donald Trump's newest restrictions on refugee admissions on Saturday,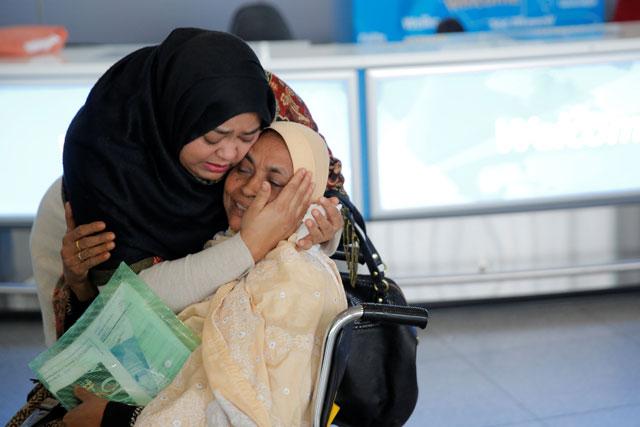 Jan 28,2017
WASHINGTON — President Donald Trump's sweeping ban on people seeking refuge in the United States and visitors from seven Muslim-majority cou
Newsletter
Get top stories and blog posts emailed to you each day.