You are here
Catholic centre presents Pope's new year message of peace
By JT - Dec 30,2017 - Last updated at Dec 30,2017
AMMAN -- The Catholic Centre for Studies and Media Saturday presented Pope Francis' message on the 51st World Day of Peace on January 1.
The centre noted that since it was first issued in 1968 by Pope John Paul VI, the message has been addressed to all people of the world in an endeavour to put forward a roadmap to address current issues that undermine global peace and human dignity, the Jordan News Agency, Petra, reported.
It said the new year's message, titled "Migrants and Refugees: Men and Women in Search of Peace", referred to the over 250 million migrants worldwide, of whom 22.5 million are refugees.
In his message, Pope Francis referred to the migrants and refugees as "men and women, children, young and elderly people, who are searching for somewhere to live in peace".
In order to find that peace, they are willing to risk their lives on a journey that is often long and perilous, to endure hardships and suffering, and to encounter fences and walls built to keep them far from their goal, he said.
"In a spirit of compassion, let us embrace all those fleeing from war and hunger, or forced by discrimination, persecution, poverty and environmental degradation to leave their homelands," he said.
"We know that it is not enough to open our hearts to the suffering of others. Much more remains to be done before our brothers and sisters can once again live peacefully in a safe home," the pontiff said.
He urged government leaders to take practical measures to welcome migrants and refugees, promote, protect, integrate and, "within the limits allowed by a correct understanding of the common good, to permit them to become part of a new society".
"All indicators available to the international community suggest that global migration will continue for the future. Some consider this a threat. For my part, I ask you to view it with confidence as an opportunity to build peace, " the Pope said.
He said that migrants and refugees do not arrive to host countries empty-handed, but they bring their courage, skills, energy and aspirations, "as well as the treasures of their own cultures; and in this way, they enrich the lives of the nations that receive them".
He urged the United Nations to draft and approve two Global Compacts, one for safe, orderly and regular migration and the other for refugees as shared agreements at a global level.
"These compacts will provide a framework for policy proposals and practical measures. For this reason, they need to be inspired by compassion, foresight and courage, so as to take advantage of every opportunity to advance the peace-building process. Only in this way can the realism required of international politics avoid surrendering to cynicism and to the globalisation of indifference," the pontiff said.
Head of the Amman-based Catholic Centre for Studies and Media, Father Rifa'at Badr, said he was proud to see that Jordan had fulfilled on the ground the Pope's message as the Kingdom had undertaken tremendous efforts to host and accommodate refugees and protect their dignity.
He said that despite the enormous burdens posed to Jordan, the Kingdom had presented an unparalleled image in safeguarding the human dignity of displaced people and refugees.
Badr also hailed Jordan's "diplomacy of wisdom", led by His Majesty King Abdullah, towards the Arab city of Jerusalem, which together with the Vatican call for preserving the status quo in the holy city, respecting international conventions and underlining the historic Hashemite custodianship of Islamic and Christian holy sites in it in the hope to declare East Jerusalem as the capital of an independent Palestinian state.
Related Articles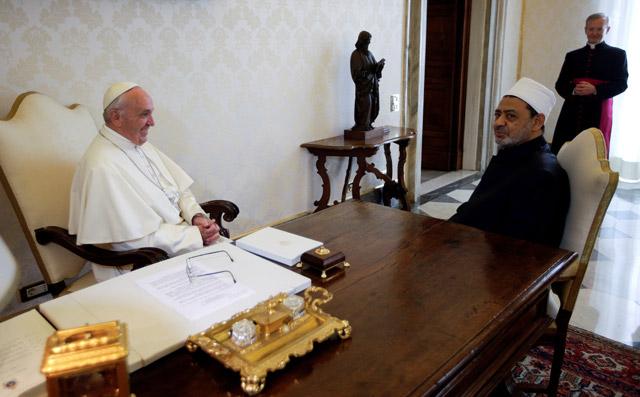 Apr 25,2017
VATICAN CITY — Pope Francis hopes to mend ties with Muslims on his trip to Egypt on Friday but faces criticism from church conservatives for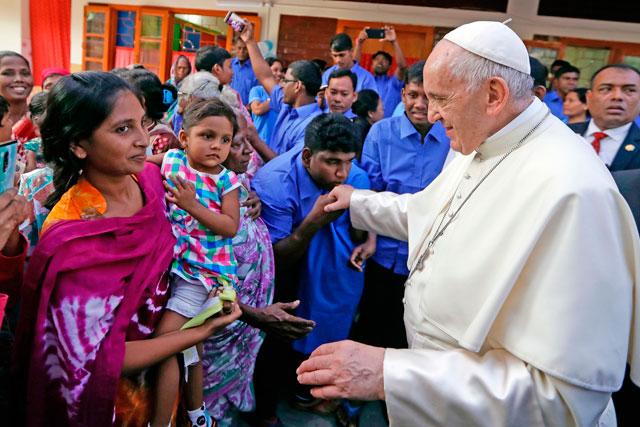 Dec 02,2017
DHAKA — Pope Francis wrapped up a high-stakes Asia tour on Saturday after meeting Rohingya refugees in Bangladesh in a highly symbolic gestu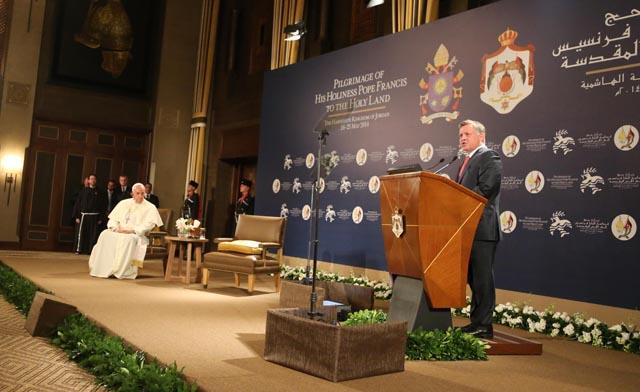 May 25,2014
Following is the full text of His Majesty King Abdullah's remarks on the occasion of Pope Francis' visit to Jordan on Saturday
Newsletter
Get top stories and blog posts emailed to you each day.