You are here
Merkel upbeat about chances to revive 'grand coalition'
By Reuters - Jan 07,2018 - Last updated at Jan 07,2018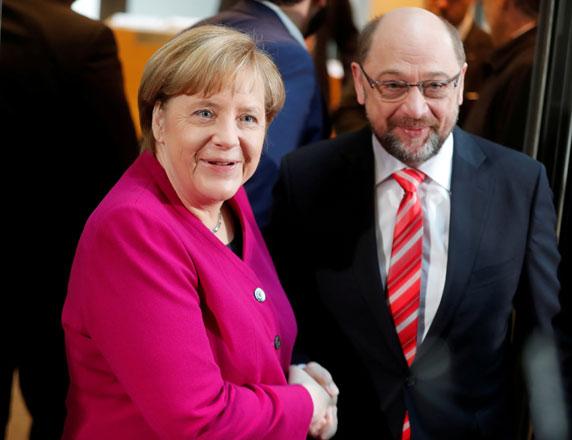 Leader of the Christian Democratic Union (CDU) and the acting German Chancellor Angela Merkel and Social Democratic Party (SPD) leader Martin Schulz shake hands before exploratory talks about forming a new coalition government at the SPD headquarters in Berlin, Germany, on Sunday (Reuters photo)
BERLIN — Chancellor Angela Merkel said on Sunday she was optimistic her conservatives and the Social Democrats (SPD) could cut a deal as they began five days of talks about reviving the "grand coalition" that has governed Germany since 2013.
Persuading the centre-left SPD to team up with her is Merkel's best bet for forming a stable government and extending her 12 years in office, after she failed in November to form an alliance with two smaller parties.
Arriving at SPD headquarters for talks more than three months after a national election, Merkel said the parties had much work to get through but intended to tackle it quickly, adding: "I think it can succeed."
The SPD, which had said it would go into opposition after its worst election showing since 1933, reconsidered when Germany's president intervened.
But the centre-left party, among whose membership opposition to a grand coalition re-run remains strong, has been playing hard-to-get.
A group called "NoGroKo", meaning "no grand coalition", has formed within its ranks to campaign against working with Merkel again, saying that would cost the SPD votes and make the far-right Alternative for Germany (AfD) the leading opposition party.
SPD leader Martin Schulz said that, while the outcome of the talks was unclear, his party would enter them constructively.
"We will not draw any red lines — rather we want to push through as much red politics as possible," Schulz said, referring to the party's colour.
He said five days should suffice to find out whether the parties had enough common ground to launch full-blown coalition talks. The SPD leadership is due to recommend on Friday whether or not to start those talks, and it will then be up to an SPD party congress on January 21 to make a decision.
Not so grand?
A coalition between Merkel's CDU/CSU alliance — which lost ground to the AfD in September's ballot — and the SPD has run Europe's largest economy for eight of the last 12 years.
But it has tended to be viewed as a last resort by both politicians and voters as it leaves the opposition weak.
A poll for broadcaster ARD showed more than half of the electorate — 52 per cent — are sceptical about reviving it, while 45 per cent are in favour.
Not natural allies, the two camps are likely to clash on immigration, tax, healthcare and Europe — and expectations among other leading figures in the parties were mixed as the preliminary talks got under way.
Norbert Roemer, SPD head in the regional assembly of North Rhine-Westphalia, told RND newspaper group no lawmakers in his state caucus favoured a grand coalition, with past experience meaning they no longer trusted Merkel. The SPD in the eastern state of Thuringia is also sceptical about such a tie-up.
Senior SPD member Thomas Oppermann told Welt am Sonntag newspaper that Merkel should step down during the current parliament and called for a chancellor's tenure to be limited to eight or 10 years.
Volker Bouffier, a senior member of Merkel's Christian Democratic Union (CDU), told Rheinische Post newspaper his party intended to form a grand coalition but that it could not come at any price, while Bavarian CSU leader Horst Seehofer said participants needed to come to an agreement.
Related Articles
Sep 24,2017
BERLIN — Germans voted on Sunday in a general election expected to hand Chancellor Angela Merkel a fourth term while the hard-right national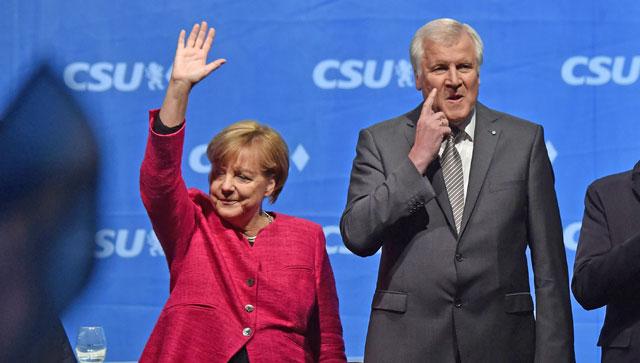 Oct 08,2017
BERLIN — Two weeks after winning elections with a reduced majority, German Chancellor Angela Merkel took a first step on Sunday toward formi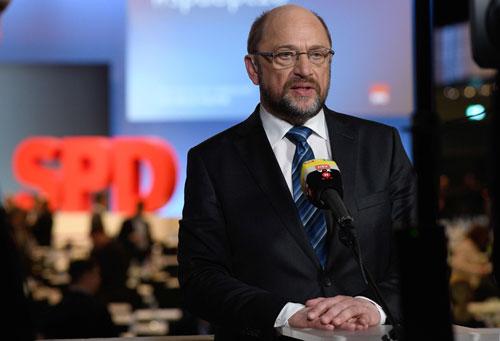 Jan 21,2018
BONN — Germany's centre-left Social Democrats voted on Sunday to begin formal coalition talks with Chancellor Angela Merkel's conservat
Newsletter
Get top stories and blog posts emailed to you each day.