You are here
Jordan Motorsport reveals its events for 2018
By Roufan Nahhas - Jan 16,2018 - Last updated at Jan 16,2018
AMMAN — Jordan Motorsport, the sporting authority for all motorsport events in Jordan, has revealed its calendar of activities for the 2018 season, with a total of 25 events including speed tests, rallying, karting, drifting and for the first time a Baja Rally.
"We have a very exciting season with more challenging events and a new one which is the Baja Rally," Jordan Motorsport CEO Othman Naseef told The Jordan Times.
The calendar, which was approved by the board of directors headed by HRH Prince Feisal, will include five Speed tests in addition to the Al Hussein Rumman Hill Climb, five Karting events, five Drifting events, three 4x4 events and four rallies (two on tarmac and two desert rallies).
The Baja Rally is an off-road race in which various types of vehicle classes compete on the same course and includes small and large motorcycles, production vehicles, buggies, trucks and custom race vehicles.
"It will be a very exciting event and we hope that men and women will be part of such an event and also we hope to see more females participating in our events," Naseef said.
"Also, MotorFest will have another go this season after the successful presentation in 2017. The Fest organised for the first time in Amman included performances by stunt rider Rok Bagoros, a young motorcyclist from Radenci, Slovenia, and the only rider among the world's stuntman elite using a single-cylinder engine motorcycle," he added.
Jordan Motorsports 2018 Calendar:
February 9

1st Drift

February 23

1st Speed

March 2

1st 4x4

March 16

1st Karting

March 30

1st National Rally

April 6

2nd Drift

April 26-28

Jordan Rally

May 4

2nd Karting

May 11

2nd Speed Test

May 31

3rd Drift

June 28-29

MotorFest

July 6

3rd Karting

July 13

3rd National Rally

July 27

Al Hussein Rumman

Hill Climb

August 3

4th Karting

August 4

5th Karting

August 10

2nd 4x4

August 17

Red Bull Drift

September 7

4th Speed Test

September 27-29

1st Baja Rally

October 12

5th Speed Test

October 26

5th Drift

November 2

4th National Rally

November 16

3rd 4x4
Related Articles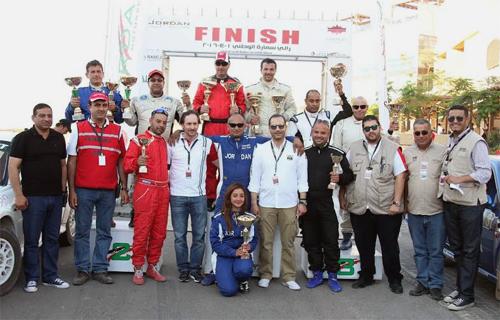 Apr 02,2016
DEAD SEA — Khaled Juma on Friday was crowned champion of the first round of the Jordan Rally Championship "Samarah Rally" held with the part
Mar 07,2016
AMMAN — Jordan's Wihdat and Faisali will play their stage two Asian Football Confederation (AFC) Cup on Tuesday with both teams aiming to co
Sep 22,2016
AMMAN — The Independent Election Commission on Wednesday announced the vote results in 11 electoral districts.By midnight, Mustafa Barari, t
Newsletter
Get top stories and blog posts emailed to you each day.