You are here
Income generation project supporting women and youth concludes
By Camille Dupire - Sep 08,2018 - Last updated at Sep 08,2018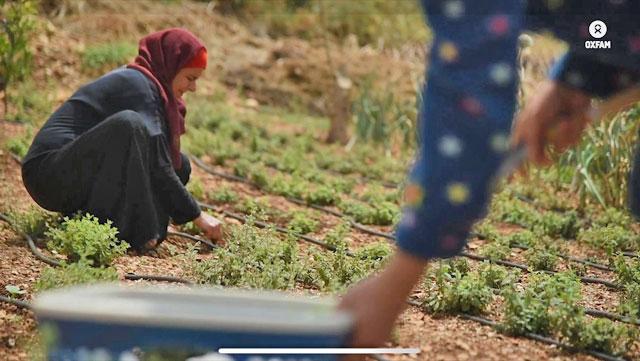 Close to 600 women and youth were provided with capacity building training to start and manage small businesses in Irbid Governorate (Photo courtesy of Oxfam / Rajiv Raman)
AMMAN — A project aimed at enhancing women's and youth's access to sustainable livelihood opportunities by supporting income generation activities for Syrian refugees and vulnerable Jordanians recently concluded, having targeted nearly 600 women and youth in Irbid Governorate.
Located in northern Jordan, Irbid hosts around 140,000 Syrian refugees, making it the third largest host governorate across the Kingdom. The challenges stemming from this sudden population growth compounded the pre-existing difficulties in terms of unemployment and economic stagnation.
To tackle these issues, Oxfam partnered with the King Hussein Foundation and Leaders of Tomorrow under the patronage of Minister of Labour Samir Murad, to provide close to 600 women and youth with capacity building training on ways to start and manage small businesses.
"My husband's salary wasn't enough to cover all the family's needs but, after we started the mini market, the project started to meet all our requirements and more," recalled Nour Azabat, a mini market owner supported by the project.
Azabat was part of the 150 beneficiaries who received in-kind grants to help them start small businesses that benefit themselves and their communities.
"I chose the mini market project because there isn't any mini market in the area where I live," the shop owner highlighted, noting that she really benefited from the trainers' help and support who "provided their experience through continuous mentoring and supervision before and after starting the project".
During the project's closing ceremony, Oxfam's country director in Jordan, Nivedita Monga, said: "Women participation in the labour market is a key driver for inclusive growth in Jordan, but women continue to face significant challenges in becoming strong economic actors. We need to pay special attention to these challenges and support them with not only appropriate work opportunities, but also a support structure that addresses them such as child care."
For his part Labour Ministry representative Nabih Al Momani, who is the director of Irbid Employment Directorate, shed light on the role that NGOs and civil society organisations play in improving livelihoods and providing employment opportunities for Syrians and Jordanians, therefore helping to reduce the unemployment rates in Jordan.
"Before the project, our financial situation was bad but, after receiving the grant, we started benefitting from it," recounted local farmer Bayan Malkawi, who started producing and selling fresh and dry thyme.
Malkawi, who hopes to develop her family's business by growing strawberries, said she chose this activity "because farming was one of my hobbies and I like to farm and it is something interesting".
Aware of the challenges working women may face in terms of handling numerous responsibilities, the project also prepared 60 women to be able to find jobs in day care centres, and offered them an affordable day care centre which encourages mothers to work.
"I wanted to work and I am willing to work. However, there are many challenges that hinder not only me but also many other women to participate in the workforce," said Rasha Obeidat, referring to the lack of affordable child day care centres.
"This training has definitely reduced the pressure on us. After we left our country, there was a lot of psychological pressure on us and our children," recalled Syrian refugee Abeer Al Zoubani, adding that "this training made the psychological weight lighter and we started to work on these things with our children".
Alongside women beneficiaries, some youth shared their personal journey, including Mohammed Alkhalef, a graduate in civil engineering who decided to take on a job as a car mechanic, "rather than waiting at home until he finds work that is more closely related to his certificate".
His message to others was: "There is nothing to be ashamed of.Try to find any work when you finish university. Don't depend on your certificate to find a job."
Although the project came to an end, "Oxfam and its partners will continue to encourage youth to challenge social norms and learn a vocational skill", an Oxfam statement said, citing a public awareness event scheduled to take place in Irbid's King Abdullah II Park on September 21-22, which will give young men and women the chance to meet experts in different vocations to discuss about their profession and learn about options to become strong economic actors.
The entire project was supported by the European Regional Development and Protection Programme for the Middle East, a multi-donor initiative seeking to enhance protection and create socioeconomic opportunities for refugees and host communities in Jordan, Lebanon and Iraq, the statement added.
Newsletter
Get top stories and blog posts emailed to you each day.