You are here
Mafraq legal aid unit offers free services to over 750 refugees
By JT - Sep 09,2018 - Last updated at Sep 09,2018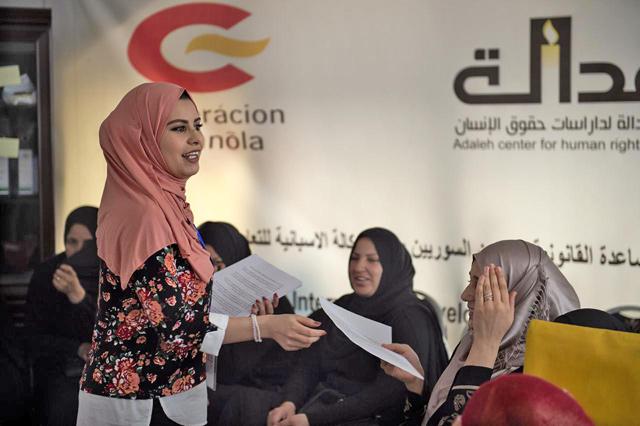 Syrian refugee women take part in an awareness session in Mafraq recently (Photo courtesy of AECID)
AMMAN — After her divorce, 15-year-old Syrian refugee Israa Majid said she was "desperate" to claim her legal rights for herself and her infant child, until she finally succeeded in obtaining a free-of-charge alimony case filed against her husband.
Meanwhile, Syrian refugee Wafa Ahmad, 38, recounted the "real struggle" she faced when trying to obtain legal documents for her five children. Eventually, she managed to get all their official papers thanks to free legal consultations.
Both women were the beneficiaries of the free-of-charge legal consultations and services provided by the Adaleh Legal Aid Unit in Mafraq Governorate, some 80km north of Amman, a statement by Adaleh Legal Aid Unit said.
Established in 2014 to serve the Syrian refugee population, the Mafraq unit offers free legal consultations and services and conducts awareness sessions, in addition to documenting violations, and exploring the refugee community's challenges.
Since the project was launched in November 2017, around 450 Syrian refugees have attended the awareness sessions, with 310 of them having been offered free legal consultations and services provided by three lawyers recruited to file cases for the refugees without any fees.
During an awareness session held last Thursday, the unit director, lawyer Salem Al Mefleh, briefed around 50 refugees on how to deal with the most common legal issues they face in Jordan, in addition to addressing their questions and offering customised consultations to each case as needed, the statement read.
The event was the eighth of a series of regularly held awareness sessions which target a new group of refugees every time to ensure reaching out to the maximum number of people.
Under the one-year-long project which is funded by the Spanish International Cooperation for Development Agency (AECID), the unit offers consultations and services to various cases related to Sharia law, civil service law, criminal law, as well as any other administrative issues.
"AECID supports the rule of law and access to justice in Jordan, particularly of vulnerable groups, such as women and children in the context of the Syrian crisis," Isidro Garcia Mingo, project manager at AECID said, stressing "we believe access to justice is the key to enjoy the full realisation of all rights."
The Mafraq Adaleh Legal Aid Unit is part of the Adaleh Centre for Human Rights Studies, a non-governmental organisation that aims at enforcing human rights, democracy, and justice in Jordan and the Arab world through building the capacity of NGOs and the involved parties, the statement concluded.
Newsletter
Get top stories and blog posts emailed to you each day.