You are here
Queen recognises healthy schools accredited by Royal Health Awareness Society
By JT - Sep 10,2018 - Last updated at Sep 10,2018
Her Majesty Queen Rania poses for a group photo at Manshiyet Husban Co-educational Secondary School in Naou on Monday (Photo courtesy of Royal Court)
AMMAN — Her Majesty Queen Rania on Monday visited Manshiyet Husban Co-educational Secondary School in Naour, where she participated in celebrating its accreditation as a Healthy School at the Gold level by the Royal Health Awareness Society (RHAS), for the academic year 2017/2018, a statement from Her Majesty's Office said.
In the presence of Minister of Education Azmi Mahafzah, as well as students, teachers, staff and other gold accredited schools, Queen Rania recognised the Gold Healthy Schools for their efforts in implementing and sustaining the Healthy Schools national accreditation programme for several years.
Her Majesty also met with a group of principals and health teachers from the past academic year's gold accredited schools, who outlined the impact of the programme on their schools' environment, students, staff and local communities.
The programme aims to create health-promoting environments within Jordanian schools that reflect positively on students' physical and social development, as well as their academic performance.
RHAS director general, Hanin Odeh, indicated that the number of schools participating in the accreditation programme is increasing, with 132 schools participating in Healthy Schools during the past academic year.
Odeh stated that 16 received the gold accreditation, 44 received the silver accreditation, and 37 received the bronze-level accreditation. Moreover, 11 schools were awarded "Health Competent" status, providing a one-year period to enhance their health programmes and enroll again in the next academic year.
To date, 528 schools have participated in the Healthy Schools programme, benefitting around 339,000 students. Additionally, 1,932 teachers and principals were trained, and 105 community health initiatives were implemented in local communities.
Her Majesty concluded her visit by meeting the RHAS board of trustees, where Odeh outlined RHAS's strategy through 2022.
The strategy focuses on raising awareness aboutanemia and healthy nutrition, advocating for tobacco control to protect children from secondhand smoking, expanding the reach of drugs prevention and adolescents' protection from risky behaviours programmes, as well as concentrating efforts to increase numbers of male schools in the Healthy Schools programme.
For her part, Her Majesty underlined the need to increase the public's awareness of healthy practices through the development of relevant educational literature, adding that Jordan must build and expand on past successes in order to benefit a greater number of people.
Manshiyet Husban Co-educational Secondary School was established in 1971 in the Husban area. The school has implemented two RHAS programmes: Ajyal Salima for nutrition awareness and Think First for injury prevention, in addition to its participation in the National Accreditation Programme for Healthy Schools for five consecutive years.
RHAS aims to raise health awareness and encourage healthy practices in local communities. It implements several developmental programmes in response to local community needs, aligned with the national health agenda. Such initiatives include the National Accreditation for Healthy Schools, Think First, Healthy Kitchens, Youth for Health, Generations Protected and the Healthy Community Clinic.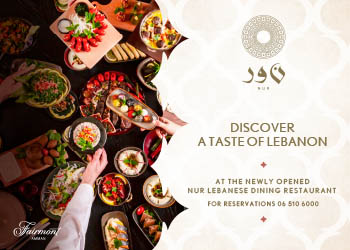 Newsletter
Get top stories and blog posts emailed to you each day.