You are here
Breaking down barriers with 'bubble football'
Dec 15,2019 - Last updated at Dec 15,2019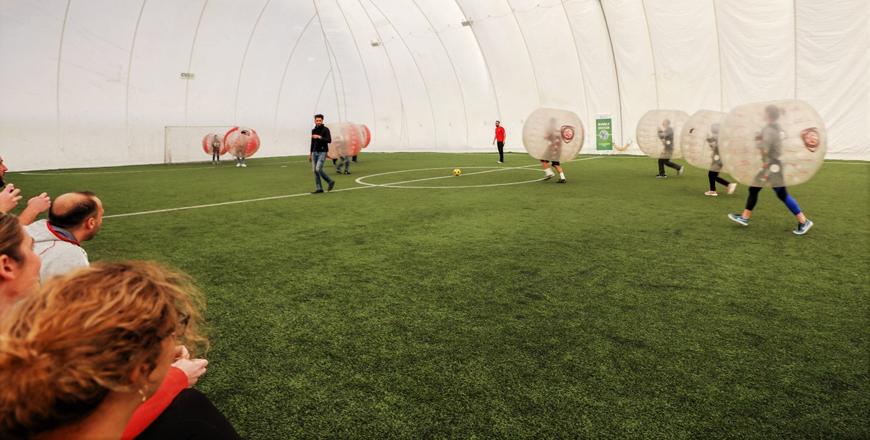 Around 100 people gathered at Amman's 6-Yard sports complex on Saturday afternoon for a football tournament with a difference. Organised by the United Nations World Food Programme (WFP), the tournament saw six teams made up of WFP staff, donors, NGO partners and programme beneficiaries face-off in a "bubble football" competition.
The game, which is becoming increasingly popular in Jordan, sees players run around in giant "bubbles" as they try to score goals, while also remaining on their feet. "Strong partnerships are at the heart of all of WFP's work in Jordan", said Faten Al Hindi, partnerships officer for WFP.
"Our plan was to bring together and celebrate the wide range of people that we work with for an enjoyable event that would help to break down barriers. Whether you're a young person receiving support from one of WFP's programmes, or a donor that is helping to fund that support — it really doesn't make a difference on the bubble soccer pitch!" That sentiment was echoed by Gregory Vento, programme officer from USAID, who said: "It was great team-building experience, and overall it was a fun event." Nisreen Ramahi, who this year benefited from training and support provided through WFP's resilience programme, also enjoyed Saturday's tournament.
"It has been fun for us to play this game and get to know each other," she said, noting that "our relationship with our partners from WFP and other agencies became less formal".
Newsletter
Get top stories and blog posts emailed to you each day.